Leaves are piling up at the roadside, which signals the start of another Autumn season in Forza Horizon 4 this week. Players that are still looking to fill gaps in their collection are scouring the UK for the latest events and returning prizes.
This week can see players grabbing a legendary supercar, a JDM classic and an Australian icon. There's also more prizes on hand for completing the current Playlist to 50% and 80%
Legends In The Making
One car in the seasonal completion prize pool is well worth going for this week: the 1965 Shelby Cobra Daytona Coupe. Intended for sportscar racing, the Daytona would square up with the Ferrari 250 GTO.
Hailed as one of the greatest American race cars, Shelby would oversee a very successful career for the Daytona in GT endurance series, including victories at Le Mans, Sebring and the Nurburgring. Loosely based around the Cobra roadster, the Daytona features a 4.7-liter V8 making 390hp. With an aerodynamic body on top, speeds of close to 190mph were possible.
A fresh opportunity to grab another Horizon Backstage Pass is also on the cards.
Autumn's new Photo Challenge takes you to the #HoonigansParadise. Here, you'll need to take a photo of any car from Hoonigan at the Express North Rail Yard. Add some flair by doing big gymkhana skids.
Prizes for the Autumn seasonal championships include the 1994 Nissan Fairlady Z and a Ferrari F40.
One highlight of the prize pool is the 1973 Ford XB Falcon GT. Among Australia's most iconic cars, this generation of Falcon is also fondly remembered overseas. The XB's appearances in the Mad Max movies made it an icon on the big screen. It was also a star on the race track, battling against its fierce rival from Holden in Australian touring cars. Under the hood is a 5.8-liter V8 making 300hp, but with some tweaks you'll be able to extract much more.
If you want the Falcon, you'll need to win the "Down Under" championship.
A new set of Super7 challenges is ready for you and waiting to be completed. Finish all seven cards to recieve a Nissan 370Z Formula Drift.
Prize list for the Autumn events is below:
Grudge Match
Series: Dirt Racing Series
Cars: Mustang vs Camaro
Restrictions: C Class, 600 PI
Prizes: 15,000 CR, 25,000 CR, Ford Mustang Boss 302
Overnight Parts
Series: Street Scene
Cars: Japanese cars
Restrictions: S1 Class, 900 PI
Prizes: 15,000 CR, 25,000 CR, Nissan Fairlady Z Version S Twin Turbo
Down Under
Series: Dirt Racing Series
Cars: Australian cars
Restrictions: A Class, 800 PI
Prizes: 15,000 CR, 25,000 CR, Ford XB Falcon GT
The Trial: Team Lotus (Co-Op Championship)
Series: Road Racing Series
Cars: Lotus
Restrictions: A Class, 800 PI
Prizes: Lotus Elise 111S
Autumn Games – Series 38
Series: Playground Games
Cars: 1980s Collection
Restrictions: S1 Class, 900 PI
Prizes: Ferrari F40
Super7 – Autumn
Completion Prize – Nissan 370Z #64 Formula Drift
Broadway Windmill Danger Sign
Season Objective: 1,299.2 ft
Oakwood Crest Speed Trap
Season Objective: 205 mph
Ashbrook Lane Drift Zone
Season Objective: 97,000 points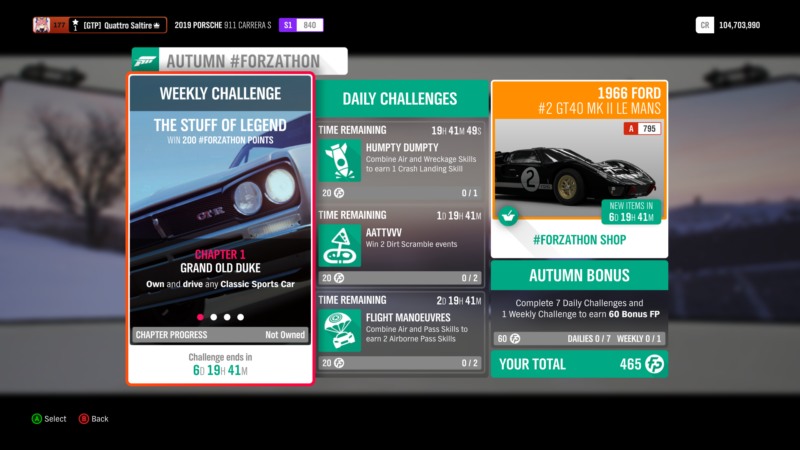 Forzathon Events
Roll back the years for this week's Forzathon, as Classic Sports Cars are the center of attention. Jump aboard any of the legends present in your garage to get started.
Next, push your classic to its limit by earning a total of 9 stars through Speed Zones. Some extensive tuning will be required. Afterwards, settle in for a long drive as you'll need to win a Road Racing Series event at the fearsome Colossus.
Finally, put your skills to good use by earning a total of 250,000 Skill Score and wrap up another Forzathon.
Forzathon Shop
Big speed is the name of the game in the shop for this week, with the Ford GT40 leading the proceedings.
Built with the sole purpose of crushing Ferrari in the quest for overall victory at the Le Mans 24 Hours, the Mk 2 GT40 would plant the seeds of Ford's legacy in 1966, taking the first of four consecutive wins at the famous race. With tweaks to its already slippery body over the Mk 1, the 485hp, 7.0-liter V8 was capable of pushing the GT40 to 200mph on the Mulsanne Straight as well as into the history books.
At 300 Forzathon Points, the GT40 is reasonably cheap, and could save you from spending millions of credits in the Autoshow if you choose to buy one.
If you're after more madness, there's the 2015 Koenigsegg One:1. Making the Agera more hardcore is a tall order, but the One:1 goes above and beyond.
The Koenigsegg's main party trick is its power to weight ratio. It holds the title of becoming the first homologated street car to have a power to weight ratio of 1:1. That means the 5.0-liter twin turbocharged V8 pumps out 1,360hp in a car weighing just 1,360kg (2,998lbs). In order to keep the One:1 stable, the car features an extreme new aerodyamics package, including an active rear wing.
At 200 FP, the One:1 is slightly cheaper, plus you have the added bonus of being in one of the fastest street cars ever made, until you see someone in a Jesko.
Clothing and novelty items available include the Red Biker Gloves and the Sleepy emote.
Feature image courtesy of cosme.
See more articles on Forza Horizon 4 Season Change.