Summer has arrived once more in Forza Horizon 4 as festival activities continue at breakneck speed. We're now into the opening stages of Series 39, with a fresh remix of returning content from previous updates now available.
Germany and Japan are leading the prizes this week, as the updated Playlist brings more cars for 50% and 80% completion.
German Power, Japanese Stealth
The latest mixed bag of seasonal completion prizes this week is headlined by the 2018 Honda Civic Type R. In order to maintain its status as king of the hot hatches, the FK8-generation Type R is one of the most extreme yet.
The wild styling is a far cry from Civics of old, but it emphasises that this generation means serious business. Thos Civic also once held the front-wheel drive lap record at the infamous Nurburging, lapping in 7:43, making it faster than some much more powerful sports cars. Giving the Type R its muscle is a 2.0-liter turbocharged engine making 316hp. Sending all that power through the front wheels has meant comprehensive chassis upgrades to deliver one of the most thrilling hot hatches around.
If you're keen to become more of a gentleman racer, there's the KTM X-Bow GT4. Built by Reiter Engineering, this closed-top X-Bow has been homologated to GT4 racing regulations. The radical canopy helps to improve aerodynamics as part of the KTM's racing makeover. The engine in the X-Bow is an Audi-sourced 2.0-liter turbocharged four-cylinder that's been tweaked to 330hp. It may be down on power compared to other GT4s, but its light weight and extra downforce keep it in contention.
For completing the full Playlist, there's a Porsche 356 RSR by Emory Motorsport and another Backstage Pass available.
A new Photo Challenge to kick off Summer is all about a particularly venemous snake. #PrizedPossession wants you to grab a picture of the aggressive 2020 Ford Mustang Shelby GT500. Seasonal championship prizes feature the 2004 Honda Civic Type R and the Volkswagen Global Rallycross Beetle.
One highlight of the prize pool is the 2010 BMW M3 GTS. The E92-generation M3 engaged in an even more focused philosophy than the E46 CSL. Cutting weight by 165lb, the GTS also features a full roll cage and a fire extinguisher. Power comes from a tweaked version of the 4.0-liter V8, which has been bored out to 4.4 liters in the GTS. The result is 444hp and a driving experience unlike anything a standard E92 can offer.
You'll need to win the "German Engineering" championship to bring the GTS home.
Those in the mood for a Summer Showcase Remix can look to "Motocross Purposes" to fulfill those needs. This race sees you strapped into an Ariel Nomad in a dash through the forest against a team of motocross bikes.
The latest Monthly Rivals features the Maserati MC12 Versione Corsa over at Greendale Club Circuit.
A new series means new Super7 challenges are on the cards. Complete all seven and you'll win a Ferrari 250 GTO.
Summer's events and prize list is below:
Tarn Hows Scramble
Series: Dirt Racing Series
Cars: Retro Rally
Restrictions: B Class, 700 PI
Prizes: 15,000 CR, 25,000 CR, 2004 Honda Civic Type R
German Engineering
Series: Road Racing Series
Cars: German cars
Restrictions: S1 Class, 900 PI
Prizes: 15,000 CR, 25,000 CR, BMW M3 GTS
Forest Monsters
Series: Cross Country Series
Cars: Rally Monsters
Restrictions: S1 Class, 900 PI
Prizes: 15,000 CR, 25,000 CR, Volkswagen Global Rallycross Beetle
The Trial: Honda Cup (Co-Op Championship)
Series: Dirt Racing Series
Cars: Honda
Restrictions: A Class, 800 PI
Prizes: Apollo Intensa Emozione
Spring Games – Series 39
Series: Playground Games
Cars: Muscle vs Tuner
Restrictions: A Class, 800 PI
Prizes: 1969 Nissan Fairlady Z
Super7 – Summer
Completion Prize: Ferrari 250 GTO
Bamburgh Dunes Speed Trap
Season Objective: 225 mph
The Great Ridge Danger Sign
Season Objective: 915.4 ft
Oldweir Speed Zone
Season Objective: 150 mph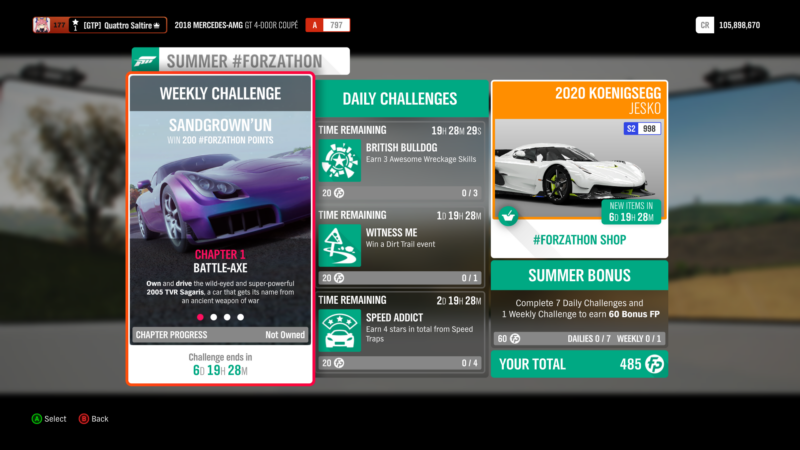 Forzathon Events
Forzathon travels to Blackpool this week, with one of the last great TVRs made there; the 2005 TVR Sagaris. Jump into this slashed beast to get started.
Next, push the Sagaris to its very limit and try to hit its top speed of 185mph. After that, put your bravery on the line in this wild animal and earn a total of 15 Threading the Needle skills.
Finally, wrap up this week by winning a Road Racing Series event at the daunting Goliath circuit.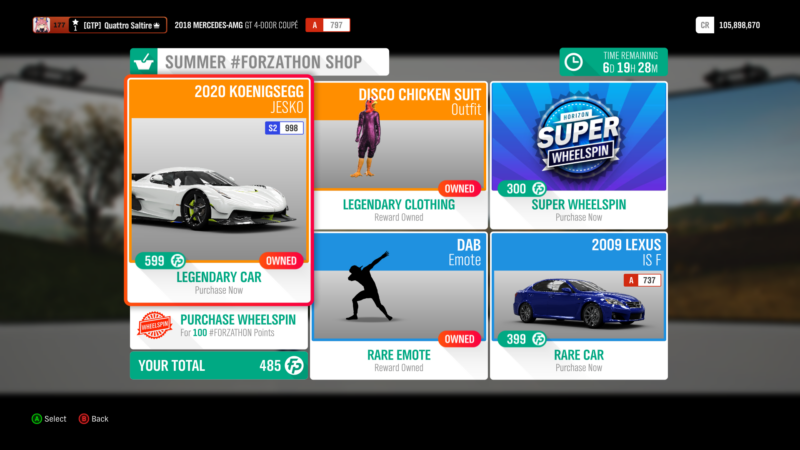 Forzathon Shop
It's a mixed bag in the shop this week, with the 2020 Koenigsegg Jesko leading the way.
Replacing the Agera RS is an extremely difficult job, but the Jesko aims to go even further. Named after the father of founder and CEO Christian von Koenigsegg, the Jesko was built with the singular purpose of becoming the fastest street car ever made. Thanks to a 5.0-liter twin turbocharged V8 making a colossal 1,600hp, Koenigsegg is setting the Jesko a target of over 300mph.
To buy the Jesko, you'll need 599 Forzathon Points, if you do decide to get one, you'll be able to outrun pretty much anything on a long enough straight.
Something a little more sensible is the 2009 Lexus IS-F. Intent on shaking off its image of humdrum hybrids, Lexus built the IS-F to square off with the BMW M3 and Mercedes C63 AMG. Under the hood sits a very un-Lexus sounding 5.0-liter V8 making 417hp. It's also one of the very first sports saloons to use an eight-speed automatic transmission, whilst its rivals used dual-clutch units.
At 399 FP, the Lexus can be seen as an attractive deal, especially if you're after a change from the German establishment.
Novelty items for this week are the Disco Chicken Suit and the Dab emote.
Feature image courtesy of sebmugi
See more articles on Forza Horizon 4 Season Change.