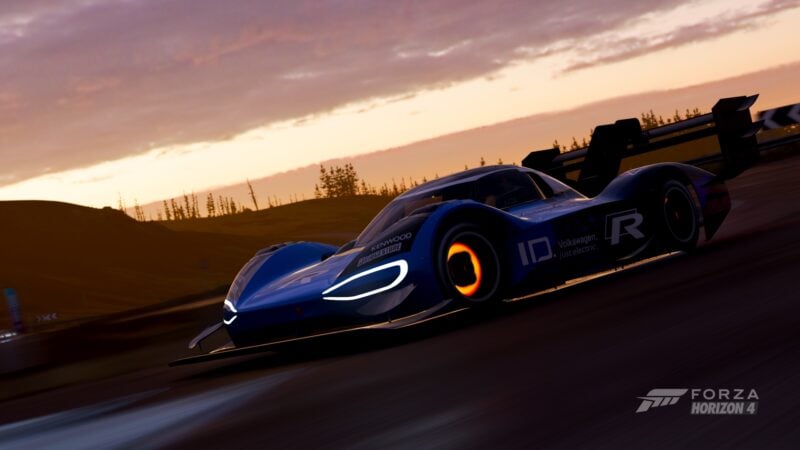 March is coming to an end, and April is just around the corner as Spring makes a welcome return in Forza Horizon 4. We're now at the end of Series 46, with one last push on the cards to grab all the current content.
This week's prize theme is all about hardcore beasts that will require you to be on top of your game to keep them on track. There's also one final set of rewards for completing the Spring playlist to 50% and 80%.
Spoiling For a Fight
Taking center stage for the playlist completion prizes is the 1999 Lamborghini Diablo GTR.
Built to take part in Lambo's single-make racing series, this particular Diablo is more extreme than the already insane SV. The body gains a racing aero kit to maximise downforce, along with a strict diet to bring weight down to just over 3,000lb. There's more mild revisions to the 6.0-liter V12, but it still produces a brutal 590hp.
A car just as extreme is the 2017 VUHL 05RR. The upstart Mexican brand has big ambitions to square off with established rivals such as the Caterham R500 and Ariel Atom, and has a pretty high profile thanks to its appearances in Race of Champions events.
VUHL's most bonkers version of its track day special, the 05RR gains sophisticated aerodynamics but just, barely, remains street legal. The 2.3-liter turbocharged engine produces 385hp, giving the 05RR performance that should not be overlooked.
Our final Photo Challenge for this series requires you to partner up with someone. #OldAcquaintance asks you to snap your car anywhere in Edinburgh with another player or a Drivatar. Spring championship prizes continue the hardcore theme, with cars including the Ford F150 SVT Raptor and Buick GSX up for grabs.
The main prize brings aggressive attitudes to a new era with the 2018 Volkswagen ID.R. Showcasing the future of racing, this prototype is the engineering peak of VW's ID series.
This particular version of the ID.R comes with the high-downforce setup it used on its record-breaking run at the Pikes Peak hillclimb. Under the carbon fibre tub sits two electric motors that produce a combined 670hp. Put the ID.R on a very twisty road and nothing will be able to keep up with it.
You can win the ID.R by completing "The Old Smokey" championship.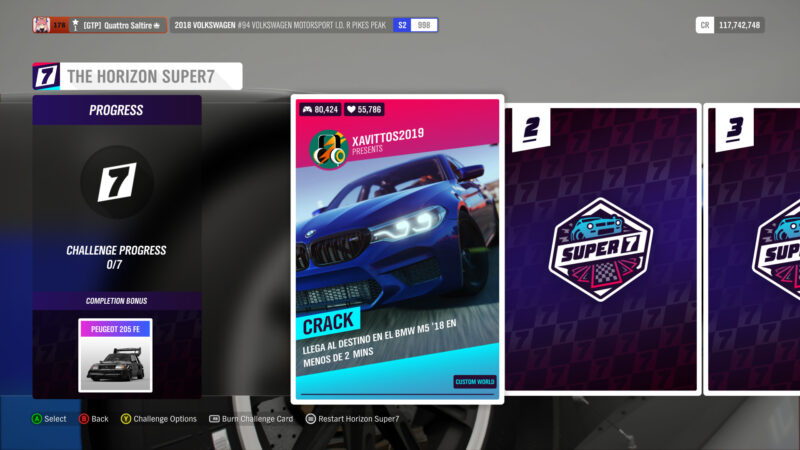 You can get one final crack at Super7 challenges to help finish off Series 46 in style. Complete all seven cards to receive a Peugeot 205 T16 Forza Edition.
Spring rewards can be viewed below:
The Old Smokey
Series: Road Racing Series
Cars:Extreme Track Toys
Restrictions: S2 Class, 998 PI
Prizes: 15,000 CR, 25,000 CR, Volkswagen ID.R
Veloster Raptor Returns
Series: Dirt Racing Series
Cars: Hyundai Veloster N, 2017 Ford F150 Raptor
Restrictions: B Class, 700 PI
Prizes: 15,000 CR, 25,000 CR, 2011 Ford F150 SVT Raptor
Street Scene Sunset
Series: Street Scene
Cars: Retro Hot Hatch
Restrictions: C Class, 600 PI
Prizes: 15,000 CR, 25,000 CR, Buick GSX
The Trial: Bring Home The Bacon (Co-Op Championship)
Series: Dirt Racing Series
Cars: Modern Muscle
Restrictions: S1 Class, 900 PI
Prizes: 1996 Chevrolet Impala SS
Spring Games – Series 46
Series: Playground Games
Cars: Modern Rally
Restrictions: B Class, 700 PI
Prizes: Pontiac Firebird Trans Am SD-455
Super7 – Spring
Completion Prize: Peugeot 205 T16 FE
Cat Bells Speed Trap
Swan Dive Danger Sign
Season Objective: 800.5ft
The Orchards Speed Zone
Forzathon Events
This week sees Forzathon put the spotlight on a British supercar that often gets unfairly disregarded as a failure: the Jaguar XJ220. Climb into this spurned machine to get started.
Next, show how the Jag can hang with the best by winning 3 Road Racing Series events. Afterwards, take this big cat for a long drive around the UK. With 542hp on tap, the 20 miles needed will simply fly past.
To bring a wrap down on the Forzathon challenge, open the taps and take the Jag to its top speed of 220mph.
Forzathon Shop
New-age hypercars are the order of the day for the shop this week, which is headlined by the 2013 McLaren P1.
The second car in the esteemed "Holy Trinity", the P1 integrates Formula 1 technology into an uncompromising package. Although billed as the spiritual successor to the legendary F1, the P1 offers a very different approach to speed.
Its in-house developed 3.8-liter twin turbocharged V8 is mated to an energy recovery system, allowing for a combined 903hp to be sent to the rear wheels. McLaren also went to town on the aerodynamics to bring that power under control, as the body can produce up to 600kg of downforce.
You'll have to part ways with 599 Forzathon Points to buy the P1, but in return you'll get potentially the fastest of the hyper-hybrid trio.
If you want the future right now, you can look to the 2019 RAESR Tachyon Speed.
An unknown oddity, this American hypercar looks like a cross between a Formula 1 car and the Batmobile. Unlike most startups, RAESR has chosen to go down the electric route with the Tachyon. Whereas most fast EVs make do with a dual or quad-motor setup, the Tachyon has six electric motors.
The result is over 1,250hp and a dizzying 3,650lbft of torque. Bizarrely, the motors on the Tachyon will redline at just 3,000rpm, giving much efficient torque delivery without any dropoff at higher revs.
At 599FP it's pricey, but you'll certainly turn many heads should you roll up to a car meet in one.
This week's clothing items are the Extreme Offroad T-Shirt and the Red Biker Trousers.
See more articles on Forza Horizon 4 Season Change.