Forza Horizon 4 has reached its landmark 50th Series, with the weekly Playlists continuing to bring players and rare cars together.
It's now the autumn season, the second week of the series, bringing players additional chances to win some unusual prizes as well as working towards the overall series targets.
Although it's been a while since FH4 saw any new content, there's still plenty of things available which you might have missed out on first time around as PG recycles older playlists. Let's dig in to what's on offer this week.
Series 50
The Series 50 rewards remain as they were, with a Horizon Backstage Pass available for 50% completion of the full four-week cycle, and a Hot Wheels Bone Shaker for 80%.
That's no doubt a reference to the fact that FH4's successor title, FH5, is due to get its very first expansion in a few days, featuring the return of a full Hot Wheels-themed environment.
This skull-themed rat rod is actually based on a Chevrolet Corvette C6, using the chassis and 5.7-liter V8. That means it's plenty quick enough over smooth terrain, with over 400hp on tap and not even a ton in weight.
You cannot ordinarily buy the Boneshaker in FH4, so it's well worth trying to pick it up in the Series Playlist.
Autumn
The Autumn playlist also offers up a Backstage Pass, in addition to a Shelby Daytona Cobra Coupe.
This ultra-rare version of the Cobra was designed for one purpose: winning endurance races. It addressed the aerodynamic shortfalls of the rather open-mouthed, open-top Cobra with a slick new aluminum body.
While the Daytona never did get to meet its goal of smashing Ferrari at Le Mans — Carroll Shelby famously moving to head the Ford GT40 project for the same purpose — the six cars made did pick up numerous class wins and speed records in their short careers.
As it comes in at eight million credits, it's well worth gunning for that 80% target this season.
That means you'll need to work through the overwhelming majority of this week's event, starting with the Photo Challenge, #HoonigansParadise. Simply snap any Hoonigan vehicle at the Express North Rail Yard to complete — and you'll get a Super Wheelspin as a bonus.
The Weekly Challenge will put you into any Classic Sports Car. Own and drive one to get The Stuff of Legend started.
Hit up any Speed Zones you can find and score the equivalent of nine stars to pass the second stage. You'll need some caffeine for the next stage, which requires you to win a race at The Colossus.
After that, get stunting and earn 250,000 Skill Score to complete the event and earn 200FP as well as your Playlist percentage points.
As usual there's seven Daily Challenges, which mostly set you goals of scoring Skills. You've got three days to complete each event, and this week you'll need to earn two Airborne Pass Skills, three Ultimate Drafting Skills, one Ultimate Pass Skill, two Great Wreckage Skills, three Air Skills, and one Near Miss Skill.
The sole exception is the final challenge, which will require you to earn two stars in any Drift Zone; may as well team that up with your Weekly Seasonal PR Stunt…
The two online multiplayer events, Seasonal Playground Games and The Trial, will require an Xbox Live Gold subscription or to play on PC to access.
This week's Trial, Team Lotus, puts you into any A Class (701-800PI) Lotus vehicle for the three-race, team vs. team event. You'll need to help out your team-mates and hinder the Unbeatable AI bots to score as many points as you can.
Beat those drivatars as a squad and you'll take a 2005 Lotus Elise as your prize.
Season Playground Games will take you to Bamburgh Castle for a series of Flag Rush, Infected, and King games for S1 Class (801-900PI) cars from the 1980s. Simply complete the event to earn a Ferrari F40.
The Trial: Team Lotus
Series: Road Racing Series
Cars: Lotus
Restrictions: A Class, 800 PI
Prizes: Lotus Elise '05
Autumn Games – Series 50
Series: Playground Games
Cars: 1980s
Restrictions: S1 Class, 900 PI
Prizes: Ferrari F40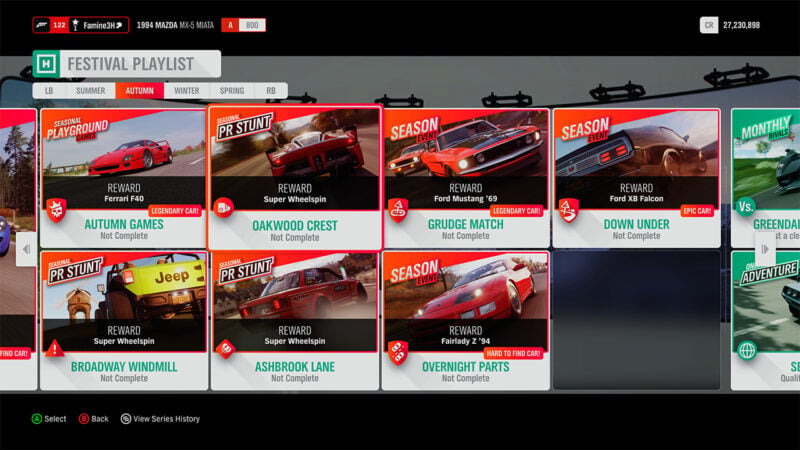 There's three PR Stunts up this week, with a Danger Sign, Drift Zone, and Speed Trap all in the mix and all offering a Super Wheelspin as a bonus prize for completion.
Oakwood Crest's 205mph Speed Trap target is above the three-star speed, but should be easy enough especially if approached from the main motorway. Similarly the Ashbrook Lane Drift Zone target score is above the three-star mark but only just; 97,000pt ought to be relatively simple.
That leaves the Broadway Windmill Danger Sign, which is also above three-stars, but the 396m target is well short of what some seriously quick machinery can score.
Three Season Events will put you into head-to-head races with 11 Highly Skilled AI in three-race championships.
Winning the Cross Country Grudge Match event will reward you with a 1969 Ford Mustang, while the Dirt Racing Down Under event has a Ford Falcon XB on offer for the champion. Finally there's the Overnight Parts Street Racing event, with a 1994 Nissan Fairlady Z as the prize.
Danger Sign: Broadway Windmill
Drift Zone: Ashbrook Lane
Season Objective: 97,000pt
Speed Trap: Oakwood Crest
Seasonal Championship: Down Under
Series: Dirt Racing Series
Cars: Australia
Restrictions: A Class, 800 PI
Prizes: 15,000 CR, 25,000 CR, Ford XB Falcon
Seasonal Championship: Grudge Match
Series: Cross Country Series
Cars: Summer Specials
Restrictions: A Class, 800 PI
Prizes: 15,000 CR, 25,000 CR, Mini JCW Convertible
Seasonal Championship: Overnight Parts
Series: Street Scene
Cars: Japan
Restrictions: S1 Class, 900 PI
Prizes: 15,000 CR, 25,000 CR, Nissan Fairlady Z '94
The Monthly Rivals event continues to use the VUHL 05RR – provided to you – for a clean lap of the Greendale Club Circuit. This awards completion percentage points across the series, with a small amount in each of the four season whenever you finish it.
That just leaves Super 7, with a prize of an Italdesign Zerouno for smashing out seven challenge cards in a row.
Monthly Rivals: Greendale Circuit
Super7 – Summer
Completion Prize: Italdesign Zerouno
Forzathon Shop
It's a Legendary week in the Forzathon Shop, with three uber-rare items up for grabs.
The AMG Hammer Coupe isn't one of them, although at 299FP it headlines the store and is pretty epic. Quite literally, as it's an Epic rank machine.
With the Hammer, AMG hit the tuning scene with a bang; it had been offering tuning and visual upgrade items for Mercedes models for years, but the Hammer was its first real full-car package.
It essentially took the form of an E Class coupe, but with a monstrous 5.6-liter V8 stuffed under the nose. For a while it was one of the fastest cars on the road, clocking 190mph+ for a four-seat passenger car.
The Hammer isn't available to buy through regular means, so the Forzathon Shop price is a bit of a bargain.
Cheaper still — and also not a car you can just pick up from the Autoshow — is the 101FP Hoonigan RS200 Evolution.
This is the result of giving one of the classic, unhinged Group B homologation specials to the lightly loopy Ken Block. If you want to slide about a lot, there's not much better in FH4.
The Halo Theme Car Horn and Disco Chicken Suit are this week's store items and 75FP apiece, while you can also pick up a 40FP Wheelspin and a 150FP Super Wheelspin.
See more articles on Forza Horizon 4 Season Change.