Forza Horizon 4 is now midway through its 54th Series, as Winter once again reaches the UK.
Although new content is in the game's rear-view mirror, the weekly Playlists continue bringing events to win rare cars and items.
There's plenty to be getting on with this week, with some British car rewards, so let's take a look at what you can do and win over the next seven days.
Series 54
The main Series rewards remain in place of course. They consist of the now regular Horizon Backstage Pass for 50% completion, and a Mosler MT900S for 80%.
Already a pretty light car thanks to the carbon fiber chassis, the S shucked even more weight to sit at 998kg in street trim. Combined with a helpful uptick in power from the Corvette-derived V8, to 450hp, the MT900S was no slouch.
Built in both the USA and the United Kingdom, the MT900S is the most-produced vehicle in the Mosler stable with 20 cars made. George Lucas reportedly bought the first one.
As it's not a car you can pick up in the Autoshow, it's well worth trying to grab the 80% completion to earn it this Series.
Series 54 Winter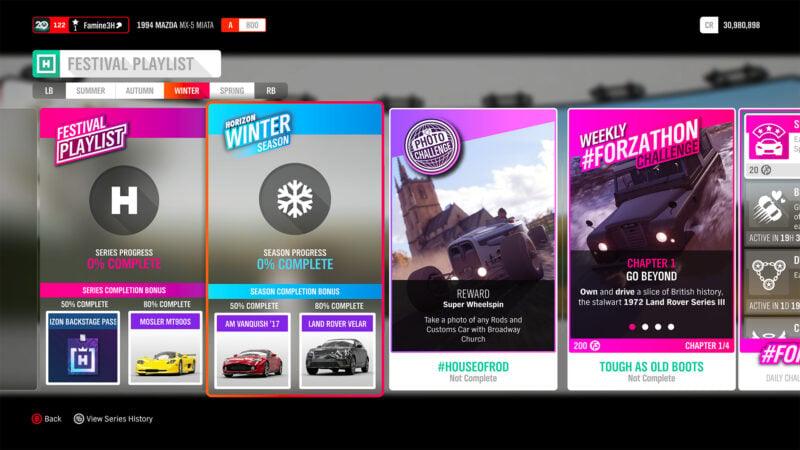 There's two Brits on offer for Winter, with the Aston Martin Vanquish and Land Rover Range Rover Velar for 50% and 80% completion respectively. Neither are readily available from the Autoshow, so it's a good week to be a Playlist addict.
The Vanquish is the second-generation car, bearing a number of improvements over its rather squirrely predecessor and the rather nasty automated manual gearbox. There's also a useful power boost, with the new V12 up over 100hp compared to the original.
Our other V is the Velar, a new model in the Range Rover lineup that slots between the larger Sport and smaller Evoque. It shares a platform — and a 3-liter supercharged V6 — with the Jaguar F-Pace, making it a slightly more dynamic vehicle than full-sized Range Rovers.
If you want both cars, you'll need to work almost all of this week's events. That starts with the Photo Challenge, #HouseOfRod, where you'll need to photograph any Rods & Customs car at the Broadway Church, with a Super Wheelspin as a bonus.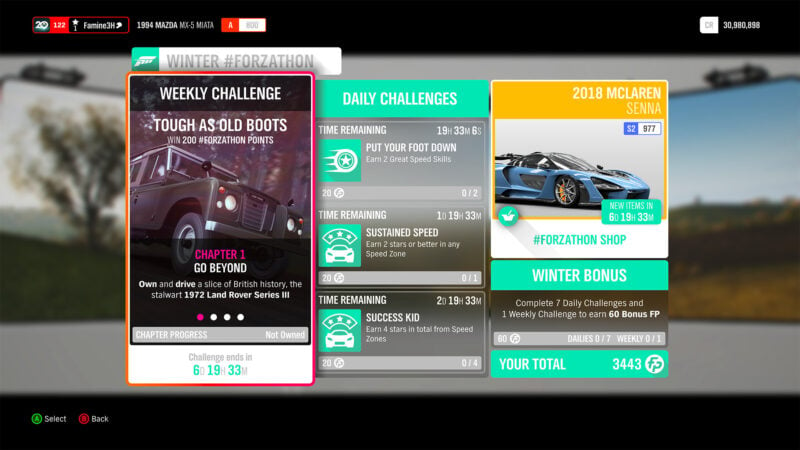 The Weekly Challenge, Tough As Old Boots, centers on the Land Rover Series III. Pick up the off-road legend to get the event underway.
Have a smashing time by earning 20 Wreckage Skills, then take the Landie to a victory at the Ambleside Rush Cross Country. Round off the challenge with a 15-mile drive to earn 200FP as well as your Playlist percentage points.
It's another set of skill-focused Daily Challenges this week. One new event pops up each day, with three days to complete each one. Across the week you'll be set goals to earn a Great Clean Racing Skill, a Clean Start Skill, a Great Air Skill, two Drift Tap Skills, and a Great Skill Chain.
In addition you'll need to earn four stars from Speed Zones and win two Street Scene races. Handily both also appear elsewhere on the Playlist so you can double up.
The two online multiplayer events, Seasonal Playground Games and The Trial, will require an Xbox Live Gold subscription or to play on PC to access.
This week's Trial, Toying With You, focuses on Track Toys. S1 Class (801-900PI) cars from the category are eligible for this best-of-three, team vs. team event where you'll need to help out your team-mates and hinder the Unbeatable AI bots to score as many points as you can.
There's a Volkswagen Golf R '10 for a team victory, as well as the largest single chunk of Playlist completion.
Season Playground Games heads to Mudkickers Park this week, for a series of Flag Rush, Infected, and King games for A Class (701-800PI) Extreme Offroad cars. Just complete the event — winning is not required — to earn a neat pair of Shark Wellies.
The Trial: Toying With You
Series: Road Racing Series
Cars: Track Toys
Restrictions: S1 Class, 900 PI
Prizes: Volkswagen Golf R '10
Winter Games – Series 54
Series: Playground Games
Cars: Extreme Offroad
Restrictions: A Class, 800 PI
Prizes: Shark Wellies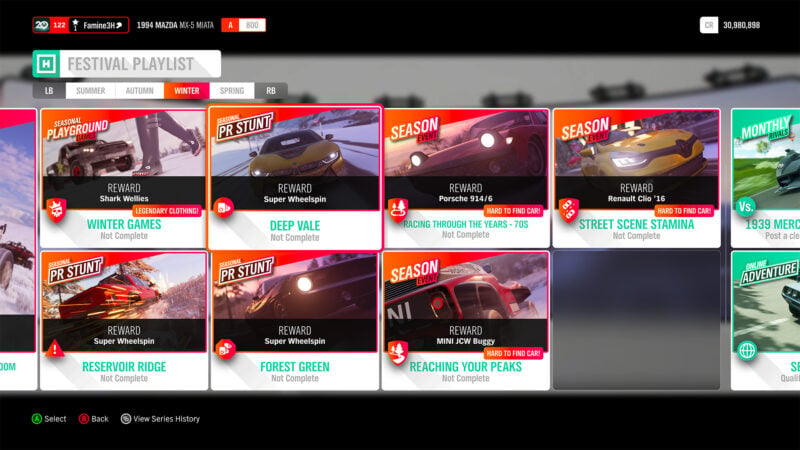 Three PR Stunts await this week, with a Danger Sign, Speed Trap, and a Speed Zone all available, with a Super Wheelspin as a bonus prize for completing each.
You'll need a good jump well past three-star distances for the Reservoir Ridge Danger Sign, requiring a 200m distance to pass. The nearby Speed Zone at Forest Green is also well above three stars, at 130mph required. By comparison, the 161mph target for Deep Vale's Speed Trap looks easy, even if just past what you need for the three stars.
The three Season Events will put you into head-to-head races with 11 Highly Skilled AI in three-race championships. You'll need to top the overall points table to win.
Racing Through the Years – 70s requires B Class (601-700PI) cars from the 1970s for a Dirt Racing Series, with a Porsche 914/6 for first place. Reaching Your Peaks moves to a Cross Country event for B Class (601-700PI) Offroad Buggies, and a Mini JCW Buggy as a prize. Finally there's a Street Scene event, Street Scene Stamina, for B Class (601-700PI) Renaults, and a Clio RS reward.
Danger Sign: Reservoir Ridge
Speed Trap: Deep Vale
Speed Zone: Forest Green
Seasonal Championship: Racing Through the Years – 70s
Series: Dirt Racing Series
Cars: 1970s
Restrictions: B Class, 700 PI
Prizes: 15,000 CR, 25,000 CR, Porsche 914/6
Seasonal Championship: Reaching Your Peaks
Series: Cross Country Series
Cars: Offroad Buggies
Restrictions: B Class, 700 PI
Prizes: 15,000 CR, 25,000 CR, Mini JCW Buggy
Seasonal Championship: Street Scene Stamina
Series: Street Scene
Cars: Renault
Restrictions: B Class, 700 PI
Prizes: 15,000 CR, 25,000 CR, Renault Clio '16
For Monthly Rivals you'll need to set a clean lap time at the Bamburgh Coast Circuit using the pre-war Mercedes W154 provided. This event will award completion percentage points across the series, evenly distributed to each of the four seasons.
That only leaves Super 7, where you'll need to complete seven challenge cards in a row to win a 1985 Mazda RX-7.
Monthly Rivals: Bamburgh Coast Circuit
Super7 – Summer
Completion Prize: Mazda RX-7 1985
Forzathon Shop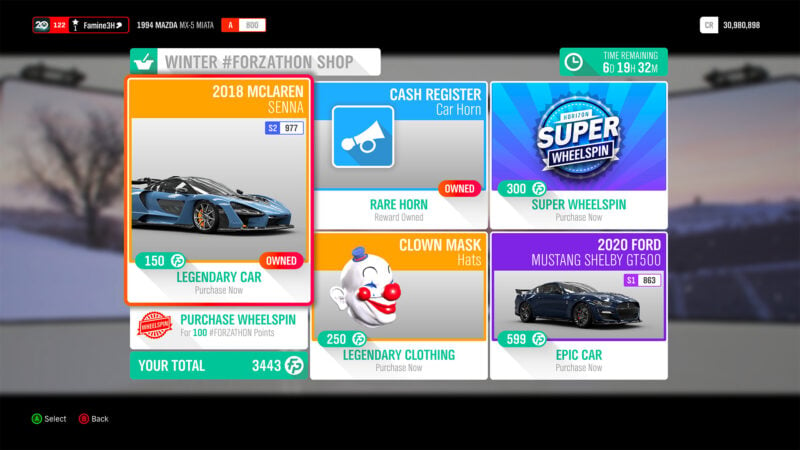 There's more rare and hard to find items and cars in the Forzathon Shop, with the game's cover car taking center stage.
Ordinarily available for a million credits in the Autoshow, the Senna appears for a bargain 150FP this week to save you spending that hard-earned cash.
Any car wearing the name of one of the greatest racing drivers of all time has to have something serious going on to back it up, and the McLaren Senna very much does.
Combining that carbon fiber MonoCage tub with a 790hp version of the four-liter V8 twin-turbo, the Senna has some startling performance on the straight bits, but its real party piece is the dramatic aerodynamics that help it keep enormous cornering speeds.
As a result the Senna is one of the quickest ways from anywhere to anywhere else in FH4, on surfaced roads at least.
Alternatively you could spend 599FP on the Ford Mustang Shelby GT500. While much more expensive than the Senna, this price reflects the fact the car cannot be purchased at the Autoshow. It's certainly not as quick, despite having a 760hp V8, but it is a lot of fun to slide about.
The Cash Register Car Horn and Clown Mask Hat are this week's store items at 250FP apiece, while you can also pick up a Super Wheelspin for 300FP.
See more articles on Forza Horizon 4 Season Change.