Engines are roaring across the land as Autumn kicks into high gear once again in Forza Horizon 4. As the leaves change color, there's a swathe of new events to try out around the UK.
It's a quiet week with no new content arriving. There is another chance to earn one of the most hardcore BMWs around, as well as a mixture of Playlist prizes for 50% and 80% completion.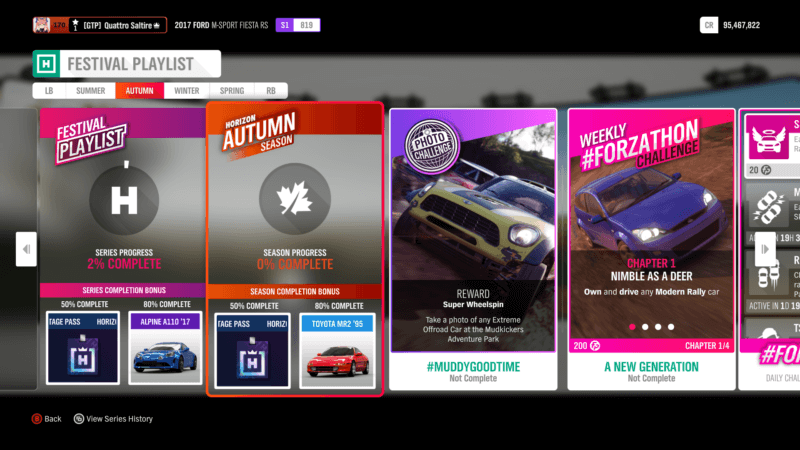 M3 GTS Guns For Glory
Only one car of note is available for the Playlist completion prizes this week: the 1995 Toyota MR2 GT.
The SW20 generation of Toyota's popular roadster is arguably one of the best iterations, and the GT variant is also one of the most powerful models to come from the factory. Under the Ferrari-inspired styling sits a 2.0-liter turbocharged engine shared with the Celica. Making 241hp, the turbo MR2 has some serious speed to run with its rivals.
If you're keen to visit Horizon Backstage, then another Backstage Pass is also available to be won.
Another classic Photo Challenge returns for Autumn this week. #MuddyGoodTime requires you to hop into an Extreme Offroad car and get dirty in Mudkickers Adventure Park. Seasonal championship prizes include the Ferrari 288 GTO and 2018 Porsche Cayenne.
The standout prize is the 2010 BMW M3 GTS. Marking the first stripped out M3 since the CSL, the GTS puts much more emphasis on track use. With a weight reduction of 165lb, the GTS also gets a larger 4.4-liter V8. Power goes up to 444hp along with numerous handling tweaks, making this beast even sharper.
You'll need to win the "German Engineering" championship if you want the M3.
A well known Showcase Remix returns for Autumn as well. "Forest Sprite" puts you back behind the wheel of an Austin-Healey Sprite in a duel against a team of motocross bikers.
More Super7 challenges are now available as part of the latest season. If you finish all seven cards, your prize is the rare Italdesign Zerouno supercar.
Read on further for the rest of Autumn's events:
German Engineering
Series: Road Racing Series
Cars: German cars
Restrictions: S1 Class, 900 PI
Prizes: 15,000 CR, 25,000 CR, 2010 BMW M3 GTS
Overnight Parts
Series: Street Scene
Cars: Japanese cars
Restrictions: A Class, 800 PI
Prizes: 15,000 CR, 25,000 CR, 1992 Toyota Supra
Priceless Porsches
Series: Road Racing Series
Cars: High Rollers
Restrictions: S2 Class, 998 PI
Prizes: 15,000 CR, 25,000 CR, 2018 Porsche Cayenne Turbo
The Trial: Silicon Rally (Co-Op Championship)
Series: Dirt Racing Series
Cars: Retro Rally
Restrictions: B Class, 700 PI
Prizes: Peugeot 205 T16 Forza Edition
Autumn Games – Series 33
Series: Playground Games
Cars: Retro Saloons
Restrictions: B Class, 700 PI
Prizes: Ferrari 288 GTO
Super7 – Autumn
Completion Prize – Italdesign Zerouno
Hilltop Vista Danger Sign
Season Objective: 623.4 ft
The Grange Speed Trap
Season Objective: 200 mph
Ambleside Approach Speed Zone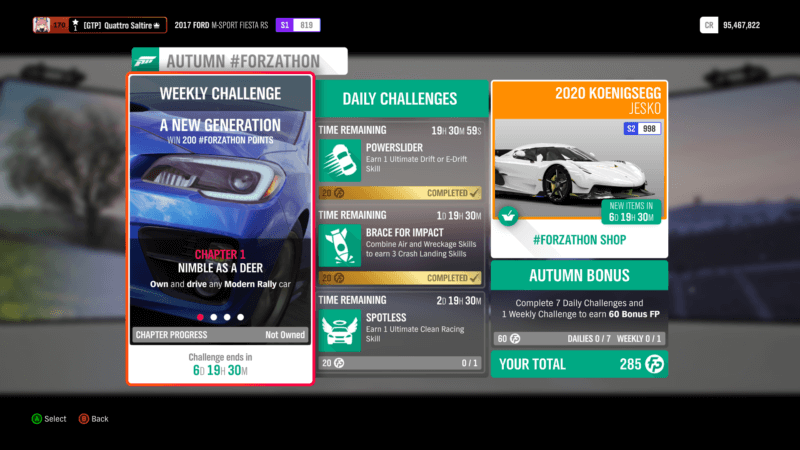 Forzathon Events
It's time to hit the trails this week as Forzathon puts the spotlight on Mordern Rally cars. Climb into one of these four-wheel drive thoroughbreds to get started.
Next, push your weapon to its limits to hit a top speed of 185mph — some generous tuning will be required here. After that, take to the skies and earn a total of 15 stars from Danger Signs.
Finally, test your endurance by winning a Dirt Racing Series event at daunting Gauntlet to bring the curtain down on the newest challenges.
Forzathon Shop
Speed is king for the shop lineup this week, as the main highlight is the 2020 Koenigsegg Jesko.
Replacing the record-setting Agera RS, the Jesko aims for the singular purpose of becoming the fastest street car ever made. Giving the Jesko its power is Koenigsegg's familiar 5.0-liter, twin-turbocharged V8 making 1,280hp. Give it some tweaks and you'll be pushing 1,600hp. Find a long enough stretch of road and you may be knocking on the door of over 300mph.
At 600 Forzathon Points, you'll be paying a high price for the Jesko, but you'll have the ability to outrun almost anything in return.
If you want more style, there's the Cadillac XTS Limousine. Based on a regular XTS sedan, the 70-inch extension allows for much more luxurious travel in the back. Performance will take a hit as the 304hp from the 3.6-liter V6 has to move over 5,500lb.
You'll be paying just 350 FP for the XTS. If you want to showcase your style, then a limousine is one of the best cars to have.
Clothing items for this week include the Sapphire Crown and some Retro Abstract Leggings.
Featured image courtesy of imported_rik19
See more articles on Forza Horizon 4 Season Change.