The warm Spring weather has returned to the UK to bring a fresh season to Forza Horizon 4 this week. We're now in the final stretch of Series 24, with the last batch of events and content up and running.
Our last Playlist update for Series 24 brings more prizes for 50% and 80% completion. This week's debut comes in the form of an iconic Mazda sports car, so let's take a look into the Spring content.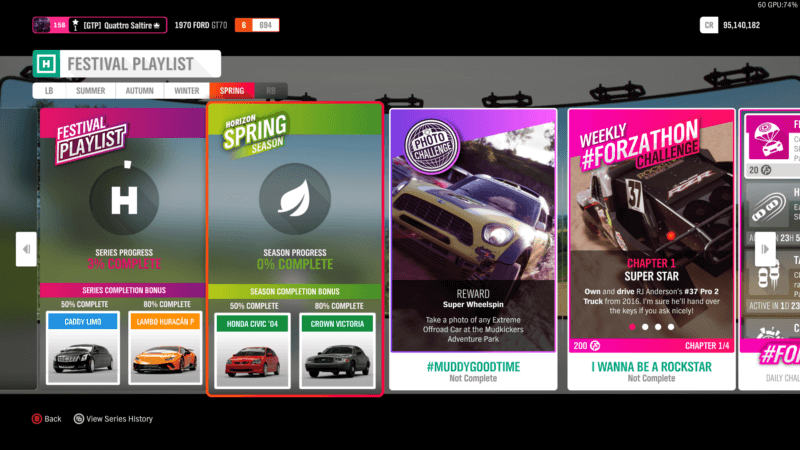 RX-7 Cruises In
The Playlist prizes this week are all about returning content. Taking the lead is the 2004 Honda Civic Type R.
Based on the EP3 generation Civic, this peppy hot hatch is considered to be one of the greats. Despite making just 197hp from its 2.0-liter engine, the Type R comes alive when you thrash it. Stick it into corners and the Type R is one of the most fun hot hatches around.
Not far behind is the Ford Crown Victoria. One of the most iconic police cars of all time, the Crown Vic is one of the most popular law enforcement vehicles. In standard form, the Crown Vic comes with a 4.6-liter V8 making 250hp. With some upgrades, you'll be able to unleash much more potential.
Seasonal championship prizes this week include the Plymouth Fury and Porsche 718 RS 60.
This week's main highlight comes from the 1985 Mazda RX-7. The first generation of Mazda's iconic RX sports car helped to bring the rotary engine to a more sporting package. At just 1.3-liters (sort of), the RX-7's rotary engine produces 135hp. Weighing in at just under 2,600lb, the RX-7 will bring agile rear wheel drive fun to JDM fans.
If you want the RX-7, you'll have to win the "Midnight Mazdaness" championship.
The last Photo Challenge this week requires you to get down and dirty. #MuddyGoodTime calls for you to snap an Extreme Offroad car at the Mudkicker's Adventure Park.
We also have a returning Showcase Remix event. "Contest of Giants" will see you racing over the Scottish Highlands against a giant hovercraft. Your weapon of choice for this event is the Chevrolet Colorado ZR2.
Events and prizes are listed down below
Hand of Rod
Series: Road Racing Series
Cars: Rods & Customs
Restrictions: C Class, 600 PI
Prizes: 15,000 CR, 25,000 CR, Plymouth Fury
Streets Ahead
Series: Street Scene
Cars: 1950's Collection
Restrictions: D Class, 500 PI
Prizes: 15,000 CR, 25,000 CR, Porsche 718 RS 60
Midnight Mazdaness
Series: Street Scene
Cars: Mazda
Restrictions: B Class, 700 PI
Prizes: 15,000 CR, 25,000 CR, 1985 Mazda RX-7
The Trial: Trial and Error (Co-Op Championship)
Series: Road Racing Series
Cars: Track Toys
Restrictions: S1 Class, 900 PI
Prizes: Ferrari 488 Pista
Spring Games – Series 24
Series: Playground Games
Cars: Hot Hatch
Restrictions: B Class, 700 PI
Prizes: 2012 Mini John Cooper Works
Coombe Speed Trap
Season Objective: 206 mph
Ambleside Edge Danger Sign
Season Objective: 1,049.9 ft
Queen's Drive Speed Zone
Season Objective: 133 mph
Forzathon Events
Forzathon this week looks at Trophy Trucks. Specifically this week's star truck is the Polaris RZR Pro 2 truck, as driven by RJ Anderson. Jump aboard to get things started.
Next up, show off your all-terrain abilities by taking victory in 2 Cross Country Series circuit events. Afterwards, spread your wings and take to the air, as you'll need to earn a total of 15 stars from Danger Signs.
Finally, test your endurance by taking victory in The Titan Cross Country Series event to wrap up this week.
Forzathon Shop
The Italian tricolore flies high in the Forzathon Shop this week. Taking center stage is the 2018 Ferrari Portofino.
Replacing the California, the Portofino serves as the new entry level point to the Ferrari range (if you could any Ferrari "entry level"). Under the hood lies an improved version of the California T's 3.9-liter, twin-turbocharged V8. Making 592hp, the Portofino will play the role of supercar or grand tourer.
You'll need 600 Forzathon Points for the Portofino. If you want some proper Italian flair for your GT, then the Portofino is a welcome addition.
Going back in time, we find the 1969 FIAT Dino 2.4 Coupe. Sharing an engine with the Ferrari Dino, the FIAT often gets overlooked. That engine is a 2.4-liter V6 with 180hp, which you can also find in the Lancia Stratos. Whilst the Ferrari was more about performance, the FIAT focuses more on style.
The Dino will set you back 450FP, but as an alternative to its Ferrari sister, its one we would recommend.
This week's Avatar cosmetics include the Modern Race Suit Blue and the Disco Chicken Suit.
See more articles on Forza Horizon 4 Season Change.