The traditional beginning of a new Summer season has arrived in Forza Horizon 4. Series 48 officially kicks off another four weeks of remixed content for players stilling hanging around in the UK.
Prizes this week focus on premium performance, as well as a mixed bag of rewards for completing both the full and Summer playlist to 50% and 80%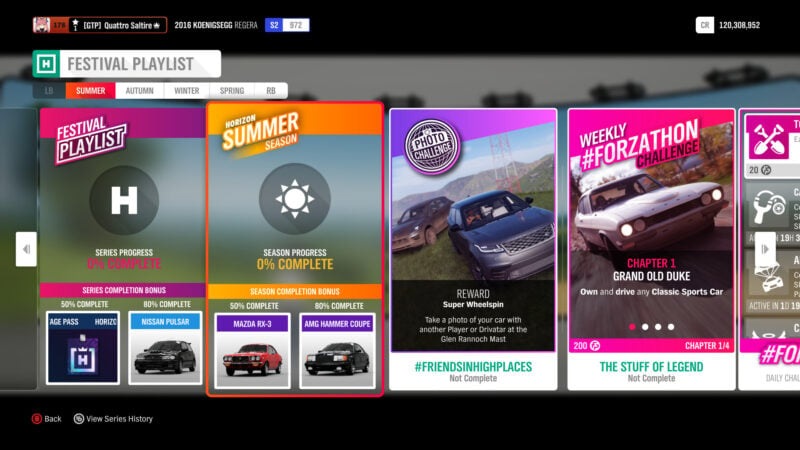 Express Chargers
Kicking off the Summer completion rewards is a car that may not scream executive, but is no less important: the 1973 Mazda RX-3.
Although the RX-3 may look ordinary, it became one of Mazda's most successful cars both domestically and abroad. It also helped to fully anchor the rotary engine in the firm's stable. The RX-3 also has hidden racing pedigree with a successful career in touring car championships. The engine in question is a 1.1 liter twin-rotor making 110hp, offering a smoother power delivery than its piston engine equivalents.
If you want an executive bruiser, you can look to the Mercedes-Benz AMG Hammer Coupe.
One of the most important cars in the history of AMG, this modified W124 E-Class was designed to demolish all other sports sedans of its era. AMG squeezed a 6.0 liter V8 making 380hp under the hood, and gave the W124 a subtle but menacing bodykit. Such was the brutality of its performance against its rivals that AMG nicknamed the 300 CE as "The Hammer".
Reach the 50% and 80% marks for the full Playlist and you'll win a Horizon Backstage Pass and a Nissan Pulsar GTI-R.
Photo challenges return for Series 48, starting with #FriendsInHighPlaces. For this objective, you'll need to find either a friend or a Drivatar and snap a picture together at the Glen Rannoch Mast. Seasonal championships bring machines such as the Lamborghini Huracan Performante and Aston Martin Vanquish Zagato to the table.
One prize worth looking at is the 2018 Mercedes-AMG E63 S.
The big Merc sedan has always been in the shadow of the formidable BMW M5 in recent generations, but the latest E-Class swings the balance of power in its favor. Utilising a more advanced four-wheel-drive system than ever before, the E63 can balance all-weather grip with tail-happy lunacy in ways that its rivals can't match. With a 4.0 liter twin turbocharged V8 making over 600hp, the E63 can also outgun its rivals in a drag race.
To get the E63, you'll need to win the "Are We There Yet?" championship.
Summer also brings a Showcase Remix event for those keen on novel races. "Nine & Three Quarters" straps you into a Ford Anglia for a race to Edinburgh against the Flying Scotsman. Just don't try to make the car fly.
A new Monthly Rivals is also available for Series 48, with the Jeep Gladiator as the star car on the Railroad Cross Country Circuit.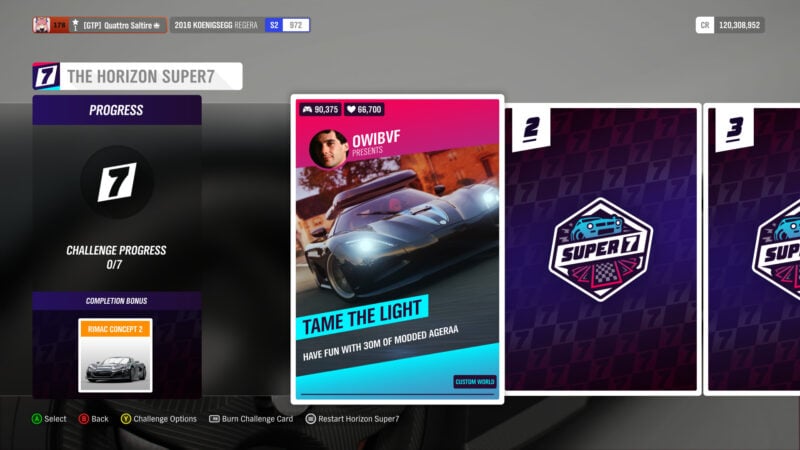 A new series also means a rejigged set of Super7 challenges. Finish all seven and a Rimac Concept Two will be delivered to your garage.
Summer events can be found listed below:
Bon Voyage
Series: Road Racing Series
Cars: French cars
Restrictions: S2 Class, 998 PI
Prizes: 15,000 CR, 25,000 CR, Renault Clio RS 197
Are We There Yet?
Series: Dirt Racing Series
Cars: Super Saloons
Restrictions: A Class, 800 PI
Prizes: 15,000 CR, 25,000 CR, 2018 Mercedes-AMG E63 S
Beach Trip!
Series: Cross Country Series
Cars: Sports Utility Heroes
Restrictions: A Class, 800 PI
Prizes: 15,000 CR, 25,000 CR, Aston Martin Vanquish Zagato Coupe
The Trial: Calm Before the Huracan (Co-Op Championship)
Series: Road Racing Series
Cars: Italian cars
Restrictions: S1 Class, 900 PI
Prizes: Lamborghini Huracan Performante
Summer Games – Series 48
Series: Playground Games
Cars: Rare Classics
Restrictions: B Class, 700 PI
Prizes: Ferrari 365 GTB/4
Super7 – Summer
Completion Prize: Rimac Concept Two
Cat Bells Speed Trap
Season Objective: 155 mph
Broadway Windmill Danger Sign
Season Objective: 1,499.3 ft
The Bridge House Speed Zone
Season Objective: 110 mph
Forzathon Events
Head into a golden age with this weeks Forzathon as Classic Sports Cars are in the spotlight. Choose any of the legends sitting in your garage and head out on the open road to get rolling.
Next, show how your classic machine still has legs by earning a total of 9 stars in Speed Zones. After that, be prepared for a long haul as you'll need to win a Road Racing Series event at the punishing Colossus.
Finally, turn your car into a gymkhana specialist as you'll need all your driving techniques to rack up a total of 250,000 Skill Score to wrap up the Summer challenges.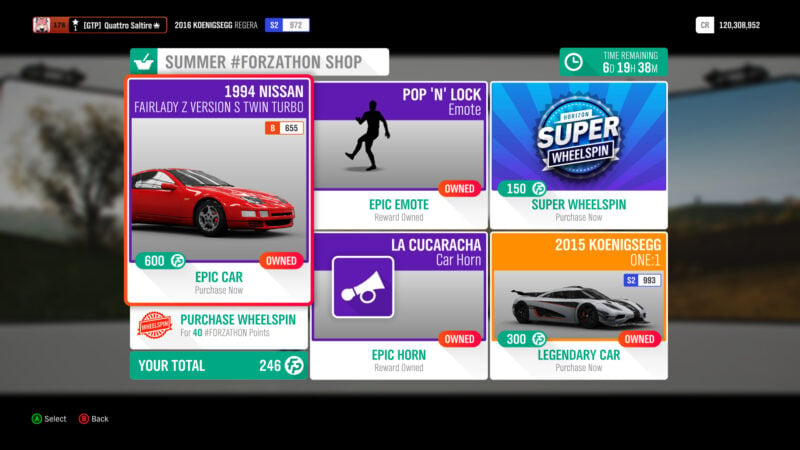 Forzathon Shop
The shop lineup this week is headlined by one of the most underrated Nissan sports cars of the 1990s; the 1994 Fairlady Z.
The Z32 generation of Nissan's fabled Z car is often accused of being too soft and too heavy to fit in with its predecessors. Despite this, the Z32 is still a popular choice. This particular version features a 3.0 liter twin turbocharged V6 making a healthy 276hp, though with some modifications, you'll be able to unlock much more power.
At 600 Forzathon Points, the Z is rather expensive, so we advise to look to the Auction House for a potentially cheaper deal.
If you're in a serious hurry, you can grab a 2015 Koenigsegg One:1.
The Agera was already insane in hypercar terms, but the One:1 turns that volume past eleven. The main talking point of the Koenigsegg is the 1:1 power to weight ratio. That means the 5.0 liter twin turbocharged V8 puts out 1,360hp in a car weighing 1,360kgs (2,998lbs). In order to keep that explosive power under control, Koenigsegg has bestowed the One:1 with an agressive aero package, including an active rear wing.
The One:1 is a bargain at 300 FP, which will also give you one of the fastest road cars ever made.
Novelty items this week are the Pop 'n' Lock emote and the La Cucaracha horn.
See more articles on Forza Horizon 4 Season Change.