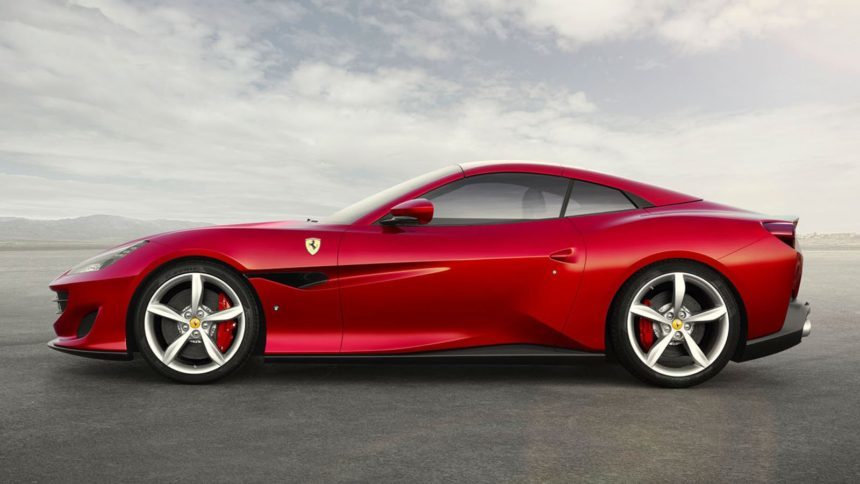 Ferrari has sprung a surprise by revealing its new replacement for the convertible California T. The company has called it "Portofino", after a picturesque fishing village on the Italian Riviera.
The newcomer features a redesigned version of the California T's V8, but the turbocharged, 3.9-liter engine now pushes out around 40hp more. That means it's good for 592hp (600PS) at a heady 7,500rpm, while torque is also up, to 561lbft. This gives the Portofino a 0-60mph time of around 3.3 seconds, and a top speed that Ferrari claims is "more than" 199mph.
Although Ferrari says the Portofino's aluminum chassis is significantly lighter than that of the California, it hasn't revealed any weight figures. However, it states that the weight distribution is 46:54 front to rear. The new car is 16mm longer and 28mm wider than the California T, but the roofline sits 4mm lower than before.
The increased torsional rigidity of the new chassis improves ride and handling when the occupants retract the folding hard top. As usual, the roof lowering mechanism will function on the move, although Ferrari hasn't published the speed limits for the operation.
Ferrari will fit the third generation of E-Diff electronic rear differential and electric power steering. It claims that this allows it to reduce the steering ratio by 7% without affecting stability. A new version of the magnetorheological suspension is available, although it's not clear if this is standard or, as with the California, an optional extra.
In the cabin, Ferrari will fit an upgraded infotainment system, with a 10.2-inch touchscreen interface similar to that seen in the GTC4Lusso.
Officially, Ferrari will unveil the Portofino at next month's Frankfurt Motor Show.
More Posts On...