Spring has returned to give Forza Horizon 4 a welcome helping of sunshine for another week. We're now into the final week of Series 36 with the next content update due for reveal imminently. Until then, there's one last batch of events and prizes for players to seek out around the UK.
A new supercar from Saleen makes its festival debut this week to compliment more prizes for 50% and 80% completion of the Festival Playlist.
Saleen Steps Out Of The Shadows
Making headlines this week is the arrival of the 2018 Saleen S1. The American marque intended to return to the supercar picture ten years after the stillborn S5S Raptor concept was shown.
Saleen marketed the S1 with a $100,000 price tag, putting it in the crosshairs of the Porsche 911 and Jaguar F-Type. Unlike the S7 flagship, the S1 has a more modest 2.2-liter turbocharged four-cylinder making 450hp. Unfortunately, production plans for the S1 would not materialise following numerous delays, even though a one-make racing series was introduced in 2019.
If you want a car that's more humble, there's the 1992 Alfa Romeo 155. The humdrum Italian sedan hides successful racing pedigree underneath the plain styling. Alfa would take the 155 to victories in touring car series across Europe, most notably in the British Touring Car Championship and DTM. Under the hood is a 2.0-liter turbocharged engine making a respectable 187hp. Coupled to a Q4 all-wheel-drive system, the 155 is a brisk all-weather sedan.
Spring's Photo Challenge has a solid bedrock for its objective. #RoyallingStones asks you to jump into any Aston Martin and snap a picture by the Standing Stones. Over at the seasonal championships, the prize pool includes the Koenigsegg Jesko and Zenvo TSR-S.
One prize to look out for is the 2002 Ferrari Enzo. Named in honor of its founder, Ferrari also brought updated F1 technology to its flagship supercar, including an uprated paddle-shift transmission and active aerodynamics. Peek under the carbon body and you'll find a thunderous 6.0 liter V12 making 650hp. The Enzo is also the last mid-engined Ferrari to have a pure V12 before the brand would begin its switch to hybrid power.
To bring the Enzo home, you'll need to win the "Luxury Getaway" championship.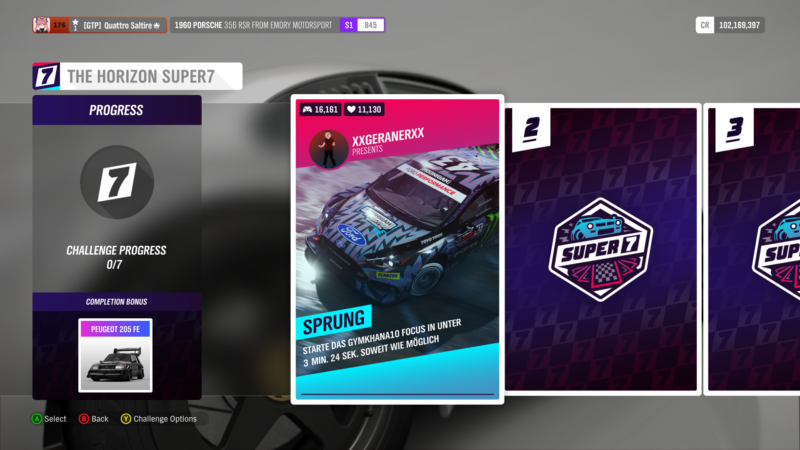 Rounding out Series 36 events are the latest Super7 challenges. Complete each of the seven cards and you'll win a Peugeot 205 Forza Edition.
Read on further for the events and prizes available for Spring;
Northern Tours
Series: Road Racing Series
Cars: Swedish or Danish cars
Restrictions: S2 Class, 998 PI
Prizes: 15,000 CR, 25,000 CR, Zenvo TSR-S
Luxury Getaway
Series: Road Racing Series
Cars: Ferrari
Restrictions: S1 Class, 900 PI
Prizes: 15,000 CR, 25,000 CR, Ferrari Enzo
Overnight Adventures
Series: Street Scene
Cars: Extreme Track Toys
Restrictions: S2 Class, 998 PI
Prizes: 15,000 CR, 25,000 CR, Koenigsegg Jesko
The Trial: Beaches and Bentleys (Co-Op Championship)
Series: Road Racing Series
Cars: British cars
Restrictions: S2 Class, 998 PI
Prizes: Bentley Turbo R
Spring Games – Series 36
Series: Playground Games
Cars: Super Hot Hatch
Restrictions: A Class, 800 PI
Prizes: 2018 Renault Megane RS
Super7 – Spring
Completion Prize: Peugeot 205 FE
Old Town Speed Trap
Season Objective: 210 mph
Ambleside Edge Danger Sign
Season Objective: 672.6 ft
Coppice Speed Zone
Forzathon Events
Bring your best weapons from the track to the streets for this weeks Forzathon, because it's all about Track Toys. Jump into one of the machines available to get things rolling.
Next, demonstrate your ultimate handling capabilities by earning a total of 12 stars from Speed Zones. Afterwards, test your gymkhana skills to the limit, by earning a grand total of 1 million Skill Score.
Finally, wrap up this week's challenges by showing your racing dominance and taking victory in 3 Road Racing Series Circuit events.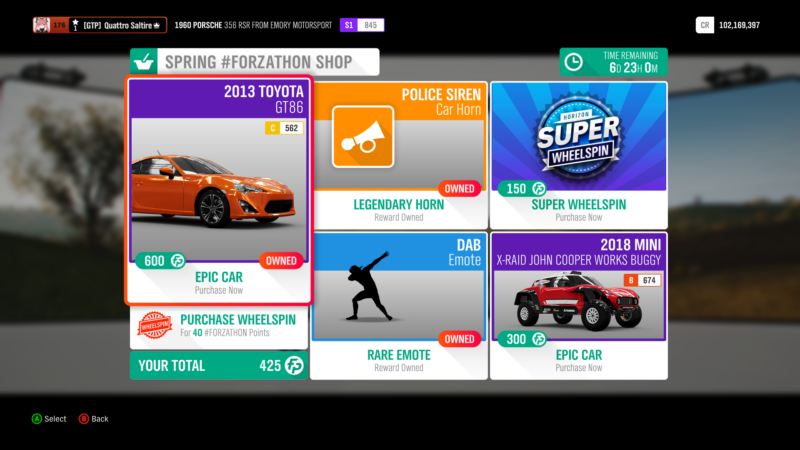 Forzathon Shop
It's a mix-and-match lineup for the shop this week, headed up by the 2013 Toyota GT86.
Reviving the 86 name, this small Toyota coupe was co-developed alongside the Subaru BRZ as part of the "Toyobaru" project. With a focus on driver enjoyment, the GT86 forgoes big performance numbers in favor of a chassis focused on drifting. Under the hood sits a 2.0-liter Subaru flat-four making a modest 197hp. Give it a few tweaks (along with an engine swap) and you can turn the GT86 into a drifting monster.
If you're keen to build such a tire smoking monster, then the GT86 will set you back a whopping 600 Forzathon Points. We'd recommend searching around on the Auction House for potenitally better deals if you're after one.
Alternatively you can pick up the Mini X-Raid JCW Buggy should you wish to conquer the Scottish Highlands.
Designed for competition in the Dakar Rally, this Mini is a major departure from the previous Countryman-based racer. Switching to a rear-wheel drive setup, the X-Raid aims for greater agility when tackling the roughest terrains. There's plenty of power at hand too, with a BMW-sourced 3.0-liter, twin-turbocharged straight-six diesel making 345hp.
The Mini is a much cheaper proposition at just 300 FP. If you're in the need of a fast off roader that will go anywhere quickly, then this Mini is one of the best tools for the job.
Novelty items available include the "Dab" emote and Police Siren horn.
See more articles on Forza Horizon 4 Season Change.
More on Forza Horizon 4