Following on from last week's first official season, Forza Horizon 5 experiences its first true season change today as Series 1 ticks over into Autumn.
Although the season retains its familiar name from Forza Horizon 4, FH5's autumn is a very different affair, bringing storms to Mexico.
The changing season also brings a new set of challenges, missions, and tests for players to tackle over the next seven days, some of which bring exclusive rewards for successful completion.
For players still getting used to the new system, FH5's seasonal challenges award points rather than a percentage completion. This allows you to track your goals, and what tasks you need to perform to reach them, more easily in the game than before.
Series 1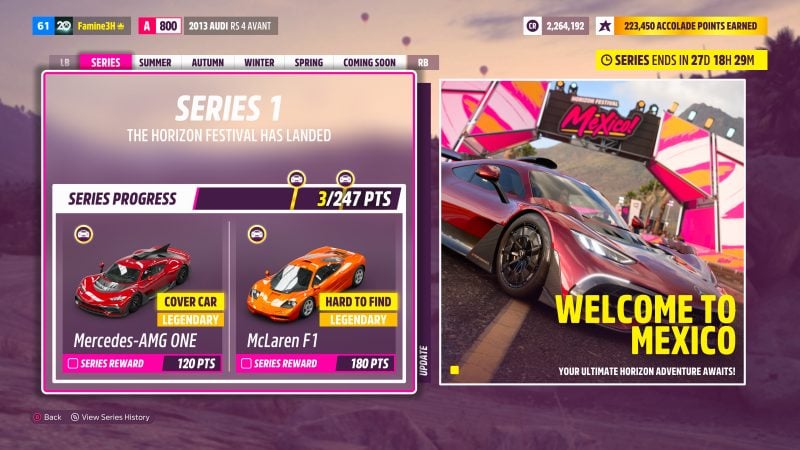 Of course as we're still in Series 1, the monthly vehicle rewards are the same as they were last week, though you should be around halfway to the first reward by now.
Sitting at 120pt, that's the game's cover car (well, one of two… or arguably three), the Mercedes-AMG ONE. Built around the current F1 champion — and championship-leading — Mercedes 1.6-litre W Power hybrid engine, the car isn't even available in the real-world yet. The population of Mexico should be suitably impressed when you clip past.
You can in fact also drive the ONE in the Monthly Rivals test you'll find at the far end of the Festival Playlist. This challenge will have you driving around the Festival circuit, and you only need to set a clean lap to be rewarded with 16 points — four in each of the four seasons. This even applies retroactively, so if you've just missed out on Summer's cars, the Rivals event might nudge you over the line.
More expensive is the 240mph McLaren F1. This was a car so fast, and not by any particular intent, that it remained the world's fastest car for a decade and is still top of the table for naturally aspirated machines. McLaren only made 106 examples, but if you pick up 180 points across the four seasons before Series 2 on Thursday December 9, you can have one in your stable.
The rest of the challenges below will run through to 1430 UTC on Thursday November 25, when the Winter/Dry season starts. There's theoretically 61 points available across the week which, if you hit the maximum score in Summer, will get you that unicorn Mercedes.
Autumn/Storm Season
Challenges
There's slightly fewer challenges this week, with no Treasure Hunt or Collectibles missions. That makes for a pretty simple six points, spread across the three events.
As with last week, you'll pick up two points for finishing 30th or better in The Eliminator, so head over to the zone at Valle de las Ranas to take part.
A second two-point challenge will require you to head over to any of the Playground Games arenas in Horizon Open. You'll need to steal a crown during the King game, which basically requires you to tag an opponent who currently has a crown — marked by a crown on your mini-map. Of course an efficient way to do this would be to play the Thunderdome season event, but unfortunately you can only pick up the challenge during a Horizon Open event, not a Playground Games event.
This week's Photo Challenge will need you to take a photo of any of the game's Modern Rally Car class at the volcano location, La Gran Caldera. It's not an easy landmark to miss, but to grab the two points for the #SleepingGiant challenge you will need to be actually at the location; anywhere in the region at the top of the mountain should suffice.
Photo Challenge: #SleepingGiant
Cars: Modern Rally Cars
Location: La Gran Caldera
Challenge: Photograph any Modern Rally Car at La Gran Caldera volcano
Reward: 2 points, Sleepy Emote
Horizon Open: Rightful Heir
Cars: Any
Location: Horizon Open Playground Games
Challenge: Steal a Crown
Reward: 2 points, 25,000cr
The Eliminator: Battle Royale
Cars: Any
Location: The Eliminator
Challenge: Finish 30th or better
Reward: 2 points, Mexican Hat Dance Horn
Season Events
There's many more challenges in the Season Events, with a new type making its debut this week.
The Event Lab challenge, worth three points, will see you take on "The Gauntlet of Fun", as shown during last week's Event Lab video. You can enter with any A-Class car (up to 800 PI), but don't worry about picking carefully, as you only need to reach the finish line to complete the task.
There's the traditional three PR Stunts in the Playlist, with six points on offer. You'll need specific machinery in FH5, unlike FH4, with the Drag Strip Speed Trap (at the main Festival site) requiring any S2-Class Ferrari, the Rio Fuerte Speed Zone (at the very top of the map) needing any S1-Class Supercar, and a Classic Muscle A-Class vehicle to the Mountain Top Danger Sign (surprisingly at the top of the mountain).
The three Seasonal Championship events bring the big points, with five for each. These events consist of three races against AI Drivatars, and you'll need to beat the Highly Skilled level AI to win the main prizes.
Pick Up The Pace will see you racing B-Class Pickups and 4x4s on mixed surface Cross Country races, with a hard-to-find Ford Ranger Raptor up for grabs. The similarly elusive BMW X6 M is a prize for another Cross Country event called Four on the Floor, with Sports Utility Heroes of any class except S2 eligible. Finally you'll be racing A-Class Modern Sports Cars in a Dirt Racing event, for a 50,000cr rewards. We'd advise picking something with 4WD…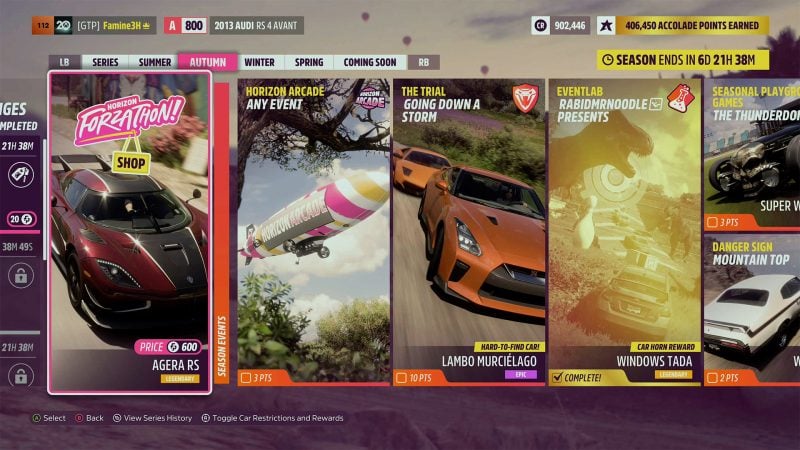 For the final four events you'll either need to play on PC or have an active Xbox Gold subscription on your console, as you'll be racing with and against other players.
Again, Horizon Tour and Horizon Arcade both offer three points for completion this week, and players who struggled with Arcade last week might have a better time of it following the recent patch. Arcade has players participating in a variety of games, while Tour places you in a convoy of players racing against Drivatars. Both events are co-operative.
The Trial is usually the hardest of the challenges, firstly because you need to beat "Unbeatable" rank Drivatars and secondly because you need a good team of players with you who know they need to hobble the AI and stay out of Blue Team's way. If your team score beats the Drivatars' score in two out of the three races, ten points and a Lamborghini Murcielago will be yours. Cars this week are any A-Class Modern Supercars, up to 800PI.
Last and… well, it's your call if it's least or not, is the Playground Games. This pits two teams of up to six players against each other in a selection of team games, again co-operatively.
You can pick any car from the Rods and Customs class, with any PI rating from 100-700 (although why you'd go lower than 700 escapes us), for a best-of-five rounds of Zombies, King, and Flag Rush. Win or lose, completing the set wins the three points and a Super Wheelspin.
Danger Sign: Mountain Top
Car: A Class, Classic Muscle
Location: Mountain Top Danger Sign
Challenge: Jump 375m/1230ft
Reward: 2 points, Wheelspin
Event Lab: The Gauntlet of Fun
Car: A-Class
Location: Tulum
Challenge: Win the Championship
Reward: 3 points, Windows Tada Horn
Horizon Tour: Co-op Championships
Car: Any
Location: Horizon Tour
Challenge: Win the Championship
Reward: 3 points
Speed Trap: Drag Strip
Car: S2 Class, Ferrari
Location: Drag Strip Speed Trap
Challenge: 200mph
Reward: 2 points, Wheelspin
Speed Zone: Rio Fuerte
Car: S1 Class, Modern Supercars
Location: Cordillera Speed Zone
Challenge: 125mph
Reward: 2 points, Wheelspin
Seasonal Championship: Four on the Floor
Car: D-S1 Class, Sports Utility Heroes
Location: De Otro Mundo
Challenge: Win the Championship
Reward: 5 points, BMW X6 M
Seasonal Championship: Pick Up The Pace
Car: B Class, Pickups & 4x4s
Location: San Juan
Challenge: Win the Championship
Reward: 5 points, Ford Ranger Raptor
Seasonal Championship: When It Rains, It Pours
Car: A Class, Modern Sports Cars
Location: Atlantes de Tula
Challenge: Win the Championship
Reward: 5 points, 50,000cr
Seasonal Playground Games: The Thunderdome
Car: D-B Class, Rods and Customs
Location: Aerodromo en la Salva
Challenge: Complete the Championship
Reward: 3 points, Super Wheelspin
The Trial: Going Down a Storm
Car: A Class, Modern Supercars
Location: Hotel Mirador Balderrama
Challenge: Win the Championship
Reward: 10 points, Lamborghini Murcielago
Forzathon Events
The Forzathon Events this week focus on the Vocho, this time in the form of the 1969 Volkswagen Baja. Own and drive it to start the challenges.
You'll then need to throw the Bug about to rack up a total Skill Score of 500,000, before heading to any Cross Country Series event and winning three races — which is pretty much what it was made for. Finally, hurl it through any Trailblazer events you like and score a total of 12 stars. That will reward you with 160 Forzathon Points, and the important five points for the season.
Daily Challenges now have a seven-day window, rather than just three in FH4, but also only appear at the rate of one a day. Handily they're also a little better explained than before too.
The first challenge this week is to buy any car from the Auction House, to pick up the Bargain Hunt challenge. Aged Well will become available Friday, requiring you to earn three stars at any Speed Trap in a Classic Racer car.
Over the weekend you'll be able to run the Social Skills and Spring Into Action challenges. The former requires 12 Clean Racing skills in any Road Racing events (so just… race cleanly), while the latter asks for a 305m/1,000ft jump in any car.
During next week you can try the Next Day Delivery challenge, by winning any Street Race Event in a Vans & Utility vehicle, followed by Explorer which requires you to complete any of the game's five Expedition events.
Finally, the Riveting challenge will unlock next Wednesday, requiring the player to complete any chapter of any Horizon Story event. Each of the seven challenges offers up a point towards your seasonal total.
Should you successfully work your way through all of that, you'll receive the exclusive Honda Civic '84 for 22 points, and the hard-to-find Radical RXC for 42 points. You'll also be sitting on 61 more points towards your Series total.
Unlike last week, the Forzathon Shop is now open. Available items this week include a regular Wheelspin for 80 Forzathon points, a Super Wheelspin for 300FP, the Sea of Thieves Theme Horn for 75FP, and the Spaik Short Sleeved Shirt for 75FP.
Two cars also pop up in the shop this week, with the record-breaking Koenigsegg Agera RS coming in at a weighty 600FP. Given the value of Forzathon Points, it may well be worth swerving that and paying out the credits from the Autoshow instead.
The opposite is true of the Honda Civic Coupe though. This racy little Honda is only available through the Forzathon Shop, Festival Playlists, and Wheelspins, so it might be better to pick it up here for 400FP rather than wait for luck or a playlist selection.
Featured image courtesy of TOMMY3688.
See more articles on Forza Horizon 5 Season Change.