The final season change of Forza Horizon 5's Series 3 has arrived, bringing with it a spell of much warmer weather as well as a selection of new challenges and rewards to pick up.
Mexico's Spring/Hot season marks the last set of events for each Series, and with the Chinese-themed Series 4 coming up on February 3 it's a last chance to pick up all the rewards across the past month. The hot weather means the roads are at their best, and the rivers are low which opens some additional areas of the map for your cross-country excursions.
As well as being a last chance to score the rewards, there's also some new "Evolving World" Accolades to pick up too. These center on Series-specific car prizes and environment changes, and you'll be able to score the final one for S3 this week — so long as you've scored enough points to pick up all of the cars in the Series.
Players are probably well aware by now, but if you're new to FH5 the seasons are slightly different to those of FH4. Rather than an unmarked percentage completion, you'll score raw points towards a target score. Pick up enough — 25 and 45 — and you'll win the rewards for the Season. That makes it slightly easier than in the previous game.
Series 3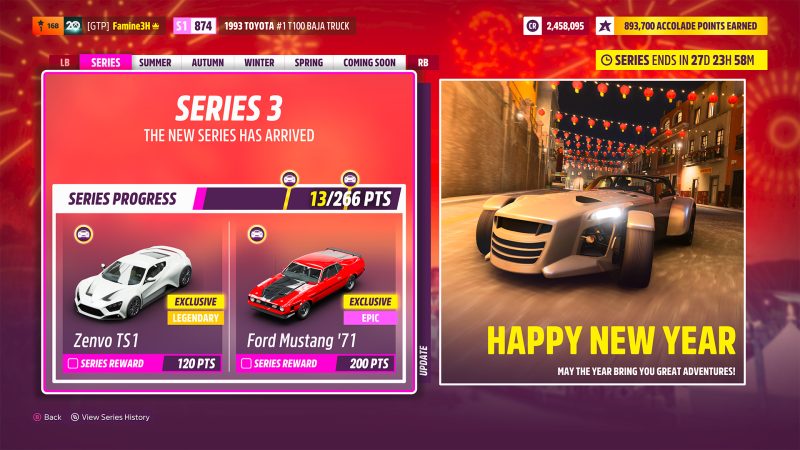 With it being the final week of the Series, you really ought to have picked up one of the exclusive reward cars by now — if not both, if you've completed everything so far.
The lower-tier prize at 120 points is the Danish Zenvo TS1 supercar. It's not entirely clear if this is the first generation ST1 model with a typo, or the updated TS1 GT with an omission, but in either case it's a 1,100hp, twin-supercharged, V8 supercar, so pretty much fast enough that you won't care what it says on the back.
You'll need to score 200 points to grab the higher-tier reward, which is the 1971 Ford Mustang Mach 1. Packing a seven-liter V8 beneath that famous ram-air hood, the Mach 1 was the definitive performance model of the facelifted first-gen Mustang, with a host of special upgrades both on the surface and underneath.
If you've completed everything to date, you should be on 202 points — though a glitch with Horizon Tour might have you as high as 205 points — so it's all about wrapping up the week's Playlist. However if you've missed any, there's 68 points available across Spring, with 266 in total for all four seasons.
Both Spring and Series 3 will run through to 1430 UTC on Thursday, February 10, when the Summer season at the start of Series 4 comes in.
Winter
This week's Playlist offers up a pair of bruising British cars that go about incredible speed in slightly different ways.
Pick up 25 points across the Season and you'll win the Jaguar XKR-S GT. This highly limited run-out model of the XKR was essentially a track-focused version, with special aero components and upgraded braking and suspension to make the car as quick as possible for a machine with a warranty. Only 45 were ever made, so it's definitely a rarity.
More infamous is the Vauxhall Lotus Carlton. One of the most left-field vehicles ever made, the Carlton was the result of Vauxhall/Opel giving Lotus its big saloon car and asking the brand to go nuts. Which it duly did.
With a 3.6-liter twin turbo straight six, the Carlton could hit an unimaginable 180mph, and there was a brief police campaign to have the car banned. That was enhanced somewhat by "40RA", a Lotus Carlton stolen and used in a series of robberies, which the police were never able to catch up with to stop — and it's never been recovered.
Pick up 45 points this week and you can drive the mean green machine for yourself. Both cars are Playlist exclusives, so your only chance to get them — for a while at least — will be this week's activities.
There's slightly more points on offer this week, with 68 in total, courtesy of an additional EventLab race.
Forzathon Events
This week's main Forzathon Event is Mid-Engine Madness. It's centered on the C8-generation Chevrolet Corvette Stingray, so buy the car and get rolling to start the event off.
The second stage of the event requires you to win two Road Racing Series events. It looks like both point-to-point and circuit events count for this challenge, so just get racing at any of the blue map icons.
Although the Corvette is best experienced on the ground, the third round needs you to score 10 Ultimate Air skills to progress. You'll score an Air skill by simply leaving the ground, and the longer you're up there the better the skill – through Great and Awesome, until you hit Ultimate. Big hills and ramps are ideal for this.
Finally you'll need to hit 194mph in the C8. It's not quite able to do this out of the box, even with a long run up the main highway, but it only needs a little tuning to get there. Complete that to get your five seasonal points and 80 Forzathon points.
There's also the seven Daily Challenges, with a new one each day and seven days to complete. Each is worth one point towards your season total, along with 10FP apiece.
You'll start off the week with On Board, which needs you to score a Skillboard skill. Simply hit any destructible billboard (such as the ones which line the Baja Circuit) to pass.
Made For This follows on Friday. You'll need to pick up any Rally Monster type car and win any Cross Country Event. We'd recommend a point-to-point route for this, as the Cross Country Series can be awkward with how it classes events.
Challenge Accepted starts the weekend off. That'll require you to complete any Challenge Card while in free roam; look on your main map for any Super7 challenges, drive to one, enter, and finish it.
Sunday's task is Rock Out, which needs you to take a photograph at Valle de las Ranas. That's the area with the rock formations near to the Eliminator hub, so head there and get snapping. You might need a few attempts before the challenge registers though.
Sandwich starts the week, with a challenge to smash up three picnic tables. These appear in several places on the map, including roadside rest stops and around Guanajuato and Mulege. Just hit three to meet the challenge.
Fresh Air follows on Monday, with the requirement to score three Air skills in Cross Country events. You can probably pair this with the Made For This challenge, as you only need to leave the ground to score the Air skill, and you'll be doing that a lot in Cross Country.
The final action for the week is Organised Chaos. You'll need to complete — successfully pass round three — any Chaos-themed Horizon Arcade event. Check your map for the two Horizon Arcade events that run every ten minutes or so and wait for Chaos to turn up (there's Drift, Speed, Air, Wreckage, and Chaos events). Head to one, follow the on-screen instructions, and complete round three to score your point.
Season Events
There's three PR Stunts for this week, which cover the usual suspects of a Danger Sign, a Speed Trap, and a Speed Zone. As usual, all three are worth two points and a Wheelspin.
The Danger Sign takes you to the south-west edge of the map, and the Hotel jump, located between two of the seafront hotels at Palacio Azul. You'll need an Unlimited Offroad car tuned into A Class (701-800PI), and hit the 130m target to pass the test; if you need a run up, there's a nicely pointy hill just north of the jump which should suffice.
For the Speed Trap you'll need a Volkswagen Golf R '14 tuned to B Class (601-700PI). Again it's a relatively leisurely run, up to a mere 128mph, with the trap itself — Escarpment — located just outside the Horizon Rush Outpost.
The La Subida Speed Zone might be a little trickier. It's not a massive target, with 86mph being just 1mph above the two-star speed, but you'll be driving a D Class tune (up to 500PI) car from the Buggies category, and it's on dirt. Probably the best technique here is to drive cross country for as far as you can in a straight line to hit the Zone entry as fast as you can, then carry it through to the finish.
Each of the three Seasonal Championships is worth five season points, with additional special prizes, and they're all oddly cat-themed this week.
That starts with Battle of the Big Cats, which is labelled as an A Class (701-800PI) event but has a strange additional restriction that isn't marked on the main map: you can only drive Jaguars or Peugeots. We'd guess because those two brands have big cats on their badges.
Win the three-race Road Racing championship and you'll pick up a Jaguar XE-S in addition to your seasonal points.
Earn Your Stripes is a Dirt Racing Series event, and the requirements are much more simple. Take any S1 Class (801-900PI) car from the Modern Sports Cars group and win the three-race series; we'd suggest something with AWD. As well as the five points, there's a purple knee-high socks clothing item on offer.
Finally there's Hear Me Roar, a Street Racing Series event. Any Retro Muscle Car in the B Class PI range (601-700PI) is eligible, and if you can dodge the traffic and win the three-race series you'll get a Buick Regal GNX.
That leaves the new EventLab race, the name of which appeared quite accidentally in a previous Daily Challenge.
It's called Airfield UTV Cup, because it takes place at the Airfield, and uses UTVs. Any UTV from any class is eligible, and you just need to run the five laps of the obstacle course to win three points and the Halo Shield Recharge horn. That might be tricky, as the only checkpoint — at the start/finish line — is a bit temperamental, but there's also a massive shortcut…
Danger Sign: Hotel
Car: A Class, Unlimited Offroad
Location: Hotel, Palacio Azul
Challenge: 130m
Reward: 2 points, Wheelspin
Speed Trap: Escarpment
Car: B Class, Volkswagen Golf R '14
Location: Escarpment, Horizon Rush Outpost
Challenge: 128mph
Reward: 2 points, Wheelspin
Speed Zone: La Subida
Car: D Class, Buggies
Location: La Subida, Lago Blanco
Challenge: 86mph
Reward: 2 points, Super Wheelspin
EventLab: Airfield UTV Cup
Car: UTVs
Location: Aerodromo en la Selva
Challenge: Win the Championship
Reward: 3 points, Halo Shield Recharge horn
Seasonal Championship: Battle of the Big Cats
Car: A Class, Jaguar or Peugeot
Location: Horizon Rush Outpost
Challenge: Win the Championship
Reward: 5 points, Jaguar XE-S
Seasonal Championship: Earn Your Stripes
Car: S1 Class, Modern Sports Cars
Location: Los Jardines
Challenge: Win the Championship
Reward: 5 points, Purple Stripe Knee High Socks clothing item
Seasonal Championship: Hear Me Roar
Car: B Class, Retro Muscle
Location: Guanajuato
Challenge: Win the Championship
Reward: 5 points, Buick Regal GNX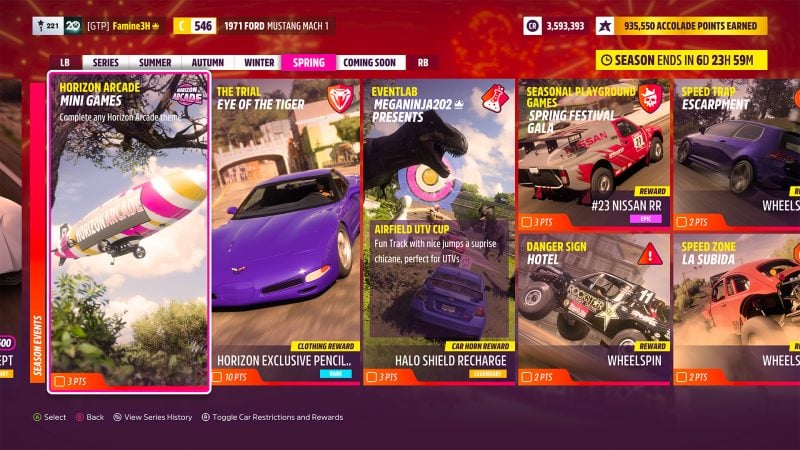 The remaining events are online multiplayer only, so you'll need to either play on PC or have an active Xbox Gold subscription to take part.
Horizon Tour and Horizon Arcade take their usual spots. These events have you working with other players as a team to either beat the AI across a championship (Tour) or beat mini-challenge score targets (Arcade). Each is worth the usual three points, with no additional prizes.
For Playground Games this week you'll go to the stadium to play a best-of-five set of Zombies, King, and Flag Rush games. You'll be paired up with up to five other players to face a rival squad of humans for these co-op team-vs-team event .
This week's you'll be driving Unlimited Offroad category cars, with anything from the A Class (701-800PI) eligible. Finish — you don't need to win — a set of games to win the Nissan Rally Raid pickup and the three points.
Finally there's the Trial, another co-op event which sees you facing "Unbeatable" AI Drivatars with up to five human friends. You need to outscore the AI as a team across three races, and that can be awkward.
To achieve the challenge you'll need to work as a team to help each other score as much as possible while preventing the AI from gaining places. Finding a team that understands this isn't easy, and with the S1 Class (801-900PI) cars of any type used this week, braking zones might be… mayhem.
However, should you and your team succeed you'll win ten points and a Horizon Exclusive Pencil Dress. Yes, really.
Horizon Arcade: Mini Games
Car: Any
Location: Horizon Arcade (any)
Challenge: Complete any Horizon Arcade Theme
Reward: 3 points
Horizon Tour: Co-op Championships
Car: Any
Location: Horizon Tour
Challenge: Win the Championship
Reward: 3 points
Seasonal Playground Games: Spring Festival Gala
Car: A Class, Unlimited Offroad
Location: El Estadio Horizon
Challenge: Complete the Championship
Reward: 3 points, Nissan Rally Raid #23
The Trial: Eye of the Tiger
Car: S1 Class
Location: Guanajuato
Challenge: Win the Championship
Reward: 10 points, Horizon Exclusive Pencil Dress clothing item
Challenges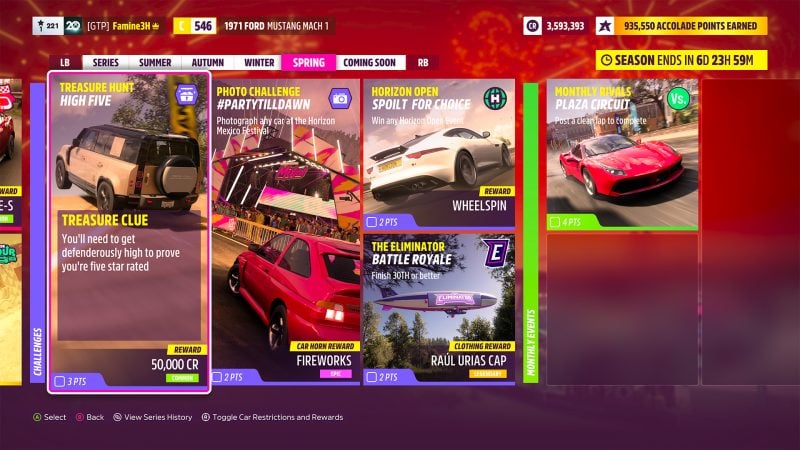 Treasure Hunt returns to the list of Challenges, making for four in total along with the usual set of the Photo Challenge, Horizon Open, and The Eliminator.
If you've played the Fortune Island expansion for FH4 you'll be familiar with the Treasure Hunt. The idea is that you solve a riddle and perform the activity required in order to generate a treasure "clue" on your map. This looks quite like the Barn Find clue, but it's red instead of mauve.
This week's riddle seems relatively easy. It reads "You'll need to get defenderously high to prove you're five star rated", and the thumbnail includes the 2020 Land Rover Defender. That means you'll need to score five stars across any Danger Signs to uncover the clue.
We won't spoil the exact location, but you'll need to look around the buildings at Uxmal, within sight of the Gran Puente viaduct. Smash the chest and get three points and 50,000cr.
For the Photo Challenge, #PartyTillDawn, you only need to take a photograph of any car right at the main Horizon Festival. It doesn't even need to be your car (though you'll be going there in one anyway), but it might need a few goes to trigger, as Photo Challenges can be tetchy. It'll earn you two points and the Fireworks horn.
This week's Horizon Open challenge is pretty tricky, as you'll need to not only take part but win. Any Open event will do, and it's probably the team-based Playground Games (within the Online/Horizon Open menu, not the Seasonal Event) that's easiest as half of you will win any given event. Win and you'll get two points and a Wheelspin.
The Eliminator again remains as its usual challenge to take part and finish 30th or better. That's usually a matter of just surviving for a couple of minutes, and you'll get two points and a special Raul Urias Cap clothing item.
Both the Eliminator and Horizon Open require online multiplayer access, so you'll need to play on PC or have an Xbox Live Gold membership to take part.
Monthly Rivals remains as its Series-long challenge in its usual spot. Complete a clean lap of the event — set at the Plaza Circuit, using a Ferrari 488 GTB provided for you — to win four points added to every Season in the Series, or 16 points in total.
Photo Challenge: #PartyTillDawn
Cars: Any
Location: Horizon Festival
Challenge: Photograph any car at the Horizon Mexico Festival
Reward: 2 points, Fireworks Horn
Horizon Open: Spoilt for Choice
Cars: Any
Location: Any Horizon Open
Challenge: Win any Horizon Open event
Reward: 2 points, Wheelspin
The Eliminator: Battle Royale
Cars: Any
Location: The Eliminator
Challenge: Finish 30th or better
Reward: 2 points, Raul Urias Cap clothing item
Treasure Hunt: High Five
Cars: Land Rover Defender 2020
Location: Any Danger Sign
Challenge: Score five stars across any Danger Signs, locate the treasure
Reward: 3 points, 50,000cr
Monthly Rivals: Plaza Circuit
Cars: Ferrari 488 GTB
Location: Plaza Circuit, Guanajuato
Challenge: Post a Clean Lap
Reward: 16 points (4 added to each season)
Forzathon Shop
Finally this week, we have a new Forzathon Shop, with a British theme for the week.
The lead item is a car that's new to the series, in the shape of Aston Martin's Valhalla concept. This is intended to be a junior model to the Valkyrie hypercar, but it's not exactly slow. Even the concept model packs a hybrid system with a twin-turbo V6, good for close to 1,000hp, though the production version has switched to a Mercedes V8.
It's available for 600FP, but as you can also buy it from the Autoshow for 1.15m credits, we'd keep hold of the FP for now.
Also available is the McLaren 600LT Coupe. This slightly longer version of the McLaren 570S has been redesigned to be lighter, leaner, and more powerful and is definitely worth the 260,000cr price in the Autoshow. As for the 400FP cost in the shop this week, that's probably less of a bargain.
Along with the cars, there's a a Duck Quack car horn and a pair Gold Leather Boots for your avatar at 75FP each. As usual there's two spots for the Wheelspin (80FP) and Super Wheelspin (300FP).
See more articles on Forza Horizon 5 Season Change.