The final week of Forza Horizon 5 Series 7 is now upon us, with the arrival of Spring and a new set of Playlist events for the next seven days.
That means there's only a week left of the current world makeover, which sees Mexico decorated for "Cinco de Mayo" — an annual event occurring on May 5 each year.
While it's a larger celebration in Hispanic communities in the USA, it's still a school holiday in Mexico, and the towns of the fictional version are spruced up to mark the occasion. There's also new new clothing items available for Playlist completion, and new EventLab props.
There's also a takeover of sorts from Ferrari. Across the entire Series players have been able to pick up and drive new cars from the brand, with exclusive playlist rewards and a new Evolving World Accolade for getting hold of them. That continues this week, with one final car for collection.
Series 7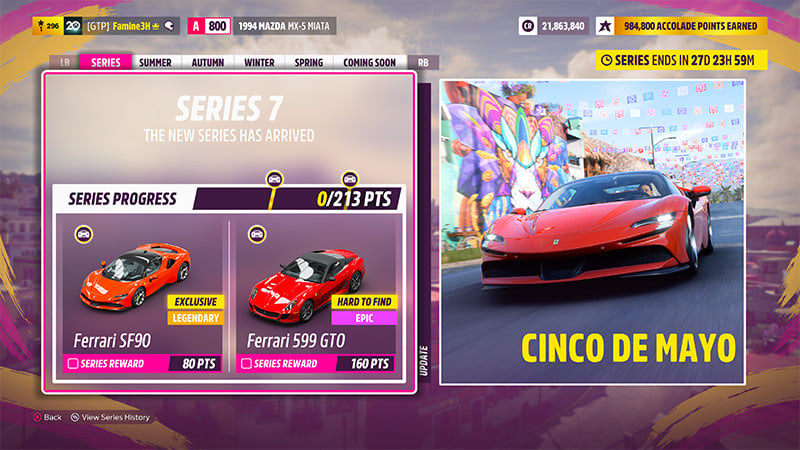 There's one final chance to pick up the Series rewards this week, with two Ferraris waiting to hit your garage. If you haven't already scored the first of these, it's too late to scrape together the points needed for the second.
Exclusive to the Playlist is the Ferrari SF90. This petrol-electric hybrid is the first ever full production electrified Ferrari, boasting a four-liter V8 and three electric motors for close to 1,000hp all-in.
Despite sharing its name with the 2019 F1 car (although the road car is actually called "SF90 Stradale"), it doesn't have much by way of shared components or technology. It does have the ability to drive in full electric mode with just the front wheels though, and there's no reverse gear in the mechanical gearbox. The car just spins the rear axle motor backwards.
If you can't pick up the points this Series, you can score the Ferrari 599 GTO elsewhere in the game, although it doesn't appear in the Autoshow.
It's an unusually named car, given that both previous GTOs from Ferrari — the 1962 250 GTO and the 1984 GTO — were homologation cars for racing models (with the O being the Italian "Omologato"). The 599 bears the name, but wasn't the basis for a racing car.
Instead it was a reworking of the 599XX. Ferrari built the XX from the regular 599 GTB as a track-day special. In fact it wasn't even legal to drive it on the road anywhere, so Ferrari addressed that issue by slightly sanitizing the car — including the enormous aerodynamic aids — to make it street-legal, creating the GTO.
You'll be able to pick up the SF90 Stradale for 80 points across the four seasons, and the 599 GTO for 160 points, of the 213 available.
The Spring season concludes on Thursday, May 26 at 1430UTC. That will also bring Series 7 to a close, with Series 8 taking its place.
Spring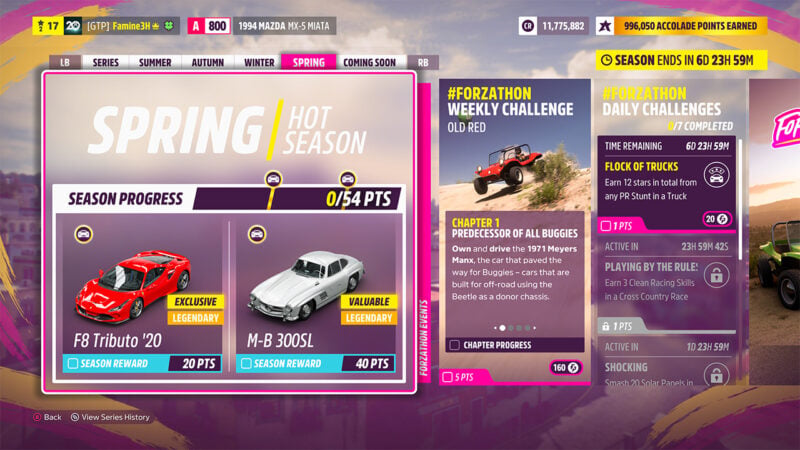 The final two Playlist rewards are appropriately hot for the Mexican spring season, although from rather different eras.
As is now standard, the Playlist Exclusive machine comes in at the lower 20-point threshold. Pick up 20 points across this season and you'll win the Ferrari F8 Tributo.
This is Ferrari's current "volume" offering, positioned as the car you'd buy if you're new to the brand, or have recently won the lottery and want "a Ferrari". It's the V8 performance car which has formed the bulk of Ferrari's sales since the 1970s.
Indeed the name hints at the fact it might be the last of its type, acting as a tribute to the Ferrari V8. This version is a 3.9-liter unit derived from that of the predecessor 488, but wound up to 710hp.
The 40-point car is one of the most highly prized classic cars in the world, in the shape of the gullwing Mercedes-Benz 300SL.
Developed from the Le Mans-winning W194, the 300SL features a super light (hence the SL name) tube-frame chassis, with extensive use of aluminum in the body to assist with the goal of weight saving.
The three-liter straight six powering it might have only 240hp, but it was enough to be the fastest production car in the world in its day.
If you do miss out this week — and the points are quite tight if you don't have Xbox Live Gold — the 300SL is also available in the Autoshow for 1.2m credits.
Forzathon Events
This week's Weekly Challenge is a bit buggy, but in the best possible sense. You'll be racing around Mexico in the Meyers Manx buggy, for the Old Red event. Pick one up — they're not readily available, so buying one for 700FP in this week's Forzathon Shop might be your only option — and drive it to get started.
You'll need to head over to a specific event for the next stage. Enter and win the Baja California Trail, a Cross Country Racing Series event which starts at Lago Blanco on the low, westernmost slopes of the volcano, in the Manx to progress.
After that, double back to the Dunas Blancas sand dunes. One there you'll need to earn three Kangaroo Skills. This particular skill requires you to get three Air Skills, for getting your car off the ground, in quick succession in the same skill chain. Just drive over the dunes at speed and you should pick these up quickly as the Manx bounces about.
Finally, go to the east of the Dunas Blancas region and blast through the Dust Bowl Speed Trap. Score a two-star speed of 100mph or more in the Manx and it will all be over. That will win you five points and 80FP (doubled to 160FP if you own the La Casa Solariega player house) in the process.
There's seven more Daily Challenges, arriving at a rate of one each day with seven days to complete each. As usual, they're all worth one point and 20FP (again doubled to 40FP with the same player house).
You'll need to like trucking and stunting for a Flock of Trucks. Pick any car from the Trucks category and go earn 12 stars from any PR Stunts — Danger Sign, Drift Zone, Speed Trap, Speed Zone, or Trailblazer — to pass (and head right on over to Atlantes de Tula when you're done for the Photo Challenge).
Playing By The Rules will set you the task of earning three Clean Race Skills during any Cross Country Race. You'll pick up one such skill for driving between any two checkpoints without hitting something immobile or having a high energy impact with opponent cars, so it should be a breeze.
For Shocking you'll need to commit environmental vandalism by smashing up 20 solar panels in 30 seconds. The absolute best place to do this is the solar farm in the Cordillera region, just south of the main highway's Autopista Speed Trap.
Extreme speed is the name of Sunday's task. Drive above 250mph for at least five seconds in any car to pass the Zoomies challenge.
You'll need to be social for Assemble. Head into Horizon Tour and, as a team, score 800 points in a single race. As there's 650 points for a race win and a total of 3,650 points available in any race, this shouldn't be a chore.
Ultimate Talent follows on Tuesday, rewarding the player for earning and banking an Ultimate Skill Chain. You'll need link together as many stunts as possible to earn a raw Skill Score of 20,000 points before any multiplier, then come to a halt (or at least stop performing stunts) in order to bank it.
The final Daily Challenge for Series 7 is Short Story. Hit 140mph during any Horizon Story chapter to complete it — and this speed will come up in just about any chapter of any Story you choose.
Season Events
Eight events await on this week's Playlist, with three Seasonal Championships, two PR Stunts, two online multiplayer events, and an EventLab challenge.
For EventLab you'll be heading to Guanajuato and an eponymous circuit creation called Guanajuato Racetrack. It's a tricky ribbon around the city, with some very awkward corners that don't especially suit the S2 class (901-998 PI) Extreme Track Toys required.
It's a pretty lengthy five-lap race, and you can't afford to make many mistakes. That said, the AI do struggle a lot in places, including a bizarre spot of heavy braking in the tunnels, and you should expect to find cars reversing at you after slow corners. Win the race and you'll take three points and the Donkervoort GTO.
The PR Stunts each offer two points and a Super Wheelspin for completion, and are thankfully much easier tasks.
While the Panoramica Drift Zone exceeds the three-star requirement by a decent margin, the S1 Class (801-900 PI) Rally Monsters needed for the objective and the fact it's on a dirt road make it a breeze to pick up the 70,000pt required.
For the Trailblazer at La Marisma, you'll need a B Class (601-700 PI) Renault. That's not a particularly promising start, but the fact that the 14-second time target is just below two stars here is more helpful. Avoid the buildings at the start (bear right) and the trees in the middle and you should find it a breeze.
The three Seasonal Championships major on the rough stuff, with two Dirt Racing Series events and a single Road Racing Series tournament. In all three cases it's a three-race championship against Highly Skilled AI drivers, and you'll need to score more points than your opponents to win five season points along with the bonus prizes.
In Baja Mil you'll be racing D Class (≤500 PI) cars from the Buggies category in a celebration of classic Baja events. Win the championship and you'll take a natty Festival Sombrero for your troubles.
Inspiration From Japan also heads to dirt, using C Class (501-600 PI) cars from the Toyota brand. Survive to win and you'll snare the classic Toyota 2000GT as a prize.
Finally there's First Come, First Served. This three-race series runs on road, and requires any car from the Buick brand in the C Class (501-600 PI) bracket. As well as the points, there's a La Cucuracha horn on offer. Classy…
EventLab: Guanajuato Racetrack
Car: S2 Class, Extreme Track Toys
Location: Guanajuato, Panoramica Sprint
Challenge: Win the Race
Reward: 3 points, Donkervoort GTO
Drift Zone: Panoramica
Car: S1 Class, Rally Monsters
Location: Tierra Prospera, Panoramica Drift Zone
Challenge: 70,000pt
Reward: 2 points, Super Wheelspin
Trailblazer: La Marisma
Car: B Class, Renault
Location: Rio de la Selva, La Marisma Trailblazer
Challenge: 14s
Reward: 2 points, Super Wheelspin
Seasonal Championship: Baja Mil
Car: D Class, Buggies
Location: Baja Circuit, Horizon Baja Scramble
Challenge: Win the Championship
Reward: 5 points, Festival Sombrero
Seasonal Championship: First Come, First Served
Car: C Class, Buick
Location: Costa Rocosa, Descansar Dorado Sprint
Challenge: Win the Championship
Reward: 5 points, La Cucuracha Horn
Seasonal Championship: Inspiration From Japan
Car: C Class, Toyota
Location: Riviera Maya, Mangrove Scramble
Challenge: Win the Championship
Reward: 5 points, Toyota 2000GT
You will need Xbox Live Gold, or to play on PC, in order to access online multiplayer for the two online events, which consist of The Trial and Seasonal Playground Games this week.
For Playground Games you'll be engaged in a classic BMW vs. Mercedes battle. You'll need an A Class (701-800 PI) car from either brand to take part.
The event, at the airport in the forest, will see you teamed up with up to five other players as you compete against another squad of humans in a best-of-three set of games of Infected/Zombies, King, and Flag Rush.
You only need to complete the event, so winning isn't necessary, to take the prizes of three points and a Fireworks horn.
The Trial looks set to be a little easier this week than its usual standard. It still sets a team of you and up to five other players against "Unbeatable" AI driver opponents, but the slower cars will be more of a help.
Rare Classics in the C Class (501-600 PI) performance bracket are eligible, and while they can be a little wayward on brakes and in turns, the relatively low speeds will mean that collisions are lower impact. That's handy as half of the challenge is surviving those among your own team-mates who still don't grasp that it's a team game.
There's 100 points available for each of the other team's drivers you beat, along with a 50-point bonus for the winning driver — and the same thing applies to the other team too. The goal is to help your team-mates to maximum points while preventing the AI from scoring big, so sometimes it'll be more helpful to block an AI than to pass one.
Win as a team in this best-of-three Road Racing Series events and you'll take ten points and a classic Bentley 8 Litre.
Seasonal Playground Games: Airs and Graces
Car: A Class, M Sport vs. Turner
Location: Aerodromo en la Selva
Challenge: Complete the Championship
Reward: 3 points, Fireworks Horn
The Trial: Fiesta. Siesta. Repeat.
Car: C Class, Rare Classics
Location: Palacio Azul, Emerald Circuit
Challenge: Win the Championship
Reward: 10 points, Bentley 8 Litre
Challenges
It's a small bundle of Challenges this week, with a Photo Challenge and two online events. You will require an active Xbox Live Gold subscription to access these last two, unless you play on PC.
For #SleepingGiants you'll need to grab one of the biggest vehicles in the game: anything from the Trucks category will qualify. Head over to the Atlantes de Tula and take a photo of the two colossi — truck and monument — to earn two points and the Sleepy Emote.
The Eliminator returns this week. As usual you only need to finish 30th or better in any round, which generally only requires that you survive a couple of minutes, in order to complete the task. You'll earn two points and the "I've Got a Bad Feeling About This" Forza LINK message.
For the Horizon Open Small and Agile challenge it's all about launch control. You'll need to earn three Pass skills in any Horizon Open Custom event (you'll find this in the pause menu, under Online, Horizon Open) in any Volkswagen.
Picking a car that gets off the line well is key, as you'll score a Pass skill for every car you… well… pass. Two points and the Andretti Motorsport Volkswagen Beetle are yours.
That leaves the Monthly Rivals event, on its final week. You'll need to complete a clean lap at the Playa Azul Circuit, on the east coast, using the provided Ferrari SF90, to beat the challenge. There's no need for it to be particularly quick, just clean, so don't hit any walls.
Completing it at any time in the four-week Series awards one point in each of the four seasons (4 in total), even backdating it to previous seasons.
Horizon Open: Small and Agile
Cars: Any Ford
Location: Horizon Open Racing (any)
Challenge: Earn three Pass Skills in any Volkswagen in any Horizon Custom event
Reward: 2 points, Volkswagen Beetle #34 Andretti
Photo Challenge: #SleepingGiants
Cars: Trucks
Location: Atlantes de Tula
Challenge: Photograph any Truck near Atlantes de Tula
Reward: 2 points, Sleepy Emote
The Eliminator: Battle Royale
Cars: Any
Location: Valle de las Ranas, The Eliminator
Challenge: Finish 30th or better in The Eliminator
Reward: 3 points, "I've Got a Bad Feeling About This" Forza LINK
Monthly Rivals: Emerald Circuit
Cars: Ferrari SF90 (Provided)
Location: Playa Azul, Playa Azul Circuit
Challenge: Post a Clean Lap
Reward: 4 points (1 added to each season)
Forzathon Shop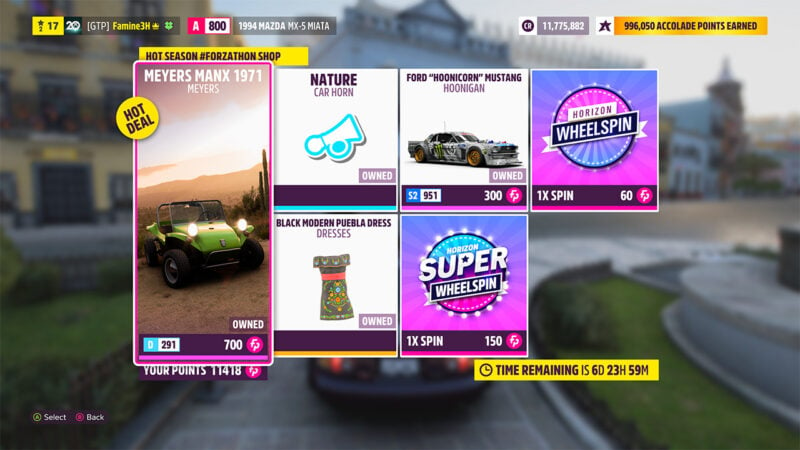 Forzathon Shop brings two cars which have their origins in slightly more humble underpinnings.
Leading the way is the Meyers Manx, and if you don't already have it you'll need to spend the rather steep 700FP to grab it for the Weekly Challenge on this season's Playlist.
Based on a Volkswagen Beetle, the Manx was the archetype dune buggy, with dozens of copycat models since. The original prototype, using Beetle mechanicals bolted to a fiberglass monocoque, was known as Old Red — hence the name of the challenge — and its impact was such that it was placed on the National Historic Vehicles Register.
Somewhat at the other end of the scale is the Hoonicorn. This was at one time a regular 1965 Ford Mustang — a performance car in its day, but no quicker than a mid-market hatchback today.
Vaughn Gittin Jr's RTR shop used the original chassis and body for engineering an insane, 1400hp, twin-turbo V8, all-wheel drive exhibition racer for Ken Block's "Hoonigan" brand.
Although little of the original car remains now — just the roof and the A- and C-pillars — with a custom carbon fiber body wrapped round the mechanicals, it's still identifiable as a Mustang. Block's teenage daughter Lia is now its regular pilot, as Block himself has split with the Ford brand and moved to Audi.
At 300FP it's not a bad price for a car you can't buy in the Autoshow, and it beats waiting for the random chance of a Wheelspin or another appearance in the Playlist.
Store items this week are the Nature Horn and the Black Modern Puebla Dress for your avatar 75FP each. The Wheelspin (80FP) and Super Wheelspin (300FP) are in their usual spots too.
See more articles on Forza Horizon 5 Season Change.