The tenth Series of Forza Horizon 5 continues today with a new set of events and challenges on the Playlist for a new Season.
As with previous Series, there's a special theme for Series 10 — and as it brings along 10 new cars, it's one of the most significant to date.
Across the four-week Series you'll be racing to the extreme, or at least to the Extreme E. The environmentally friendly off-road racing series provides the theme for S10, with challenges and rewards all geared around it.
We've also seen the recent launch of the Hot Wheels DLC expansion pack, and it now appears on the Playlist too, giving those who've bought the pack (or a relevant game bundle) more chances to earn the points required each Season.
In addition to all of that, there's some other brand new cars available on the Playlist, making S10 one of the best opportunities to bulk out your garage with unique vehicles thus far. There is, of course, also a new Expanding World Accolade for collecting them all.
Series 10: Extreme E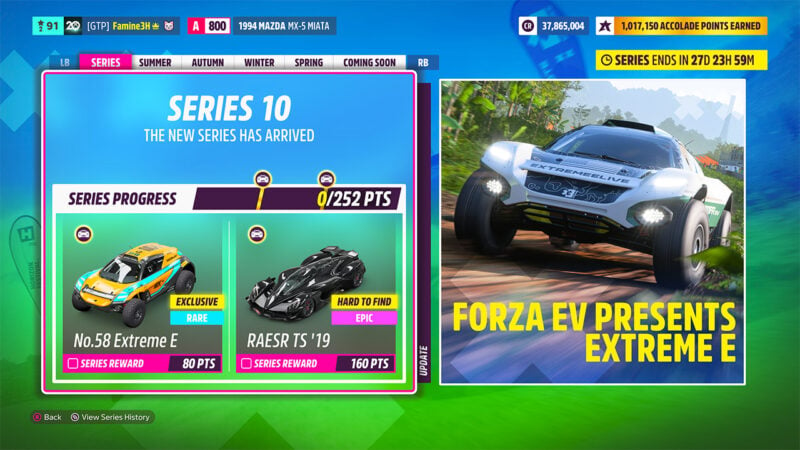 Unsurprisingly, one of the new Series reward cars is part of the Extreme E stable, and you should be looking to pick it up this week.
Available for 80 points across S10, the #58 Extreme E is the new, 2022 season entry from McLaren. It's driven by Tanner Foust and Emma Gilmour in the real event.
As with all the other Extreme E cars, it's a Spark Odyssey 21. This uses a natural, flax-based composite body over a super-tough niobium-steel chassis, with a 400kW electric drivetrain developed by Williams Advanced Engineering. The only difference is this one is orange.
You'll be waiting until next week to score the 160 points required for the other reward car, which is the Raesr Tachyon Speed.
Previously available as a Playlist reward for Spring in Series 1, the Tachyon is named after a concept in physics; any particle which travels at speeds in excess of the speed of light is known as a tachyon, although none have been discovered and they are — to the best of our knowledge — impossible.
The Tachyon isn't quite that fast, it is almost as rare. Raesr has only produced a single concept model, featuring a 1,250hp, six-motor electric powertrain which is good for up to 240mph.
As you can't buy either car from the Autoshow, grabbing both rewards this Series is a bit of a time-saver. Although you could just buy the Chip Ganassi Extreme E and paint it orange if you miss out.
Autumn will run through to 1430UTC on Thursday August 4, while Series 10 will continue on for another two weeks until the same time on Thursday August 18.
Series 10 Autumn/Storm Season
There's another two rare rewards on Autumn's Playlist, with two cars you cannot pick up from the Autoshow.
For 20 points you'll win the new-to-5 Porsche 911 C2 by Guntherwerks. Based on the 993-generation 911, the resto-mod — officially known as the 400R — essentially created a GT3 RS model for a generation that never had one.
Guntherwerks installed a custom-made four-liter flat six in the back of the car, producing more than 400hp, all heading to the back wheels. The whole thing is wrapped up with a carbon-fiber body.
At 40 points you'll be able to pick up the Ferrari F8 Tributo. This was previously available as a Series 7 reward car, so it's a second chance to bag the current V8 Ferrari.
It might also be the last of its type, as the brand embraces electric power. The Tributo, named to celebrate that award-winning 3.9-liter V8 — now producing 710hp — could be Ferrari's final non-hybrid V8 sports car.
Forzathon Events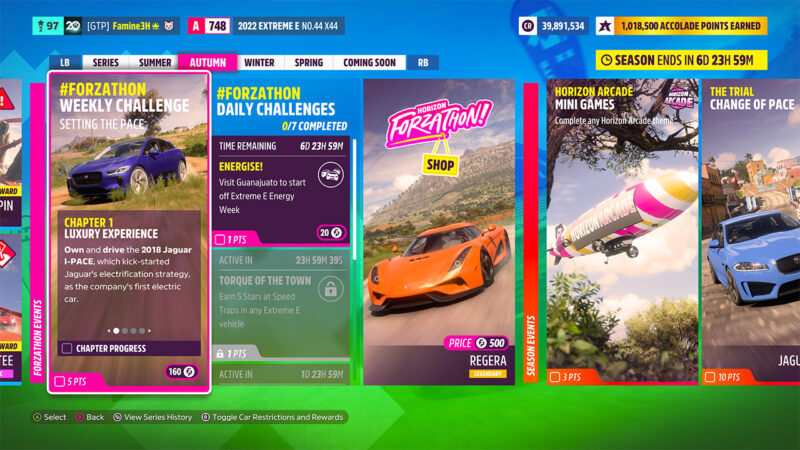 The focus on electricity continues in this week's Weekly Challenge, with attention shifting to Jaguar's I-PACE SUV. Pick one up — it's available as a prize in The Eliminator this week — and drive it to start Setting the Pace.
Head to Guanajuato, which is something of an event hub this week, and earn five Speed Skills in the I-PACE. You'll need to crack 100mph to start earning Speed Skills, with higher grade Skills (Great, Awesome, and Ultimate) coming the faster you go.
Once completed, win any Road Racing Series event in the car to progress to the final stage, where you'll need to earn 100,000 Skill Score to finish the challenge.
Completing all four stages will earn you five points and 160FP (doubled to 320FP if you own the La Casa Solariega player house).
Weekly Challenge: Setting the Pace
Car: Jaguar I-PACE

Chapter 1: Own and drive the Jaguar I-PACE
Chapter 2: Earn five Speed Skills in Guanajuato in the Jaguar I-PACE
Chapter 3: Win a Road Racing Series event in the Jaguar I-PACE
Chapter 4: Earn 100,000 Skill Score in the Jaguar I-PACE

Reward: 5 points, 160FP
There's more Extreme E events in the Daily Challenges this week, as many of the challenges are oriented around these cars. As usual each is worth one point (plus 20FP), with a new one arriving each day and seven days to complete each.
As with last week, the first one is easy and only requires that you head to this week's Extreme E hub location. Visit Guanajuato to complete Energise!
For Torque of the Town you'll need to grab an Extreme E car and earn five stars (or equivalent score) at any Speed Traps.
Keep hold of it for Saturday's challenge, Racing Spark. Just win any Dirt Racing Series event — and yes, the Energy Prix II seasonal counts — to score the point.
Head back to Guanajuato on Sunday for Trading Places. You'll need to earn a Trading Paint Skill, by lightly grazing AI traffic cars, to complete the challenge.
Driving Force will then require you to drive ten miles in any Extreme E car.
The electric theme continues, albeit at a tangent, on Tuesday. You'll need to smash any billboard (earning a Skillboard Skill) in any Volkswagen to complete Volts-wagen. Making a badly timed April Fool's joke won't help.
Finally you'll be back in the Extreme E for EV-lution. Rack up a total of 100,000 Skill Score — it doesn't need to be in one hit — in any of the ten cars to score the final point.
Daily Challenges
July 28 – Energise!: Visit Guanajuato
July 29 – Torque of the Town: Earn five stars at Speed Traps in any Extreme E
July 30 – Racing Spark: Win any Dirt Racing Series race in any Extreme E
July 31 – Trading Places: Earn a Trading Paint skill in Guanajuato
August 1 – Driving Force: Drive ten miles in any Extreme E
August 2 – Volts-wagen: Smash a Billboard in any Volkswagen
August 3 – EV-Lution: Earn 100,000 Skill Score in any Extreme E
Season Events
There's quite a variety of Season Events this week, although it's largely on the multiplayer side. For solo events there's the two special Extreme E Seasonal Championships and three PR Stunts, alongside the two new Hot Wheels events for owners of the DLC pack.
As with last week, there's a Seasonal Championship and a PR Stunt in Hot Wheels Park, and the prizes mirror those of the "real" world events.
For the PR Stunt you'll need to head to the Canyon Fire Danger Sign, the north-west of the two "Canyon" Danger Signs in Giant's Canyon. You'll need to jump through the fiery hoop and land at least 330m from your takeoff point, in any A Class (701-800PI) car to score the two points and Super Wheelspin prize. The landing zone is a bit tricky though.
The Seasonal Championship, Do The Loop-di-Loop, will require any B Class (601-700PI) Mazda. Win the three-race championship against the Highly Skilled AI drivatars to win five points and a Hot Wheels Tee clothing item.
Hot Wheels Danger Sign: Canyon Fire
Car: A Class
Location: Hot Wheels Park Giant's Canyon, Canyon Fire Danger Sign
Challenge: 330m
Reward: 2 points, Super Wheelspin
Hot Wheels Seasonal Championship: Do The Loop-di-Loop!
Car: B Class, Mazda
Location: Hot Wheels Park Ice Cauldron, Volcano Pass Hazard Sprint
Challenge: Win the Championship
Reward: 5 points, Hot Wheels Tee
Of the three regular PR Stunts, two award the usual Super Wheelspin, while there's another Extreme E car on offer; all give two points towards your season total.
The odd one out is the Bulevar Speed Trap. You'll need to blast through this trap, west of Guanajuato, at 215mph or more in any S2 Class (901-998PI) vehicle. A #23 Extreme E machine awaits as your prize.
For the Panoramica Drift Zone, east of Guanajuato, you'll need to hit 75,000 points. That's 50% higher than the three-star score, but as you can use any vehicle in the S1 Class (801-900PI) it shouldn't be too tricky.
That leaves the Ladera Speed Zone, up on the hills to the south of Guanajuato. Keep your average speed up above 88mph in any A Class (701-800PI) vehicle — between two- and three-star speeds.
The two Seasonal Championships this week are the usual three-race events against Highly Skilled AI drivatars, with a five-point reward, both specifically for the Extreme E machines. You'll need to win one elsewhere on the Playlist, or buy the 700,000cr #99 car — or of course own some from last week's events.
This week the championships are Extreme E Energy Prix I and Extreme E Energy Prix II, again named for one of the real-world event types in the championship. Both require an Extreme E car in the A Class (701-800PI) bracket.
EEEPI is a Cross Country challenge, gifting the #5 Extreme E car for overall victory, while EEEPII is a Dirt Racing Series event, awarding a white Extreme E Race Suit. It might be worth leaving the latter of these until the July 30 Daily Challenge becomes active.
Finally there's Horizon Arcade. This event can be done solo or in multiplayer as the requirements scale depending on the number of participants. Simply find any Horizon Arcade — marked by pink circles on the map — of any of the five types and complete all three rounds to win three points.
Drift Zone: Panoramica
Car: S1 Class
Location: Tierra Prospera, Panoramica Drift Zone
Challenge: 75,000pt
Reward: 2 points, Super Wheelspin
Speed Trap: Bulevar
Car: S2 Class
Location: Guanajuato, Bulevar Speed Trap
Challenge: 215mph
Reward: 2 points, Extreme E #23
Speed Zone: Ladera
Car: A Class
Location: Guanajuato, Ladera Speed Zone
Challenge: 88mph
Reward: 2 points, Super Wheelspin
Horizon Arcade: Mini Games
Car: Any
Location: Horizon Arcade (any)
Challenge: Complete Horizon Arcade
Reward: 3 points
Seasonal Championship: Extreme E Energy Prix I
Car: A Class, Extreme E
Location: Guanajuato, Urban Cross Country Circuit
Challenge: Win the Championship
Reward: 5 points, Extreme E #5
Seasonal Championship: Extreme E Energy Prix II
Car: A Class, Extreme E
Location: Guanajuato, El Pipilo Scramble
Challenge: Win the Championship
Reward: 5 points, Extreme E White Race Suit
There's three multiplayer events this week, each requiring an Xbox Live Gold subscription on console to access, or at no additional charge on PC.
Seasonal Playground Games returns with its one-type format. This week that's Team King; you'll need to play three rounds of the team vs. team King format game, either chasing down the opposition Kings to steal their crown or evading them while holding one yourself.
You'll need any Super Hot Hatch vehicle tuned to A Class (701-800PI). Simply complete three rounds — winning isn't necessary — to take three points and an Audi RS5.
Horizon Tour makes a Playlist return this week. This three-race championship will place you and up to five other people in a race again six Highly Skilled AI drivatars. Each opponent you beat will give you 100 points, and vice versa, so you'll need to finish ahead of the AI as a team to win and claim two points.
There is an unusual twist in that you'll also need to drive between the races across the landscape, although there's nothing in particular riding on this. The new Tour hub at the Hot Wheels Park location will also count towards this event. All you need is a suitable vehicle for the various events in the rotation.
That leaves The Trial in its evergreen spot. The format is similar to the Tour, except without the need to haul across Mexico between races and with more difficult "Unbeatable" AI drivatars.
It's much more critical then to ensure you help team-mates and hinder the AI to score as many points as possible, rather than skittling through team-mates in a try-hard attempt to win the race on your own for little reward.
This week's event, Change of Pace, is a Road Racing Series event for any A Class (701-800PI) vehicles. That should keep speeds down and car control up. Win as a team and you'll earn ten points as well as a Jaguar XFR-S.
Horizon Tour
Car: Any
Location: Horizon Tour (any)
Challenge: Complete Horizon Tour
Reward: 2 points
Seasonal Playground Games: Team King
Car: A Class, Super Hot Hatch
Location: Baja Circuit
Challenge: Complete the event
Reward: 3 points, Audi RS5
The Trial: Change of Pace
Car: A Class
Location: Guanajuato, Plaza Circuit
Challenge: Win the Championship
Reward: 10 points, Jaguar XFR-S
Challenges
There's three Challenges again this week, made up of a Treasure Hunt, the usual Photo Challenge, and The Eliminator. You will of course need access to online multiplayer for that last item, with either Xbox Live Gold or access to the game on PC.
Handily The Eliminator will award you the car you need for both the Weekly Challenge and the Photo Challenge, the Jaguar I-PACE. Just place 30th or better — usually a matter of surviving for a couple of minutes — to win the car and two points.
Take the I-PACE to Guanajuato and photograph it anywhere at all in the city to pass the Photo Challenge, #PureEnergy. That will earn you two more points and the new "Rawr" emote.
Finally there's the Treasure Hunt, and the hint is a bit of a head-scratcher. It reads "In Guanajuato, EV charging points are every 15 seconds but 100 are maintained".
That suggests that your task is to keep your speed up above 100mph for 15 seconds or more, while in Guanajuato and driving an electric car. Complete that and you'll earn the treasure clue, which is a red circle on your map showing you roughly where the treasure chest is located.
This week that's… also in Guanajuato along with everything else. It's a little tricky to find, but look in the dog-leg side street next to the university icon, behind the market stalls. Smash the chest to take 100FP and three season points.
Photo Challenge: #PureEnergy
Cars: Jaguar I-PACE
Location: Guanajuato
Challenge: Photograph the Jaguar I-PACE in Guanajuato
Reward: 2 points, RAWR Emote
The Eliminator: Battle Royale
Cars: Any (provided)
Location: Valle de las Ranas, The Eliminator
Challenge: Finish 30th or better in The Eliminator
Reward: Jaguar I-PACE
Treasure Hunt: Sustainable Energy
Cars: Any EV
Location: Guanajuato
Challenge: Maintain a speed of 100mph for 15s in any EV in Guanajuato, find and smash the Treasure Chest
Reward: 3 points, 100FP
The two new Monthly Rivals events remain from last week, and run across all four weeks of the Series.
In each event you'll need to complete a clean lap at the specified Rivals event time trial using the car provided. Speed isn't required, just keeping it clean, so you'll need to make sure you don't hit anything solid.
You can do the events at any point in the Series to earn a point in each of the four Seasons. Even if you leave it to the last minute of the Spring season you'll have the points backdated, for eight points in total for both.
The Forza EV event requires a lap of the Airfield Cross Country Circuit using the #99 Extreme E provided, with the Monthly Rivals consisting of a lap of the Tierra Prospera track in the Porsche 917/20 Pink Pig.
Forza EV: Airfield Cross Country Circuit
Cars: Extreme E #99 (Provided)
Location: Aerodromo en la Selva, Airfield Cross Country Circuit
Challenge: Post a Clean Lap
Reward: 4 points (1 added to each season)
Monthly Rivals: Tierra Prospera Circuit
Cars: Porsche 917/20 (Provided)
Location: Tierra Prospera, Tierra Prospera Circuit
Challenge: Post a Clean Lap
Reward: 4 points (1 added to each season)
Forzathon Shop
It's another week of extreme speed in the Forzathon Shop, with two of Europe's fastest cars from two different eras.
Headlining the shop is the Koenigsegg Regera, the first hybrid model from the Swedish hypercar brand.
Combining Koenigsegg's V8 with three electric motors — one on the crankshaft, two on the rear axle — results in another ludicrous power output from a company well known for it already. In total the Regera's drive systems develop 1,500hp.
That's all pushed through a single gear direct-drive gearbox, which means the car gets more powerful the faster it goes — up to a limited 251mph.
At 500FP it looks like a steal, but you can pick it up in the Autoshow for 1.9m credits so it depends what currency you're saving up the most.
Ferrari's F50GT was developed as a GT1 racing version of the F50 supercar, but ultimately never raced.
Despite the project being completed, Ferrari cancelled the car as the series it was destined for found itself dominated by purpose-built race cars with road homologation models — like the Porsche 911 GT1 and Mercedes CLK-LM — rather than race cars derived from road cars such as the F50 GT.
You can pick the F50GT up for 400FP, but again the 2m credit price in the Autoshow looks like a better bargain.
Store items this week are the Confetti Cannon Car Horn and the Extreme E Blue Race Suit at 75FP each. The Wheelspin (60FP) and Super Wheelspin (150FP) are in their usual spots too.
See more articles on Forza Horizon 5 Season Change.