The final set of Forza Horizon 5 seasonal playlist challenges for the current Series is available from today, with seven more days to get through the donut-based activities.
That doesn't refer to spinning about in your car, or to enjoying Homer Simpson's favorite snack, but automotive YouTube channel Donut Media which is the theme for S14.
Although we're now 75% of the way through this, there might be some people still unfamiliar with Donut. It is a car culture YouTube outlet, with various video series dealing with aspects of the automotive landscape and sometimes just mucking about.
To that end, Playground Games captured the facial likenesses of Donut's hosts for a special Horizon Story available this month. In fact you can play it at any time, but during S14 there's Playlist completion points for doing so.
Along with the Story, and special Accolades, there's events and challenges named for various aspects of Donut Media — including specific series like "HiLow" and "Money Pit", and general catchphrases from the show which will be familiar to regular watchers.
Series 14: Donut Media Rewards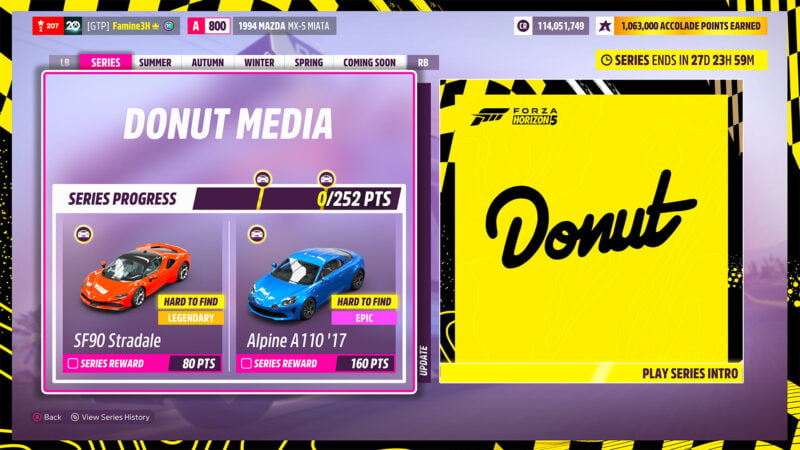 This week is the last opportunity to pick up the two rare cars on offer for the month; neither is new to the game, so missing out isn't crucial but both are sufficiently rare to make it worthwhile.
You should have scored 80 points long, long ago and therefore already collected the first prize: Ferrari's SF90 Stradale.
It's a bold move to name a car after an F1 car — Ferrari's 2019 race car was the SF90 — especially when so loosely related, but the SF90 Stradale is quite the beast.
Pairing the Ferrari V8 with three electric motors means 1000hp is available, and thanks to the various driving modes the SF90 is both the first mid-engined AWD Ferrari and the only Ferrari capable of FWD (though you will need to be in reverse gear for that).
There's less power but no less driving satisfaction in the higher-tier, 160-point reward car. That's the Alpine A110, a mid-engined sports that's still one of the best attempts at a modern retro car around.
Like its successful 1970s predecessor, the current A110 uses Renault power — a 1.8-liter unit derived from the Megane RS — placed into a lightweight, agile chassis for driving pleasure rather than pure speed.
The net result is a much-heralded drivers' car; McLaren F1 creator Gordon Murray is rumored to have benchmarked it for the T.50 supercar, and there's not much higher praise than that.
Series 14 Spring/Hot Season Rewards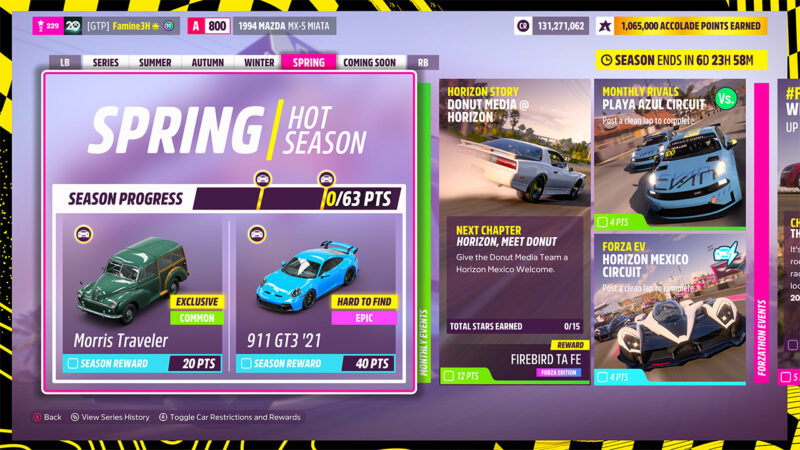 The Playlist has got wood for you for one more week, with another British classic using automotive-grade ash alongside something a great deal more modern.
Score 20 points and you'll win the Morris Minor Traveler, an estate-bodied variant of the "moggy" which replaces the two rear doors with an extended wood frame. Technically, as a two-door estate, that makes it a shooting break.
It's not quite a performance car, although this S2 model is a step up in that department from its predecessor. When we say that the 30hp, 800cc A Series engine helped the Traveler hit 60mph in just under a minute, you can only imagine how slow the previous car was.
Coming in at 40 points is the Porsche 992 911 GT3, previously available in Series 8.
The GT3 model is the peak of Porsche's naturally aspirated 911 range each model generation, and this particular car is no exception. It folds technology and knowledge from the 911 RSR race car into the mix, along with a 500hp version of the four-liter boxer six engine.
Despite every GT3 being mind-blowingly fast, each replacement model somehow moves the bar on further; the 992 is 17 seconds faster around the Nurburgring than the old 991.2…
Spring and Series 14 will conclude at 1430UTC on Thursday December 8. Summer and Series 15 will replace them, and we'll find out what's in store there soon.
Series 14 Spring Playlist: Forzathon Events
The final Up to Speed event, named for Donut Media's video series that takes a deep-dive into significant vehicles, looks at the Audi TT RS. Pick up the original, 2010 car and drive it to start the event.
Once up to speed in the TT RS you'll need to be… well, up to speed. Head over to the Switchbacks Speed Zone — on the east slope of the volcano — and score at least a two-star, 75mph pass to complete. After that, tune the RS up to S1 class (801-900PI) and win any race event of any kind.
Finally score an Ultimate Burnout Skill in the TT RS. You can do this pretty easily by peeling into a donut from a standstill and watch the skill rank up to Ultimate as you go. Finish that to earn you five points and 80FP, with the Forzathon Points doubled if you own the La Casa Solariega player house near Teotihuacan.
Weekly Challenge: Up to Speed
Car: Audi TT RS Coupe 2010

Chapter 1: Own and drive the Audi TT RS Coupe 2010
Chapter 2: Earn two stars on the Switchbacks Speed Zone in the Audi TT RS Coupe 2010
Chapter 3: Win any S1 Class Race event in the Audi TT RS Coupe 2010
Chapter 4: Earn an Ultimate Burnout Skill in the Audi TT RS Coupe 2010

Reward: 5 points, 80FP
The Daily Challenges come at their usual one-a-day rate, at 1430UTC each day, with seven days to complete for one point and 10FP per challenge completed.
That starts with HRSPRS. Just hit 200mph in any vehicle to earn this one.
Be as Light as a Feather next, earning 20 Air Skills. You just need to get all four wheels (or three, or six, depending on your car) off the floor at once to earn one, so do that 20 times.
After all that air time you'd be forgiven for Holden on Tight. Just photograph any Holden vehicle to complete this.
Show you're only Getting Started next by driving for at least ten miles during Horizon Tour. You can pair this with the Season Event this week.
Be a Rising Star on Monday by earning nine stars at any Speed Zones in any Porsche.
Tune up any Italian car with 15,000cr-worth of upgrades to make an Italian Powerhouse on Tuesday.
To wrap up the Series, be Rawrsome and win two Road Racing events in any Jaguar.
Daily Challenges
December 1 – HRSPRS: Reach 200mph in any vehicle
December 2 – Light as a Feather: Earn 20 Air Skills
December 3 – Holden on Tight: Take a picture of any Holden vehicle
December 4 – Getting Started: Drive ten miles in Horizon Tour events
December 5 – Rising Star: Earn nine stars at Speed Zones in any Porsche
December 6 – Italian Powerhouse: Spend 15,000cr on upgrades for any Italian vehicle
December 7 – Rawrsome: Win two Road Racing events in any Jaguar
Series 14 Spring Playlist: Season Events
There's the usual mix of single-player Season Events this week, with three PR Stunts and Seasonal Championships to power through.
The PR Stunts all offer up a Super Wheelspin and two Playlist points for completion, and all three require an S2 Class (901-998PI) car of any kind — so in theory you could do them all in one machine.
However you're going to need a spread of talents. For the Los Jardines Danger Sign you need enough downforce to make the preceding bend at flat chat but not so much that it shortens your 630m target flight. At the Ringroad Speed Zone you need tight control to keep up above 115mph.
Most challenging will be the Vado del Rio Speed Trap. The trap itself is in the river and the only way to hit the 135mph target speed is to be exceeding it by a long way by the time you hit the water. Pick a car with great offroad abilities and drive as far as you can, as straight as you can, at the trap.
The three Seasonal Championships are three-race series against Highly Skilled AI, which you'll need to top the final points table to win five points to your season total for each.
Money Pit is a Street Racing series specifically for D Class (≤500PI) examples of the 1994 Mazda MX-5 Miata. Win and you'll pick up a Jaguar XKR-S.
Grab an S2 Class (901-998PI) Extreme Track Toy for the Mo Powa Baby Road Racing Series — with a Ferrari 812 Superfast as a reward for overall victory.
Finally there's Past Gas, a Dirt Racing event for C Class (501-600PI) Retro Rally cars. The Ford GT70 is available for the champion.
Danger Sign: Los Jardines
Car: S2 Class
Location: Los Jardines, Los Jardines Danger Sign
Challenge: 630m
Reward: 2 points, Super Wheelspin
Speed Trap: Vado del Rio
Car: S2 Class
Location: Atlantes de Tula, Vado del Rio Speed Trap
Challenge: 135mph
Reward: 2 points, Super Wheelspin
Speed Zone: Ringroad
Car: S2 Class
Location: Estadio Horizon, Ringroad Speed Zone
Challenge: 115mph
Reward: 2 points, Super Wheelspin
Seasonal Championship: Money Pit
Car: D Class, Mazda MX-5 Miata 1994
Location: Guanajuato, Tunnel Run
Challenge: Win the Championship
Reward: 5 points, Jaguar XKR-S 2012
Seasonal Championship: Mo Powa Baby
Car: S2 Class, Extreme Track Toys
Location: Costa Rocosa, Descansar Dorado Sprint
Challenge: Win the Championship
Reward: 5 points, Ferrari 812 Superfast
Seasonal Championship: Past Gas
Car: C Class, Retro Rally
Location: Pantano de la Selva, Tulum Trail
Challenge: Win the Championship
Reward: 5 points, Ford GT70
There's the usual bonus events for Hot Wheels DLC owners. These aren't required for 100% completion of the Playlist, but give players the chance to win some extra points they might not be able to score elsewhere — useful when there's several multiplayer events.
This week's PR Stunt is the Ice Cauldron Drift Zone in the map area of the same name. It's not too difficult, with the 200,000pt target being only just over three stars, but you will need an S2 Class (901-998PI) car to complete it. It's worth two points and another Super Wheelspin.
Forest Falls hosts the final Joy of Cars Seasonal Championship. This three-race event against Highly Skilled AI is for any B Class (601-700PI) cars and starts off on one of the hazard tracks so use something stable. There's five points and a Morris Minor for victory.
Hot Wheels Drift Zone: Ice Cauldron
Car: S2 Class
Location: Hot Wheels Park Ice Cauldron, Ice Cauldron Drift Zone
Challenge: 200,000pt
Reward: 2 points, Super Wheelspin
Hot Wheels Seasonal Championship: Joy of Cars
Car: B Class
Location: Hot Wheels Park Forest Falls, Forest Falls Hazard Sprint
Challenge: Win the Championship
Reward: 5 points, Morris Minor
There's also three multiplayer events this week. Xbox Live Gold is required — unless you play on PC — to access these, as usual.
Seasonal Playground Games makes a return this week, keeping to the one-type format of recent weeks. It's three rounds of Team Flag Rush this time, where teams take it in turns to carry flags to the home base while the other team attempts to tag them to prevent it.
Complete the event — winning isn't necessary — to earn three points and an Audi RS6 2003.
Horizon Tour also makes a return; it's probably best to save this until December 4 when a Daily Challenge is available for the event too.
You'll need to race with a team of up to six humans again six AI in three races. Each member of each team earns 100 points for each opponent they beat, but nothing for beating friendlies. That means you should aim to help out the blues and hinder the reds.
Tour has a twist in that you'll also need to race between races, although there's no bonuses for doing so, even if you're the quickest. Win across the three races to score three points, with no additional prizes.
That leaves The Trial, which has the same in-race format as Horizon Tour except the AI are turned up to Unbeatable.
This week it's a best-of-three Dirt Racing Series event, open to any A Class (701-800PI) vehicle of any kind. We'd recommend off-road ability and something good at landing from big jumps.
However it's not a tricky event this week if the humans aren't being dim. Winning inside two races should be a formality, and you'll earn ten points and a McLaren 600LT for doing so.
Horizon Tour: Co-Op Championships
Car: Any
Location: Horizon Tour
Challenge: Complete the event
Reward: 3 points
Seasonal Playground Games: Team Flag Rush
Car: A Class, Super Saloon
Location: El Estadio Horizon
Challenge: Complete the event
Reward: 3 points, Audi RS6 2003
The Trial: Bumper to Bumper
Car: A Class
Location: Baja Circuit, Horizon Baja Scramble
Challenge: Win the Championship
Reward: 10 points, McLaren 600LT
Series 14 Spring Playlist: Challenges
We're down to a solitary Challenges this week, which is unsurprisingly a Photo Challenge.
To complete the #HiLow challenge you just need to take a snap of the 2003 Nissan Fairlady Z — star of Donut's "HiLow" series — at the Horizon Festival.
That will earn you two Playlist points and a "Snap!" Emote.
Photo Challenge: #HiLow
Cars: Nissan Fairlady Z 2003
Location: Horizon Festival
Challenge: Photograph the Nissan Fairlady Z 2003 at the Horizon Festival
Reward: 2 points, "Snap!" Emote
You still have one week to complete the three monthly events, consisting of the regular Forza EV and Monthly Rivals, and the Donut Media @ Horizon Story.
In each case you can complete them at any time in the month to earn the rewards, and they're evenly distributed across all four seasons whether they're ended or not.
The Story gives you 12 Playlist points — three added to each season — if you can score three stars in each of the five chapters. It's a permanent addition to the game, but only grants the Playlist points this month. You'll also score clothing item rewards, Accolades, and a Pontiac Firebird Trans-Am Forza Edition.
For Forza EV and Monthly Rivals you'll need to set a clean lap time at the specified circuits in the cars provided. That's the RAESR Tachyon at Horizon Mexico for Forza EV and the Lynk&Co TCR at Playa Azul for Monthly Rivals. Speed isn't important, so just keep it clean.
Horizon Story: Donut Media @ Horizon
Cars: Provided
Location: Horizon Festival
Challenge: Earn 15 Stars in the Horizon Story
Reward: 12 points (3 added to each season), Pontiac Firebird Trans-Am Forza Edition
Forza EV: Horizon Mexico Circuit
Cars: RAESR Tachyon Speed (provided)
Location: Horizon Festival, Horizon Mexico Circuit
Challenge: Post a Clean Lap
Reward: 4 points (1 added to each season)
Monthly Rivals: Playa Azul Circuit
Cars: Lynk&Co 03 #100 Cyan Racing (Provided)
Location: Playa Azul, Playa Azul Circuit
Challenge: Post a Clean Lap
Reward: 4 points (1 added to each season)
Series 14 Spring Forzathon Shop
Some mind-bending ways of going quick are up on offer this week in the Forzathon Shop, starring a track version of a race car adapted from a supercar, and a supercar which makes for a pretty handy race car too.
The Maserati MC12 Versione Corsa leads the way, at 700FP. This track toy is based on the famous MC12 race car which Maserati used to great success in the GT1 category in the early 2000s.
It's more or less identical to the Ferrari Enzo Ferrari under the skin, but sports a Frank Stephenson-designed body and interior that's sufficiently different that you might not know the Enzo and MC12 are so mechanically similar.
While Maserati did make some road versions of the MC12, for homologation purposes, the VC is a track-only car — in a similar vein to the Ferrari FXX. With almost 750hp from the V12 underneath, it's quite the toy. It's also available in the Autoshow for 2.5m credits, so whether you spend the FP or money is up to you.
McLaren's 720S Spider sits alongside the Maserati in the shop this week, but it's harder to recommend on value terms alone. 300FP or 340,000cr in the Autoshow?
Either way you get one of the best supercars ever made in the UK, with added rooflessness to help with the theatricality of it all.
Store items this week are the Donut Media Leaf Cap and Mechanical Whizz Horn, at 75FP each. The Wheelspin (60FP) and Super Wheelspin (150FP) remain in their usual spots.
See more articles on Forza Horizon 5 Season Change.