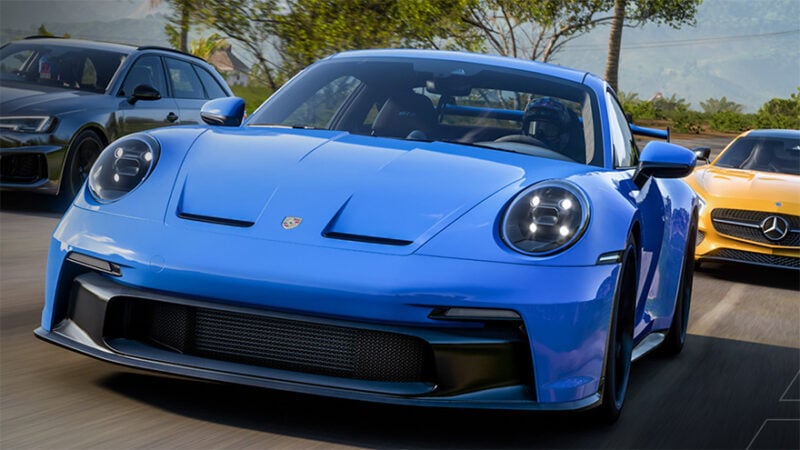 Forza Horizon 5's next Series update, Series 8, will appear in an unusual, extended Forza Monthly broadcast this week, leading to speculation that the game's first official expansion is coming soon.
If you tuned in to the last "Forza Horizon Let's Go" show on April 25, you'll have seen the Playlist and Car Pass cars for Series 8 revealed ahead of schedule, alongside the Series 7 Playlist which started on April 28. Indeed if you boot the game up right now you'll see the Audi RS4 Avant 2018, Mercedes-AMG GT, and Porsche 911 992 GT3 listed in the "Coming Soon" tab of the Playlist.
That came as something of a surprise, as it's rare for Playground Games to reveal two Series at once, and it posed questions as to why that might be.
The announcement that FH5 Series 8 will be part of a Forza Monthly broadcast rather than its own standalone Let's Go show — particularly as it's just 18 days since the previous Monthly show rather than the usual 28 or so — might provide an answer.
Of course FH5 does routinely appear as a short segment in Forza Monthly before the corresponding Let's Go, but this time round it's an "extended" spot, hinting at something larger. As we already know the S8 cars from last month's show, we can be reasonably sure it's something other than cars.
That's likely then to be the game's first expansion. Long-term Forza Horizon fans will note that FH5 is very much overdue for one as previous titles have, without exception, had their first expansion by the time they hit three months after launch. FH5 is now over six months in without one — and Playground Games' creative director Mike Brown commented in the S6 Let's Go stream that news would be coming soon.
Thanks to the Nvidia GeForce Now "leak" in 2021, we know that PG has been working on three expansions for FH5, codenamed as Project Woodstock at the time. These were referred to as Nightfall, Ventura, and Upside Down, and it's anybody's guess what they might be.
You'll be able to watch the stream on the official Forza Twitch and YouTube channels from 1600 UTC on May 12.