It's been a long time in the making, but it's official: Forza Motorsport has a targeted release window of Spring 2023. After years of anticipation, Turn 10 gave us our first look at the game in action on the Xbox Series consoles for the first time.
The "all-new" Forza Motorsport is built from the ground up for the Xbox Series consoles, meaning it will be among the first to fully utilize current-gen hardware. Billed as "the most technically advanced racing game ever made", there's definitely some expectations to fulfill and it looks like Turn 10 is intent on delivering.
The official trailer shown during the Xbox & Bethesda Showcase gave us a glimpse of what's to come, including new cars and tracks. Even better, there's a second, longer gameplay video with even more to unpack and we'll dive into both here.
Forza Motorsport Cars
Let's begin with the obvious attraction: the cars. There was no shortage of cars shown across the official trailer and gameplay demo, and while it's far from a complete list — at just 37 cars — they were as follows:
2021 Audi RS e-tron GT
2021 Cadillac #31 Whelen Racing DPi-V.R
2021 Porsche 911 GT3
2020 Acura #6 ARX-05 DPi
2020 Chevrolet #3 Corvette Racing C8.R
2020 Chevrolet Corvette Stingray Coupé
2020 Formula Drift #151 Toyota GR Supra
2020 Koenigsegg Jesko
2020 Lamborghini Huracan EVO
2020 Nissan GT-R NISMO (R35)
2019 Brabham BT62
2019 Ginetta #6 Team LNT Ginetta G60-LT-P1
2019 McLaren Senna GTR
2019 Nissan 370Z Nismo
2018 Acura #36 Gradient Racing NSX GT3
2018 Audi #44 R8 LMS GT3
2018 BMW #1 BMW M Motorsport M8 GTE
2018 Dodge Challenger SRT Demon
2018 Formula Drift #64 Nissan 370Z
2018 Lamborghini #63 Squadra Corse Huracán Super Trofeo Evo
2018 Mercedes-AMG GT3
2017 Aston Martin Aston Martin Racing V12 Vantage GT3 #7
2017 BMW #24 BMW Team RLL M6 GTLM
2017 Porsche #911 Porsche GT Team 911 RSR
2016 NIO EP9
1991 Mazda #55 Mazda 787B
1970 Mercury Cougar Eliminator
1969 Chevrolet Camaro Super Sport Coupe
1969 Dodge Charger R/T
1969 Ford Mustang Boss 302
1967 Eagle-Weslake T1G
1967 Ferrari #24 Ferrari Spa 330 P4
1967 Honda RA300
1966 Chaparral #66 2E
1966 Ford #2 GT40 Mk II Le Mans
1966 McLaren M2B
1958 Aston Martin DBR1
The eagle-eyed will notice there are nine cars that are new to Forza, including the McLaren Senna GTR, Corvette Racing C8.R, and the Ginetta G60-LT-P1. Interestingly, among the new cars, the Brabham BT62 is the only one on the list to appear in not only this trailer, but also the trailer for the Forza Horizon 5 Hot Wheels expansion set to release next month.
Forza Motorsport Circuits
Also revealed during the presentation was an extended gameplay demo, featuring an in-depth look at the returning, fan-favorite Maple Valley Raceway. Turn 10's Chris Esaki presented the demo and it kicks off with an overhead shot of the venue, and one thing is immediately apparent: Maple Valley has been completely redone.
Maple Valley is just one of the tracks shown in the videos, although it has by far the most screen time. There's also perennial must-haves Circuit de Spa-Francorchamps and Laguna Seca Raceway, and Kyalami which will be making its series debut. One more new original track, Circuit Hakone, was also very briefly shown.
Circuit de Spa-Francorchamps
Circuit Hakone
Kyalami Grand Prix Circuit
Maple Valley
WeatherTech Raceway Laguna Seca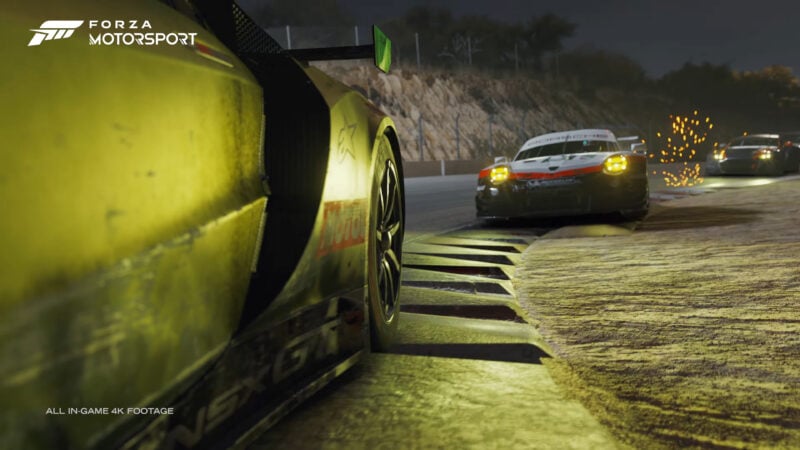 Time of Day & Weather
Forza Motorsport will feature fully dynamic time of day, bringing the track to life "in stunning detail". Esaki is quick to point out this is an in-engine gameplay demo, using a single camera and no cuts as it closes in on the M8 GTE. Powered by a twin-turbocharged V8 engine, the GTE sounds guttural and growly, which we'd expect has to do with the new granular synthesis audio system first introduced in Forza Horizon 5.
Time of day is put to the test as things progress to sunset, showing off the environmental details. Pointing out that everything we see is new, and captured using photogrammetry and 3D material scans. Advanced rendering and procedural generation techniques aid in "bringing a new level of realism to the track".
This is further accentuated by the fall setting around Maple Valley. Whether it be the trees, grass, rocks, skies and clouds, or the 3D vegetation — it all helps to illustrate the generational leap in visual fidelity. With the new dynamic time of day, a "fundamental system" to the new game that, like weather, will feature across every track in the game.
The combination of dynamic time of day, forward+ lighting, and physically based lights are far from being only aesthetic details. Changes in the time of day will affect ambient temperatures, which in turn will directly affect track surface temperatures. Tire grip will also be affected by these changes, as well as rubbering in, and weather changes — something Esaki briefly touched on last May.
Forza Motorsport Physics
Featuring a completely overhauled physics engine with 48 times the fidelity of its predecessors, this may be the most realistic Forza yet. That starts with the tires, which now have eight points of contact for physics calculations, rather than just one, and are updated 360 times a second.
Based on fan feedback, FM is also set to feature tire and fuel management, new "in-depth" car building, as well as multiple tire compounds. The latter isn't specifically new to the franchise and is more of a returning feature, as it was last seen in Forza Motorsport 2 back in 2007. With various compounds, players are forced to take such variables as tire life, grip, and responsiveness into consideration.
Another area of improvement of which players will likely already be aware is the "super realistic" new suspension model. That's set to simulate some rather complex aspects of suspension movement, including roll center, squat, dive, and dynamic force propagation.
The upcoming game also features new damage simulation and is reproduced "down to the individual scratches on the bodywork". This includes the directionality of the damage and how the paints peels away at the exposed and raised edges, wheel abrasions, as well as dirt buildup.
Real Time Ray Tracing & Graphics
Ray tracing looks to be a key feature of the new FM as well, bringing out incredible details such as those in engine bays, which have complex self-reflection. As Greenawalt highlighted earlier, ray tracing will also feature in the game "on track", which seems to mean during gameplay and not specific cutscenes or replays.
While FH5 features ray tracing only in Forzavista mode, full on-track ray tracing in FM should make the game feel and look more realistic than it ever has. Cars will reflect onto other cars, in their own mirrors, as well as the bodywork, brake rotors, and wings, all in real time.
According to the game's official site, FM will run at 4K resolution and 60fps on Xbox Series X — though the console is capable of 120fps — with Series S capped at 1080p and 60fps. There's no mention of resolution and frame rates for PC.
Launch Date and Platforms
Although we don't have a specific date right now, we know Forza Motorsport will launch in spring 2023 — essentially somewhere between March and June.
That's still quite the wait for a game that's been in active development since 2019, the longest development period for any game in the franchise's now 17-year history.
The game will launch for Xbox Series consoles and PC — physically, digitally, and on Game Pass — with no version for Xbox One devices. However it remains a possibility that Xbox One owners will be able to stream the game with Xbox Cloud Gaming without needing a new-generation device.
There's more to come on Forza Motorsport soon, as creative director Chris Esaki will dive into what was shown this Thursday on Forza Monthly.
Stay tuned!