Turn 10 has announced during today's Xbox Games Showcase event that the next Forza Motorsport title, Forza Motorsport, will launch on October 10.
A short, three-minute slot in the Showcase saw a brand-new, 90-second trailer, as well as a video about the heritage of the game's cover cars: the Cadillac V-Series.R and Chevrolet Corvette E-Ray. Between these was a brief word from creative director Chris Esaki about the collaboration with General Motors.
Although the trailer was pretty brief, it did give a glimpse of some more cars, tracks, and features coming to the game, along with a look at some of the menu screens — primarily in the tuning section.
That included a confirmation of more of the game's 20 circuits, which will include the return of Circuit de la Sarthe from previous games in the series as well as a new fictional location called Eaglerock Speedway.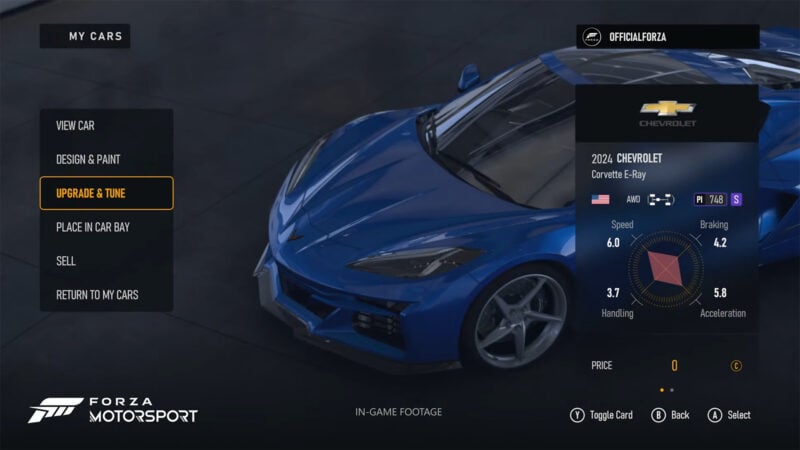 The tuning menu screens suggest that cars will again fit into the traditional Forza series "Performance Index" system, with dynamic ratings plotted on the familiar spider web chart. Car leveling also looks set to return.
There's also a wide variety of upgrade parts which includes a range of body upgrades, engine swaps, drivetrain swaps, and other mechanical components — though this isn't shown in any specific detail.
One curious additional note was an audible assistant during a couple of the races, giving encouragement, information, and advice. This could hint at a race engineer or spotter of some kind.
We'll find out more details about the game this coming week, as a special Forza Monthly show is scheduled for 1800UTC on Tuesday June 13. There, it's promised, we should see a "a full walkthrough of the Forza Motorsport Builders Cup Career Mode with all-new gameplay and details".
Forza Motorsport will be available on October 10 on Xbox Series consoles and PC via Steam, as well as on Xbox Game Pass from day one. Players who order the Premium Edition will receive five days' early access starting October 5, and the title should be available to pre-order soon.