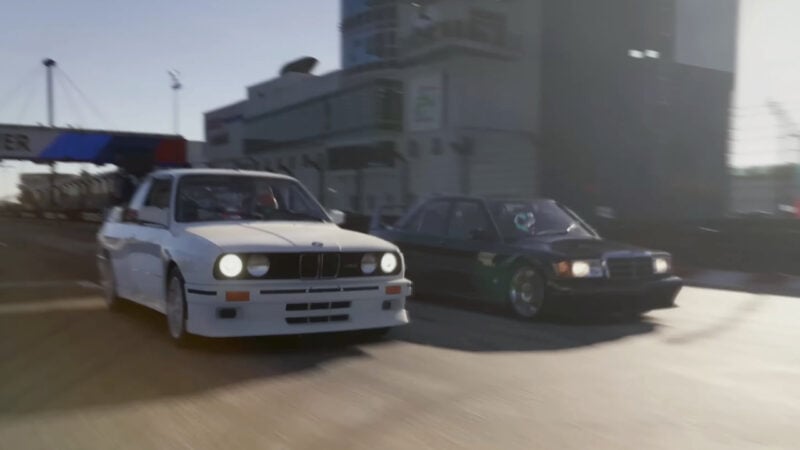 The official Forza Motorsport social media accounts have confirmed what we already suspected, announcing that the Nurburgring circuit location will be part of the title at launch — but the famous Nordschleife will be coming at a later date.
Sharp-sighted fans will have noticed an extremely brief glimpse of the circuit during January's Xbox/Bethesda Developer Direct stream, with quite literally a single second of footage that you'll see in the screenshot above.
Featuring two classic German touring car homologation models — the BMW M3 Evo and the Mercedes-Benz 190E 2.5-16 Evo II — the clip curiously had the cars racing the wrong way up the main straight of the Nurburgring Grand Prix circuit.
Until today there's been no other mention of the circuit anywhere, leading some fans to query if the location would be limited to the GP circuit only and if Turn 10 was planning on allowing reverse-direction racing on real-world circuits in a similar manner to GRID: Legends.
Today's announcement confirms at least part of that speculation. The Nurburgring's Grand Prix loop, a 15-turn course used in Formula One, will be coming to the game on launch day. That's October 10 for the regular version, or October 5 with early access.
However the Nordschleife won't be part of the launch roster, with T10 planning to add it to the game in "Spring 2024". There's been no mention yet of whether combined versions of the track — such as the Nurburgring 24 Hour circuit or variations used in the Nurburgring Endurance Series — will be part of that.
Notably this announcement is also the first clear indication of post-launch content update for Forza Motorsport, although we don't yet know if other car and track content will arrive in the potential six-month window between launch and the Nordschleife.
With Gamescom coming this week — starting Wednesday August 23 — and an Xbox presence at the event, we're expecting more information soon. You'll find all the latest details on the circuits, cars, and features of the game in our dedicated Forza Motorsport Guide, which is updated regularly to reflect the latest announcements.
See more articles on Nurburgring and Nurburgring Nordschleife.