After a successful inaugural season, Turn 10 have revealed that the Forza Racing Championship eSports competition is returning for a second season, set to kick off on November 7. With the event being sponsored by Michelin, Logitech G and Playseat, players will ultimately go at it for cash and prizes worth more than $150,000.
To expand the outreach of the event, both Forza Motorsport 6 and Horizon 3 will be included in the festivities, emphasizing more than ever that players of all skill levels are welcomed. As ever, there will be two Series that make up the second season: the Elite and Recreation. Both will require all participants to register on the ForzaRC ESL page in hopes of taking home a prize.
It's important to point out that each of the two competitions will be offering their own loot. While Elite Series competitors will be vying for cash prizes, Recreation Series competitors will also be vying for cash prizes in addition to the likes of a Forza Motorsport Racing Chair from Playseat, a Logitech G Wheel, Car Pass for Forza Horizon 3, or ForzaRC swag.
Elite Series
The Elite series remains exclusive to Forza Motorsport 6 and will utilize the game's Rivals mode, with a new Qualifier event posted every Monday beginning on November 7. With three days to set their top times, only the top 32 players will advance to the Elite Series Cup, a series of 1v1 races held the following Saturday. From there, 16 players will go head-to-head in a Showdown for four spots to the season finale, to be broadcast live on the official Forza Motorsport Twitch and Beam channels on December 11.
The remaining top 128 from each week's Qualifier events will move on to the Elite Series Consolation Cup, taking place every Saturday. Like the Elite Series Cup, these events will also be 1v1 races, with the top 16 players each taking home cash prizes.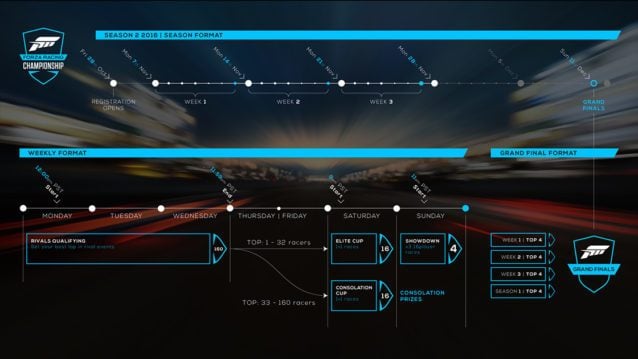 Elite Series Schedule
Week 1: November 7–13
(2015 Audi TTS Coupé on Catalunya National)
Elite Series S2W1 Rivals Qualifier: November 7-9
Elite Series S2W1 Elite Cup: November 12
Elite Series S2W1 Consolation Cup: November 12
Elite Series S2W1 Showdown: November 13
Week 2: November 14–20
(2015 Audi RS 6 Avant on Brands Hatch Grand Prix Circuit)
Elite Series S2W2 Rivals Qualifier: November 14-16
Elite Series S2W2 Elite Cup: November 19
Elite Series S2W2 Consolation Cup: November 19
Elite Series S2W2 Showdown: November 20
Week 3: November 21–27
(2014 Audi #2 Audi Team Joest R18 e-tron quattro on Sebring Full)
Elite Series S2W3 Rivals Qualifier: November 21-23
Elite Series S2W3 Elite Cup: November 26
Elite Series S2W3 Consolation Cup: November 26
Elite Series S2W3 Showdown: November 27
Elite Series Season 2 Grand Finals: December 11
Recreation Series
Unlike the Elite Series, there will be seven weeks worth of competitive events hosted entirely within Forza Horizon 3 beginning today, October 28. Players looking to participate will also be required to register accordingly, and will compete for prizes in each week's Recreation Rivals Event, found in the "Monthly Rivals" channel in the game.
Additionally, all players registered or otherwise will be eligible to win a special edition car in Forza Horizon 3 simply for taking part, as well as another car for setting a time in all seven events.
Recreation Series Schedule
Week 1: October 28–31
Recreation Series Week 1 Rivals Event: 1986 Audi #2 Audi Sport Quattro S1 on Mill Cross Country Circuit. Conditions: Morning, fog
Week 2: October 30–November 6
Recreation Series Week 2 Rivals Event: 2013 Audi RS 4 Avant on East Bridge Scramble. Conditions: Evening, clear
Week 3: November 6–13
Recreation Series Week 3 Rivals Event: 2015 Audi TTS Coupé. Conditions: Afternoon, clear
Week 4: November 13–20
Recreation Series Week 4 Rivals Event: 2011 Audi RS 3 Sportback on East Suburbs Circuit. Conditions: Morning, clear)
Week 5: November 20–27
Recreation Series Week 5 Rivals Event: 2011 Audi RS 5 Couple on Rainforest Circuit. Conditions: Evening, clear
Week 6: November 27–December 4
Recreation Series Week 6 Rivals Event: 1983 Audi Sport quattro on Redstone Mine Scramble. Conditions: Night, light rain
Week 7: December 4–11
Recreation Series Week 7 Rivals Event: 2016 Audi R8 V10 Plus on East Suburbs Circuit. Conditions: Morning, light rain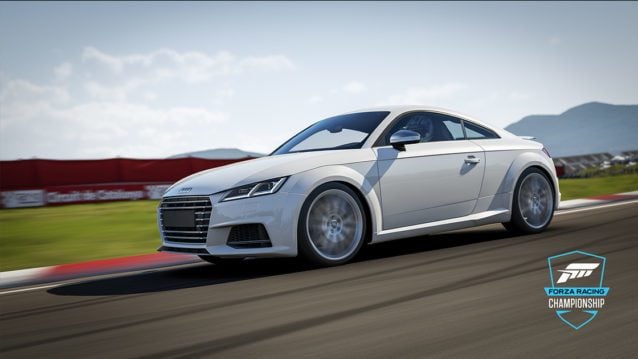 As mentioned previously, players who set a time each week, registered or otherwise, will be eligible to win a special car in Forza Horzion 3. The list of cars being made available are as follows:
Week 1 – 2017 Ford GT Horizon Edition
Week 2 – 2554 AMG Transport Dynamics M12S Warthog CST
Week 3 – 2016 Jaguar F-TYPE Project 7 Horizon Edition
Week 4 – 2015 Ford #17 Xbox Racing Ford Falcon FG X
Week 5 – 1994 Nissan Silvia K's
Week 6 – 2012 Nissan GT-R Black Edition Horizon Edition
Week 7 – 2014 Bentley #7 M-Sport Bentley Continental GT3