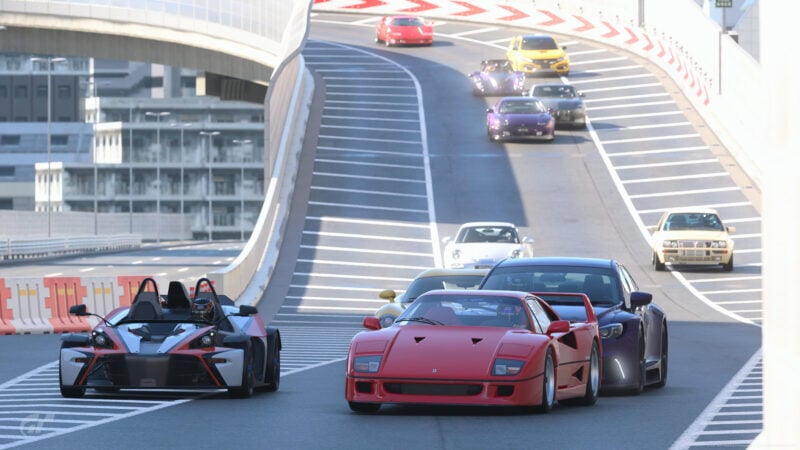 Gran Turismo 7 Daily Races have again refreshed for the week, with another set of three races to keep players occupied for the next seven days.
Update (November 15): Following widespread abuse of a glitch, Polyphony Digital has replaced the Race B event and this article has been amended appropriately.
Race A is, as has been the case for most weeks since May, a "No DR/SR" event. That means your Driver and Sportsmanship Rating won't be affected by the race — no gain, no loss — no matter what happens, so you're free to enjoy it without any worries about your stats.
It's another tuning affair this week, with players having free access to all aspects of vehicle tuning and settings with the exception of nitrous. You're permitted to use any road car so long as it doesn't exceed 345hp, doesn't drop below 1000kg, and uses Sports Medium tires. That should mean plenty of detuned supercars and engine-swapped machines this week.
Tokyo Expressway hosts the racing, with the East Clockwise course the venue. As this is also the location for one of the game's best ways of earning money — the World Touring Car 600 race — it should be one that's almost muscle memory for many players. It's just a short, four-lap race though, and watch out for the false start check on the grid; hold the handbrake until the lights go out.
Following the discovery of a glitch with the Autodrome Lago Maggiore circuit, Polyphony Digital has replaced the original Race B — a six-lap race of the West short course in Gr.4 cars — with a new event.
It's now a nine-lap race of Red Bull Ring, using Gr.4 race cars on Racing Hard tires. That probably won't affect the AWD-dominated — and particularly the Alfa Romeo 155 — grids though.
Race C is a mini-24 Hours of Spa, taking place over eight laps of the fearsome Belgian circuit in Gr.3 cars.
There's a few regulations to be aware of here. Firstly both Racing Medium and Racing Soft tires are available and mandatory. You'll need to complete one lap each with the two different tire grades during the race (pitting before you start lap one, or on the final lap just before the checkered flag, does not count) or you'll receive a one-minute time penalty after the race.
Along with that condition, the tire wear is relatively high, at a 7x multipler. That means the tires will wear seven times faster than usual, so the best play here is to use the Softs for as long as you possibly can but making sure you're not on them when they're so worn that the Mediums are faster.
In order to access the Daily Races, you'll need to unlock Sport Mode, by completing Menu Book 9 ("Championship: Tokyo Highway Parade") in the GT Cafe single player hub.
With GT7's Daily Races updating every Monday thus far, the next new set should arrive on Monday November 21.
Race A
Track: Tokyo Expressway – East Clockwise, 4 laps
Car: Road Car – Garage Car
Power/Weight/PP Limit: ≤345hp, ≥1000kg
Tires: Sports Medium
Settings: Permitted (no nitrous)
Start Type: Grid Start with False Start Check
Fuel use: 1x
Tire use: 1x
Race B
Track: Red Bull Ring – Short Track, 9 laps
Car: Gr.4 – Garage/Rental Car
Power/Weight/PP Limit: BOP (M)
Tires: Racing Hard, Racing Inter/Wet
Settings: Fixed
Start Type: Rolling Start
Fuel use: 1x
Tire use: 1x
Race C
Track: Circuit de Spa-Francorchamps, 8 laps
Car: Gr.3 – Garage/Rental Car
Power/Weight/PP Limit: BOP (H)
Tires: Racing Medium*, Racing Soft*, Racing Inter/Wet
Settings: Fixed
Start Type: Rolling Start
Fuel use: 1x
Tire use: 7x
*denotes mandatory tire
See more articles on Gran Turismo 7 Daily Races.