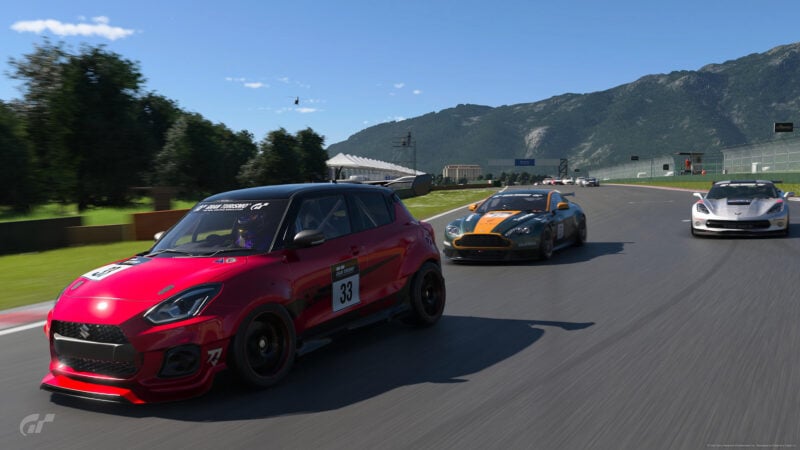 If you're playing the Gran Turismo 7 Daily Races this week you might have already noticed that there's something a bit "sus" going on in one of the events. Some drivers in Race B at the Lago Maggiore West short course are recording qualifying times in the order of ten seconds faster than what should be possible.
It's down to a little-known glitch affecting the Lago Maggiore circuit, which causes the player vehicle to teleport through almost the entire final sector. That shaves close to 20 seconds off the lap time on the full GP circuit or the West short course, saving around 12-13 seconds once the time taken to implement the exploit is taken into account.
The glitch itself relates to the new-for-GT7 West End short course, a small circuit based around the final sector of the GP track.
If, while driving the West End layout, players park their car in the pit lane exit at the West End circuit and remain stationary for around five seconds, the game will teleport their car back onto the starting grid, just shy of the start-finish line. So far, so normal.
Unfortunately though, this feature appears to have been left in place for both the West and GP circuits too. That means that if you park the car in the West End pit exit while driving either the West or GP layout, the game teleports you all the way to the start grid on those circuits instead.
Given that the West End pit lane exit is just after you start the final sector, this cuts out the last four corners entirely, dramatically shortening the circuit.
It doesn't only affect time trial and qualifying either. You can perform this glitch in the Lago Maggiore GP Circuit Experience and — if other players are not wise to the technique and physically prevent it — in the Daily Race B this week as well.
Of course this isn't the first time an online event has been affected by a glitch, although it is one of the most unusual ones we've encountered. GT Sport had an issue at Willow Springs with the first ever Online Time Trial, and with Daily Race events at Goodwood and Spa — along with a leaderboard wipe.
These were both fixed in very short order by the placement of barriers, and we expect a similar solution to come along soon.
Thanks to the GTPlanet members who pointed this out!
See more articles on Gran Turismo 7 Daily Races.