Another new set of Gran Turismo 7 Daily Races is now available, giving players a fresh set of three multiplayer challenges across the next seven days.
One of Gran Turismo's original fictional circuits shows up in rotation this week, with High Speed Ring — the least-changed of the four — hosting Race A.
That returns to its regular "No DR/SR" event format, which will see players neither gain nor lose Driver or Sportsmanship Ratings for the race. Given the format for the race, that's just as well!
You'll be driving the modern FIAT 500, which doesn't sound like the fastest car to race at High Speed Ring… because it isn't. In fact it's in pretty much standard form, albeit with the switch to track-day rubber in the shape of Sports Soft tires.
Watch out for some heavy dives at the one braking zone on the track, and the potential to roll it through sheer grip alone. It's only a three-lap race, but it's also an object lesson in preservation of momentum.
Race B is a standard Gran Turismo multiplayer race with only the mildest of twists. You'll be heading to Lago Maggiore (again) for a Gr.3 race, but it's the East circuit hosting in the Reverse direction — the nasty first chicane is now the nasty final chicane, with the uphill hairpin left as the first turn.
As a five-lap sprint race, there's little to be concerned about other than the Racing Medium tire requirement. Just pick your preferred Gr.3 car and get racing.
That leaves us with Race C, which brings out the Super Formula cars. You can pick either of the two SF19 cars in the game — either Honda- or Toyota-engined — for a ten-lap race around Suzuka which, coincidentally, is where the 2023 Super Formula pre-season test has just taken place.
After a little glitch which saw no races happening — the SF19's built-in "Overtake" system is classed as nitrous and therefore the cars were prohibited from taking part in their own race (which also affects online lobbies; BOP prohibits nitrous so you cannot use the car in BOP races) — the lobby settings have been adjusted to account for the car's unusual characteristics.
You'll need to be aware of tire requirements, with both Racing Medium and Racing Soft necessary for at least one pass of the start/finish on-track or you'll pick up a one-minute post-race penalty. With a 7x tire wear multiplier — tires wear seven times faster — you'll need to strike the right balance of using up all of the Soft's potential pace without overdoing it.
Lastly, it's a Grid Start with False Start Check. Hold the car on the brakes or handbrake when the final light comes on and don't let go until they go off, or you'll receive an instant slow-down which will see you lose several places at best — or cause a massive grid pile-up.
In order to access the Daily Races, you'll need to unlock Sport Mode, by completing Menu Book 9 ("Championship: Tokyo Highway Parade") in the GT Cafe single player hub.
With GT7's Daily Races updating every Monday across the game's life to date, the next new set should arrive on Monday March 20.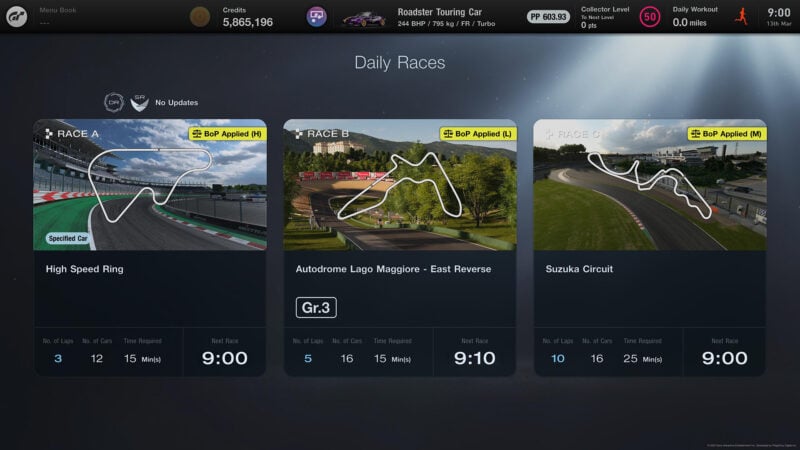 Race A
Track: High Speed Ring, 3 laps
Car: FIAT 500 '08 – Garage/Rental Car
Power/Weight/PP Limit: BOP (H)
Tires: Sports Soft
Settings: Fixed
Start Type: Grid Start
Fuel use: 1x
Tire use: 1x
Race B
Track: Autodrome Lago Maggiore – East Reverse, 5 laps
Car: Gr.3 – Garage/Rental Car
Power/Weight/PP Limit: BOP (L)
Tires: Racing Medium, Racing Inter/Wet
Settings: Fixed
Start Type: Rolling Start
Fuel use: 1x
Tire use: 1x
Race C
Track: Suzuka Circuit, 10 laps
Car: Super Formula SF19 – Garage/Rental Car
Power/Weight/PP Limit: BOP (M)
Tires: Racing Medium†, Racing Soft†, Racing Inter/Wet
Settings: Fixed
Start Type: Grid Start with False Start Check
Fuel use: 2x
Tire use: 7x
†denotes mandatory tire
See more articles on Gran Turismo 7 Daily Races.