Alongside dropping the news that GT Sport is currently 70% complete, Kazunori Yamauchi has also revealed an interesting insight into how Polyphony Digital view the latest entry in the Gran Turismo series.
Spin-offs are nothing new to the franchise: Prologues and Concept editions have peppered the series history, along with the handheld entry that featured on Sony's PlayStation Portable system. However, for those who expect that Sport will join these titles in being a spin-off, Yamauchi has revealed where he believes GT Sport sits in the Gran Turismo spectrum to Chinese gaming site A9VG (translation provided by community member michael chen):
"GT SPORT is a regular title of the GT Series. The gaming contents is so ample that you can consider it as "Gran Turismo 7". It is titled " GT Sport" because the "Sport Mode" of the game is important. If I have to change a statement,maybe "Gran Turismo 7 Sport" is more correct name."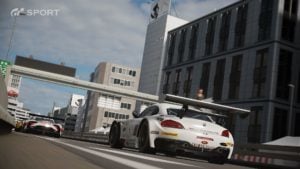 "Gran Turismo 7 Sport" would be a more representative name for the game with its breadth of content and new eSport focus according to Kaz. It's an interesting thought, and one which seems to provide further evidence to support the claim that GT Sport will receive hundreds of new cars post-release. Perhaps this quote will calm fears that in chasing a new gaming experience, the unique Gran Turismo experience will be forgotten.
This isn't the first time that Kazunori has commented on the nature of the game's title. MotorWorldHype conducted an interview with the Gran Turismo director around the time of E3, where a similar question is asked at the start of the video:
Kazunori comments that:
"For me, Gran Turismo Sport is Gran Turismo 7. Gran Turismo Sport is something that marks the beginning of a new generation or era. When you consider Gran Turismo 1-6 as the first era, GT Sport marks a new generation moving forward."
Based on these remarks, GT Sport should not be viewed as a spin-off, but a natural step forward in the modern age of gaming — where online functionality is valued just as highly as a core single-player experience. Add in the surge in popularity of eSports/competitive gaming and it becomes clear why PD wants in on the action. The title will remain 'Gran Turismo Sport' but the spirit of GT7 (whatever it may be) is definitely evident.
See more articles on ChinaJoy 2016 and Kazunori Yamauchi.