Nissan today announced that it is bringing back the Nissan GT-R to the Nordschleife with an assault on the 2014 Nurburgring 24 Hours. The event, held on 21-22 June, is one of the toughest endurance races in the world, providing the ultimate test of man and machine as they compete on the daunting Nurburgring Nordschleife.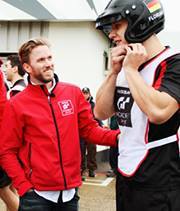 GT Academy Germany Judge, Nick Heidfeld, will race the No. 80 Nissan GT-R NISMO GT3, numbered to celebrate Nissan's 80th year. He will team up with the most recent GT Academy Germany winner, Florian Strauss, who was chosen by Nick to make the transition from virtual to reality just eight months ago. Florian will be glad to be racing with his mentor at the Nurburgring as this will be only the fourth international race of his career. Nick and Florian will be joined by the two men who know the GT3 GT-R better than most: another GT Academy graduate, Lucas Ordonez, and Alex Buncombe.
"I'm delighted to increase my involvement with Nissan from my judging role on the German GT Academy show to now also include racing the Nissan GT-R NISMO GT3 at the Nurburgring 24 Hours," said Heidfeld.  "To be team-mates with Florian who I helped select as the 2013 winner of the GT Academy competition is quite incredible and is a great chance for me to continue the mentoring process with him at the Nordschleife. Together with Alex and Lucas we will tackle one of the most beautiful and challenging circuits in the world."
The Schulze GT-R has another star driver from the virtual world, the creator of Gran Turismo, Kazunori Yamauchi and the 2009 winner of GT Academy, Jordan Tresson.
"The Nurburgring 24 Hours is a special event for Nissan," said Darren Cox, Global Head of Brand, Marketing & Sales, NISMO. "To compete at the Nordschleife will be a very proud moment for everyone involved as we think about the long line of road specification GT-Rs and now the GT-R NISMO that have grown up there. It is important to show our fans and customers again that there is cross over between road cars and race car development at Nissan. There is no better evidence of that than the Japanese based NISMO engineers huge commitment to this global effort."