Last year GTPlanet reported on the successes of non-winning GT Academy finalists and this week we've got another name to add to the list.
Andre Gomes was a GT Academy USA finalist in 2011, the event won by Bryan Heitkotter and kickstarting Sean Johnston's racing career. Though unsuccessful at Silverstone, Andre has kept his interest in racing and has capped this off with a victory at the inaugural INDYCAR Academy event.
The event was application only, with 33 drivers selected from a field of 84 applicants, all of whom qualified by graduating the three day Skip Barber Formula Car Racing School. Amongst Andre's competitors was 2012 Olympic gold medal winning US swimmer Tyler Clary.
Andre's prize includes an all-expenses trip to the Indianapolis 500 courtesy of Bryan Herta and a sponsored seat in one of 2013's Skip Barber Regional Race Series.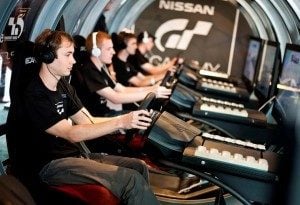 Meanwhile in the UK, gamers have been getting an insight into the challenges that face Silverstone finalists with the start of a six episode broadcast of the 2012 GT Academy. The series follows the UK & Ireland finalists Des, Thomas, Dan, Jack, David and István over the duration of the final and, though GTPlanet's readership will be well aware of their fates, shows those hoping to experience the 2013 finals exactly what's expected of them.
In New Zealand, past Academy winner Jann Mardenborough has been getting to grips with open wheeled racing the only way he knows how – at the sharp end. Though he's yet to score an outright podium, Jann is by some considerable distance the highest-placed rookie driver in the series with four of the six rounds completed – even putting his car on the front row for qualifying behind GP2 driver Mitch Evans.
It's not quite been trouble-free for Jann though, as this video shows:
Andre Gomes tip courtesy of Joel Hader.
More Posts On...
The original comments for this post are no longer available.