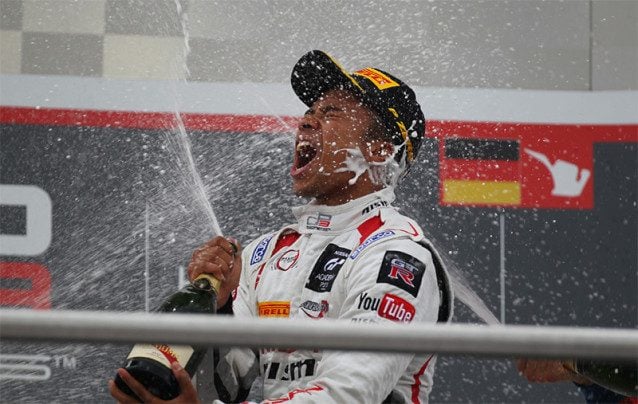 Three years ago, Jann Mardenborough had never sat in a race car. Today he's carrying the big silverware away from the GP3 Series round at Hockenheim.
Sitting in the same #6 Arden International car Daniel Kvyat used to win the same series last year on his way to F1, Jann's weekend didn't necessarily start out all that well as he managed a middling qualifying performance to start race 1 in 14th but a strong, composed performance saw him fight up to an 8th place finish and some useful points.
A bit of fortune kicked in at this point – GP3 uses a reverse grid system for race 2, with the top 8 from race 1 being inverted (and the rest of the field starting in their finish positions), promoting the Darlington-born racer to pole for the second race.
Mardenborough never looked back. Kicking off from the lights he pulled away from 2nd place man Dino Zamparelli and built a commanding lead to take the chequered flag by nearly four seconds – and in setting the fastest lap of the race on lap 5, managed to score his debut Grand Slam in top-line single seaters in the process.
Jann wasn't the only Nismo Athlete in action this weekend. Lucas Ordoñez was continuing his fly-away experience on the driver exchange program at a very miserable Sugo Circuit in Super GT. With qualifying yesterday binned due to dismal weather conditions (including fog), Lucas and teammate Kazuki Hoshino started the 72 lap race in 13th, but an intermediate tyre gamble cost them dearly as they slipped to the back of the pack. A stellar fighting performance saw the team finish 9th overall for 2 very valuable points.
Mark Shulzhitskiy will get his chance to join in the weekend's successes as he participates in the European Le Mans Series round from Red Bull Ring, Austria. The #28 Greaves Motorsport LMP2 car he shares with Luciano Bacheta starts from 7th in the 4 hour race this afternoon, which you can catch live on radiolemans.com as usual.
Images courtesy Nismo Global & GP3series.com.
More Posts On...
The original comments for this post are no longer available.