A 1933 Alfa Romeo coupe which once won its class at Le Mans has scooped the Gran Turismo Award at the 2023 Pebble Beach Concours d'Elegance in California, earning it the right to be captured for a future appearance in the Gran Turismo series.
The Gran Turismo Award has formed part of the special awards category at the prestigious concours event in Monterey every year since 2008. Gran Turismo series creator Kazunori Yamauchi has been among the Honorary Judges at each event, selecting not only a car for the award itself but casting a vote for the overall Best in Show too — alongside legendary designers like Mitja Borkert, Luc Donckerwolke, and Gordon Murray.
For the 2023 event, Yamauchi could not be present in person, with Takuya Asano — director of Polyphony Digital's GT Explore studio in Los Angeles — standing in.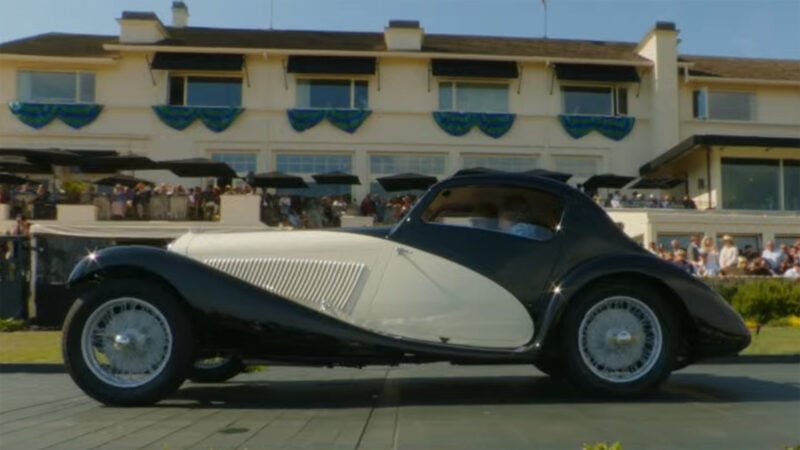 The Alfa Romeo was entered in a special category this year celebrating the work of legendary coachbuilder Giuseppe "Joseph" Figoni, of the Figoni et Falaschi carrozzeria, best known for his work on "teardrop" coupes — particularly of the Delahaye brand.
This 6C was one of Figoni's earliest works, produced in 1933 with this body for the Paris Salon de l'Automobile. Just 18 months later though it had been rebodied as a roadster, taking part in the 1935 24 Hours of Le Mans.
Driven by its owner Guy Weisweiller — who raced under the pseudonym Guy Don, to avoid scrutiny from his wealthy family — and Jean Desvignes, the supercharged 6C 1750 placed 6th overall with 204 laps completed, claiming victory in the 3.0-class in which it was placed due to the equivalency formula.
Rebodied by Figoni, the car moved to South Africa — reputedly owned by George Elkin after disappearing during World War 2 — eventually coming into the ownership of Waldemar Greyvensteyn. He restored the 6C and, now sporting a royal blue on French Blue body, drove it in the 1986 Mille Miglia Storica with the car's current owner David Cohen as a co-driver.
Cohen acquired the car some time after Greyvensteyn's death in 2001 and shipped it to Canada where it underwent a total, body-off restoration by RX Autoworks to bring it up to the standard you see today and in two-tone black and cream colors. Since then the 6C has won the 2012 Concorso d'Eleganza Villa d'Este and was a runner-up for Best in Show at Pebble Beach Concours d'Elegance in the same year.
It's a fourth successive Gran Turismo Award for an Italian manufacturer, and the third in total for Alfa Romeo — matching Ferrari's three awards. The 6C is now eligible for inclusion in a Gran Turismo game, joining nine of the previous 14 winners in being immortalized in digital form if and when it is scanned.
Gran Turismo Award Winners
2008: Lamborghini Miura P400 Bertone Prototype '67
2009: Alfa Romeo Giulia TZ2 carrozzata da Zagato '65
2010: Abarth 1500 Biposto Bertone B.A.T 1 '52
2011: Plymouth XNR Ghia Roadster '60
2012: Ferrari 500 Mondial Pininfarina Coupe '54
2013: Aston Martin DB3S '53
2014: Maserati A6GCS Spider '54
2015: Cunningham C-4R Competition Roadster '52
2016: Ferrari 330 P4 Drogo Spyder '66
2017: Mercedes-Benz S Barker Tourer '29
2018: AAR Eagle Indy Car '66
2019: Alfa Romeo 8C 2300 Zagato '31
2021: Ferrari 512 S Berlinetta '69
2022: Autobianchi A112 Bertone Concept '69
2023: Alfa Romeo 6C 1750 Gran Sport Figoni Coupe '33
See more articles on Pebble Beach Concours d'Elegance.