With the first live event of the year in the bag, Polyphony Digital has revealed the full schedule for this year's 2019 FIA-Certified Online Championship.
Four more live events will punctuate the season, all before another World Final in November at an as-yet-undisclosed location. Before that, however, aspiring drivers will need to qualify in-game via the Sport Mode FIA-certified seasons.
Eligible Regions in 2019
This year's competition sees five distinct regions across the globe after 2018's three. The Americas and Asia/Oceania are now split, slightly changing the requirements for players in those regions. The full list of countries eligible for World Tour events is below:
Europe, Middle East, Africa: Austria, Bahrain, Belgium, Czech Republic, Denmark, Finland, France, Germany, Hungary, Ireland, Lebanon, Kuwait, Holland, Norway, Oman, Poland, Portugal, Qatar, Russia, Saudi Arabia, Slovakia, Spain, Sweden, Switzerland, United Arab Emirates (UAE), United Kingdom (UK)
North America: United States of America (excluding Arizona), Canada (excluding Quebec)
Central & South America: Mexico, Brazil, Chile, Argentina, Peru, Panama, Costa Rica, Ecuador, Guatemala, El Salvador, Paraguay, Honduras, Uruguay, Colombia, Nicaragua
Asia: Japan, Hong Kong, Taiwan, Singapore, Malaysia, South Korea, Indonesia, Thailand, China
Oceania: Australia, New Zealand
It's important to note that once again, players aiming to take part in the World Tours/Finals must be 18 or older at the time of the event (or 21 for Saudi Arabia, Kuwait, and UAE).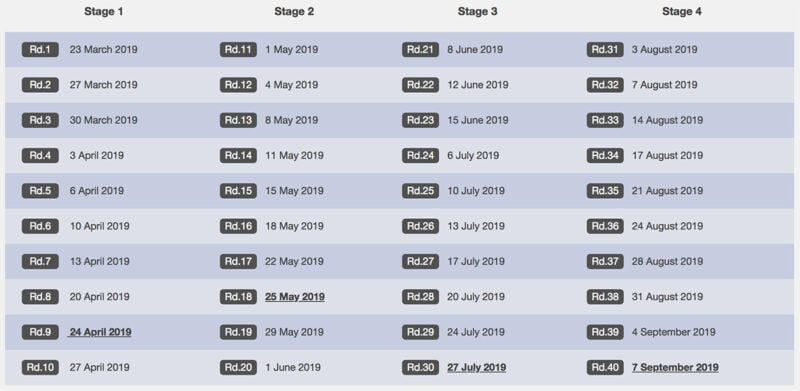 Nations Cup Online Series
Qualifying for the 2019 Nations Cup begins this coming weekend.
Each stage of the season consists of 10 rounds. These will take place within GT Sport's eponymous mode. Drivers will earn points for each race, and at the end of a round, their best three rounds will determine their final score. The best 10 performances will determine a driver's final seasonal score.
The bolded dates above (April 24, May 25, July 27, and September 7) will be Top 16 Superstars races, which will offer up bonus points to the very fastest drivers around the globe.
The per-stage scores will be important, as they'll inform the selections for each World Tour event. Only 24 drivers will qualify at each location (Nurburgring, NYC, Red Bull Hangar 7, Tokyo Auto Show), so competition will be fierce.
For November's World Finals, a slightly different amount of drivers will be up for consideration. Criteria for this process includes World Tour wins as well as Online Series rankings:

Manufacturer Series Info
Polyphony hasn't revealed the criteria for the Manufacturer Series yet. We'll share all the details once it has.
For the full breakdown of all the details of this year's FIA-certified GT Online Championship, check out the official site.
See more articles on FIA Online Championship.