We're now less than 24 hours away from the GT Sport reveal in London. The anticipation is palpable, as even Polyphony has stoked the fire with their brand-new official Snapchat account. Here at GTPlanet, GT Week celebrations continue unabated!
GT Week: Listen to GTPlanet's 5 Favourite Gran Turismo Songs
GT Week: GTPlanet's All-Time Favourite Gran Turismo Videos
Initial Announcement: Celebrate a Week of Gran Turismo with GTPlanet!
Today is all about tracks. Ever since the beginning, Polyphony has shown a knack for crafting unforgettable ribbons of virtual tarmac. As the years passed, the lineup expanded to include real-world locations from across the globe, replicated in stunning detail. The staff have once again been locked in a room and forced to select their top ten favourites, and before we get to the final countdown, here's a sampling of 9 that just missed the cut (out of a nominated 38):
Suzuka (GT4)
Special Stage Route X (GT5)
Sonoma (nee Infineon) Raceway (GT4)
Motorland (GT4)
New York (GT4)
Grindelwald (GT2)
Tahiti Road (GT2)
Opera Paris (GT4)
Tahiti Maze (GT2)
#10 (2-WAY TIE): Midfield Raceway (GT2) and Spa Francorchamps (GT5)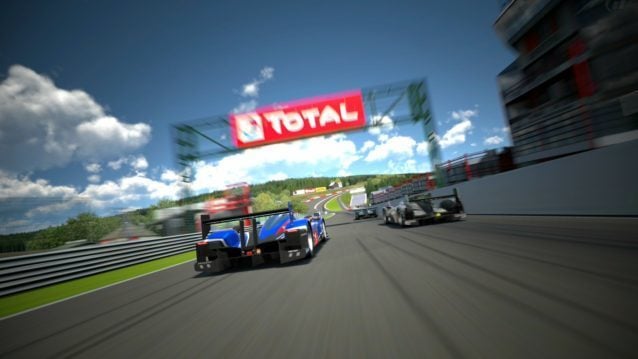 Coming at you first are two tracks that highlight the breadth of offerings the franchise has. Midfield is a Polyphony creation, first appearing in the massively-expanded track list of GT2. More recently, it was revived for the PS3 generation as part of a GT6 update. A crossover, two tunnels, plenty of passing opportunities: Midfield has always been a popular destination for GT racers young and old.
Midfield shares a high-speed nature with Spa, one of the world's most historic race tracks. First appearing as part of a GT5 DLC pack in 2011, Spa has already solidified itself as one of the highlights of the expansive Gran Turismo track lineup. We've all experienced the thrill of going through Eau Rouge and Raidillon without lifting…
As an added bonus, check out this retrospective of Midfield!
#9 (3-WAY TIE): Autumn Ring Mini (GT1), Tokyo R246 (GT3), SSR11 (GT1)
Here's an odd bunch: the smallest track in the original Gran Turismo alongside the most difficult track from that game, combined with a track that borrowed from a real-world setting literally outside of Polyphony's door.
ARM, as it can be known, was the great equalizer in the original GT. Here, a low-powered car needn't worry about the powerful cars on the grid, as they'd never have more than a moment or two of flat-out fury. Of course, as anybody that faced off against the relentless NSX Type S Zero in the Normal Car Cup will tell you, this could work against the player!
Tokyo was a stunning presentation for the then-new PS2 way back in 2001. The back stretch, with an S-bend that is surprisingly more difficult than it first looks, provides eye-candy even at speed. R246's walled-in nature gave it a zero-tolerance policy on mistakes, something it shared with the original GT monster: SSR11. For those that remember it, it needs no introduction. For those that don't, I'll let GTPlanet member ToyGTone show you, complete with another classic of GT, the Subaru Alcyone SVX:
#8: Red Rock Valley Speedway (GT2)
There probably would've been riots in the forums had this not made the list. Not that it's undeserved: RRV hit a sweet spot at the intersection of speed and spectacle that many consider unmatched since. Another Polyphony creation, the track was infamous during GT2's life as a prime location to exploit "freaky physics", where a car could utilize ground effects for unnaturally quick laps. ToyGTone provides the goods again, with the rumbly GT40 race car:
#7: Rome Circuit (GT2/3 Version)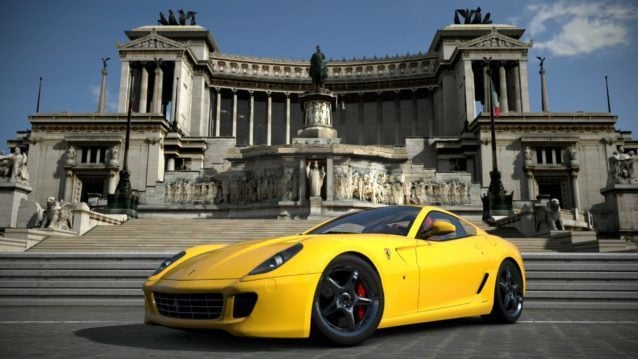 The image, unfortunately, is a misdirect: as long-time players know, the Rome present in the PS3-era games is far removed from the classic track. Undoubtedly more realistic, it just can't measure up to the excitement of the original, which arrived in the final days of 1999. The track still took in the Coliseum (on the driver's left instead of right), but included more turns. GT3 players may remember it with slightly less fondness, as it played host to an insanely difficult race involving… the Toyota Vitz.
#6: Apricot Hill Raceway (GT2)
If you've been playing Gran Turismo for a long period of time, there are certain car/track combos that are permanently burned into your brain. For me, few match-ups are more prominent than the NSX Type S Zero at Apricot Hill. In Imola Orange, of course. This was the exact combo used in GT2's International A license test #3, and its difficulty meant that sector could be dispatched with laser accuracy once I'd finally achieved gold. Polyphony gave fans a huge gift when they announced its return in GT6, complete with variable time and weather!
#5 (2-WAY TIE): Seattle Circuit (GT2) & Nürburgring Nordschleife (GT4)
It's hard to think back to a time when the Nürburgring Nordschleife wasn't a part of Gran Turismo. But in 2004, the announcement of its inclusion in GT4 sent shockwaves through the community. It's the crown jewel in a collection of fabled tracks, and players have spent ages trying to tame the German giant. While we could've shown you any number of images or videos from GT6, we've stepped back in time to a difficult challenge: cracking the 8 minute mark in a RUF Yellowbird in the game's Economy tires.
The driver? A guy by the name of Bryan Heitkotter. You may have heard of him.
That Seattle ties the Green Hell goes some way to telling you what a beloved circuit it was. Featuring massive jumps, challenging chicanes, and railroad tracks just waiting to unsettle your car, it remains one of Polyphony's best street circuits. The lighting – a fiery sunset as last seen in GT4 – was incredible. We hold out hope of its return…
#4: Grand Valley Speedway (GT1)
From here on out, we're looking at the classics: those tracks that showed up back in the PS1 days. Arguably Gran Turismo's headline circuit, Grand Valley Speedway is part of the GT Track Trinity (a term we've coined just now): it joins Deep Forest and Trial Mountain as the only original PD creations to appear in every full title. It has something for everyone: a huge bridge, a great tunnel, high speed turns as well as tight bends. The original endurance location!
#3: Trial Mountain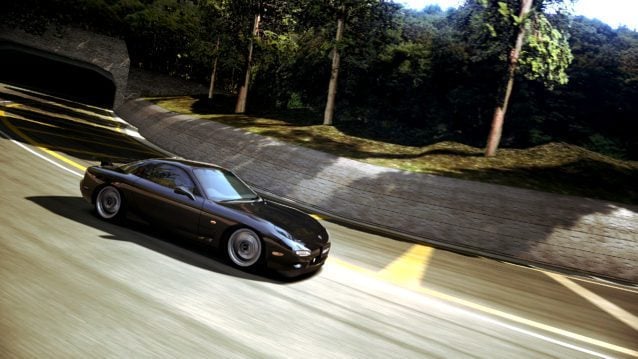 Play spot-the-monkey! The well-known Trial Mountain Easter Egg shows Polyphony has a sense of humour, while the track itself is a serious challenge for drivers. The climb up to the peak of the track calls is difficult enough, but it's the tumble down that separates the pros from the pretenders. The long left-hander after the back straight can be a drifter's dream, while the chicane that ends the lap has ended plenty of players' races all on its own. PS1 veterans will also remember it as a location of an overly-difficult license test: GT1's A-4.
#2: Laguna Seca (GT2)
The Corkscrew. Laguna Seca's defining feature is a daunting corner, but the focus on the 3-story drop ignores how challenging the rest of the circuit is. The Andretti hairpin is that rare beast: a genuinely interesting low-speed corner, since it can be attacked via different lines. The Rainey Curve is a balancing act, with a late-apex slice offering one of the few passing opportunities on the back half of the track.
For me, Laguna Seca will always be tied to Gran Turismo. You see, a contest during GT4's life pitted me against people from across Ontario and Quebec, including a few GTPlanet members. Long story short, the winner walked away with a year's tuition. I've still got the giant novelty cheque to prove it. Sure, that's small potatoes compared to the amazing opportunities afforded to those that advance through GT Academy, but back in 2006, GT literally paid for my schooling. The track used in this competition? Laguna Seca.
I'm just glad the other staff members rated it this high! It couldn't topple the winner, though…
#1: Deep Forest Raceway
Deep Forest clobbered the competition here. By consistently rating highly on nearly every staff member's list, it pulled away from the other tracks and never looked back. It's no wonder: while quick, it's not daunting like the 'Ring. It may be a fictional track, but it doesn't shout about it (we're looking at you, Cape Ring). Easy to learn, but difficult to master, Deep Forest is the dependable best friend of race tracks. The double-left midway through a lap gives a driver almost endless options. Those tunnels on the back straight, with a rock face to one side and a drop to the valley on the other? A photographer's dream. It's a Gran Turismo mainstay, and we hope we'll get to see this old friend soon…
See more articles on GT Week 2016 and Polyphony Digital.