After a long break since the end of the official 2023 Gran Turismo World Series online seasons, Polyphony Digital has announced the start of the Exhibition Series that will tide players over until next year.
The events, running from September through to November for this first season, will once again run concurrently rather than consecutively as they did for the championship events, with five races in each of the two series.
Notably, every race takes place on a Saturday, and there's no schedule gaps between the first race on September 16 and the final round on November 18. The full calendar is as follows:
GT World Series Manufacturers Cup Exhibition Season 1
Round 1 – September 16 – Gr.3 – Suzuka Circuit – 15/35 laps
Round 2 – September 30 – Gr.3* – Dragon Trail Seaside Reverse – 15/34 laps
Round 3 – October 14 – Gr.3 – Nurburgring 24h – 3/10 laps
Round 4 – October 28 – Gr.3* – Grand Valley Highway 1 – 14/32 laps
Round 5 – November 11 – Gr.3 – Circuit de Barcelona-Catalunya GP – 16/33 laps
GT World Series Nations Cup Exhibition Season 1
Round 1 – September 23 – Specified Vehicle – Deep Forest Raceway – 12 laps
Round 2 – October 7 – Red Bull X2019 – Autodrome Lago Maggiore – 20/30 laps
Round 3 – October 21 – Gr.1 – 24 Heures du Mans – 8/17 laps
Round 4 – November 4 – Specified Vehicle – Special Stage Route X – 2/3 laps
Round 5 – November 18 – TBA – TBA
There's a few notable items here. Firstly, and most obvious, is the "TBA" in the schedule for the final round of the Nations Cup. This traditionally signals the fact that the content for the race — whether car, track, or both — hasn't been added to the game yet.
Additionally, and also relatively obvious, there's no Gr.4 races at all in the Manufacturers Cup in GT1 — although they're used in two rounds for GT2 and GT3 League.
It's not entirely clear what this might mean for this difficult to balance category which is traditionally overlooked in the big live finals events. All also offer the same partial settings — brake balance and dampers — as this week's Daily Races. This is also available in Nations R3.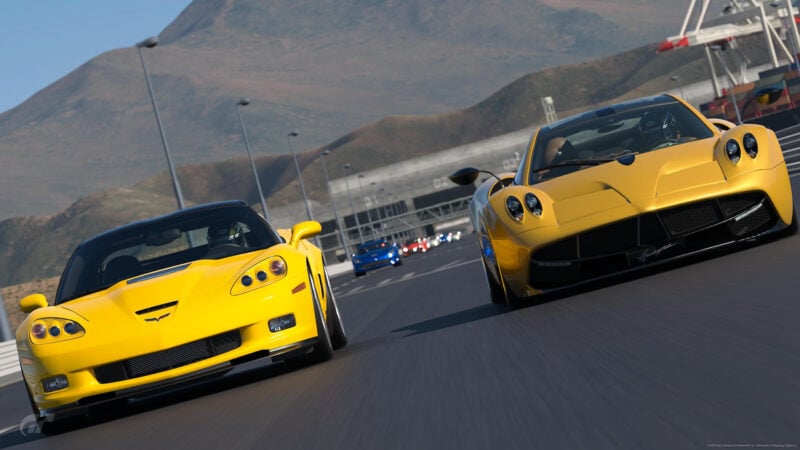 Fans will likely be very divided on the presence of "the meme race" in the Nations Cup Round 4. Although a popular event in the Daily Races, the three-lap blast of Special Stage Route X usually turns out to be something of a lottery and the idea of championship points (and Driver Ratings) depending on the result might foment ire.
However only your scores from your best three rounds count towards your final ranking, which we're assuming will again see players receive in-game credit rewards depending on how highly they place compared to others in their primary and secondary areas, region, and manufacturer or country.
For players unfamiliar with how the points system itself works, it's based on the average driver rating of all players within the lobby in which you race. Broadly speaking, a lobby full of top-tier A+ rated drivers will be worth something in the region of 450 points to the winner (with around 5% fewer points per position thereafter), while a lobby made up of mid-range DR B drivers would be worth about 125 points for victory.
Once more we see a division of the playerbase into separate leagues which depend on your Driver Rating at the moment you choose to enter the series: DR A and A+ players go into GT1 League, DR B players into GT2 League, and DR C and lower go into GT3 League. You'll remain in your original league regardless of any DR changes during the season.
Players who find themselves in GT1 League will be fighting not only for more points but also over longer races and with fewer opportunities each round. The different race lengths are noted in the schedule above, with the second figure being the GT1 League distance only. GT1 League races also feature heavy mechanical damage, where this feature is enabled.
While GT2/GT3 League players will have ten opportunities to race in each round — hourly from 8am to 6pm UTC in Europe — GT1 League players only have three slots for each race. While this is standardized for Europe, the times vary in the other regions to account for the separate Nations Cup servers but combined Manufacturers Cup for each of the Americas and Asia-Pacific regions.
No matter how many races you choose to enter each round though, only the points you score in your final entry will count — even if you disconnect and score zero.
See more articles on Gran Turismo World Series.