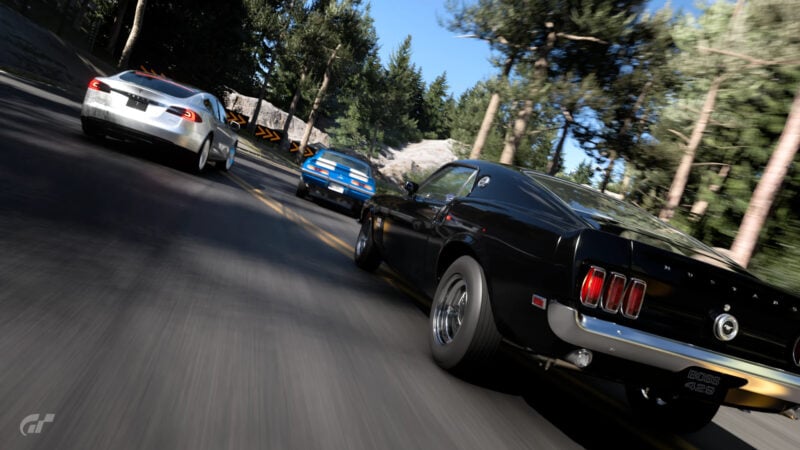 Kazunori Yamauchi has confirmed via a post on the PlayStation Blog that Gran Turismo 7 will come with almost total support for the PlayStation VR2 hardware when it launches on Feburary 22.
It was announced only two weeks ago that GT7 would have PSVR2 support when the new system launches, becoming a day one title for the next-gen virtual reality headset. However the extent of the support was somewhat vague at the time.
Gran Turismo Sport also supported VR, with the first-generation PSVR, but it was in an extremely limited capacity. Players could only take part in races against a single AI car, with no VR features beyond this mode.
The first footage we saw of GT7 with PSVR2 suggested a much wider implementation — with an at-least 12-car race shown — and that's been confirmed today with Yamauchi's statement.
As quoted on the PS Blog itself, Yamauchi says "While 2-player splitscreen races are not supported in VR, all other races, including online races, will be available. From the Nürburgring to Tsukuba, tracks can be experienced exactly as they are in real life."
That means that, once the free PSVR2 update goes live in Gran Turismo 7, you'll be able to play everything except a local, two-player head-to-head entirely in VR — covering not only offline races against the AI but Sport Mode, Daily Races, and the GT World Series.
It's probably the implementation of PSVR2 that Gran Turismo fans were really hoping for but didn't dare to dream, although it's likely a lot will now be trying to find a spare $600 down the back of the sofa for the hardware.
Featuring a number of significant improvements over the original PSVR, the new device supports 2000×2040 per-eye resolution, along with foveated rendering technology to concentrate resources on where the player is currently looking — with eye-tracking keeping tabs on your line of vision.
GT7 is one of 30 titles that will be available for PSVR2 during the launch window, starting February 22.
See more articles on PlayStation VR.