In this week's Wednesday Want we've found something historically significant in the classified adverts and thought it really deserved some attention. You can check out past Wednesday Want entries right here.
Bad guys always seem to get the best cars. There are some truly evil cars throughout history. Josef Stalin had a cool ZIS-115, Benito Mussolini owned a Lancia Astura, and just about every awful person from Idi Amin and Enver Hoxha to Papa Doc Duvalier and Kim Jong-Il loved a Mercedes 600 Grosser.
In this week's Want, we're taking a look at a car from one of the worst people in all of history: Adolf Hitler.
You might be wondering why we chose this Mercedes-Benz 770K Grosser Offener Tourenwagen. Well, despite being historically significant, it's also a war trophy from the conquering Allied forces.
According to documentation, this 770K originally came by way of a commission from Erich Kempka. Kempka served as Hitler's personal chauffeur throughout much of the war. Once in production, the factory soon dubbed it the "fourth Führer-Car".
While Hitler had essentially a small fleet of big Mercs to choose from, they also had different purposes. This example, chassis number 189744, mainly found itself in reserve for when friendly heads of state paid Hitler a visit.
So not only did it carry the Nazi dictator himself, but also some of the most dreadful men of the time.
For a car ferrying around notable figures of the '30s and '40s, it came with all the highest-end security tech for the time. From thick bulletproof windows to reinforced panels, the car could protect its occupants from 30mm shells. To add further protection, the car also used pop up armor plates depending on the threat level. It's all a little odd for a convertible, with its obvious vulnerabilities, but what evil man doesn't love waving to his adoring crowds?
The use of the 770K during WWII is mostly unknown. However, this example comes with documentation supporting its appearance at three historically significant events.
The first came on June 18, 1940. During a parade in Munich, Hitler rode side-by-side with Mussolini in the big Merc. Next, after the defeat of France on July 6, 1940, there was a victory parade. Again, Hitler chose to ride around in chassis 189744 to mark the event.
The final documented appearance came on May 4, 1941. After conquering both Yugoslavia and Greece, the Nazis held another parade. The Führer picked this 770K for that occasion too.
In 1943, the Allies ramped up their attention on Germany. This is when the victory parades stopped and the 770K ended production. During heavy bombing raids on the town of Sindelfingen, the factory that made the 770K sustained heavy damage. This ended production of the car.
Sometime in 1945 during the liberation of Nazi Germany, the US Army found and seized many of Hitler's cars, among them this 770K. Not wanting to destroy the vehicle, the Army took it as a war trophy and eventually moved it to France.
Once in France, it became part of a motor pool for officers to use. We can only imagine the feeling of driving around a car that carried so much evil, but for the conquering US soldiers it must have been quite the morale booster to see it in friendly hands.
After the war, the car bounced around to several different owners in both Europe and the US. Perhaps the strangest exchange of the car came from A.H. Vander Elst, Jr., a tobacco company owner in Belgium. In Post-War Europe, the availability of tobacco was scarce. Not wanting to let his business flounder, Vander Elst traded the car for $1,800 worth of tobacco from Tom N. Austin, another prominent tobacco owner.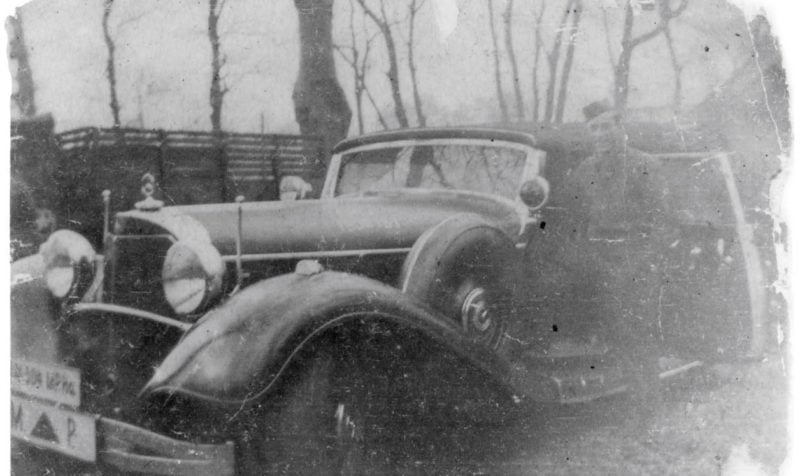 Austin donated the car to his local Veterans of Foreign Wars branch, as a war relic. Unable to maintain the Merc though, it quickly fell into disarray and ended up in a shed.
In 1976, two classic car collectors, Steve Munson and Joe Ogden, found the 770K. Under the pretense, it was a car used by the SS Commander Henrich Himmler, they quickly uncovered the truth behind it.
Once they knew the history, they sent the car out to get restored to factory condition. Upon its completion, it toured the country and found its way into many museum exhibits. The casino mogul Ralph Engelstad bought the car in 1983 and displayed it as part of the Imperial Palace Auto Collection in Las Vegas, Nevada.
When Engelstad passed in 2002, his estate sold off the collection. The Merc ended up back in Europe in a private collection, as part of a large 21-car lot.
Now nearly 80 years after being first built, it's up for auction through Worldwide Auctioneers in Scottsdale, Arizona. While no estimate is available, the last appraisal of the car put it over the one-million dollar mark.
While some may argue that this 770K doesn't deserve to live on because of its connection to the Nazi leader, we disagree. It's an incredible living piece of not only automotive history but world history as well.
Also as a final, positive note: 10% of the final selling price will be donated and used to educate people about the factors that led to the Holocaust, and how similar atrocities can be avoided.
More Posts On...