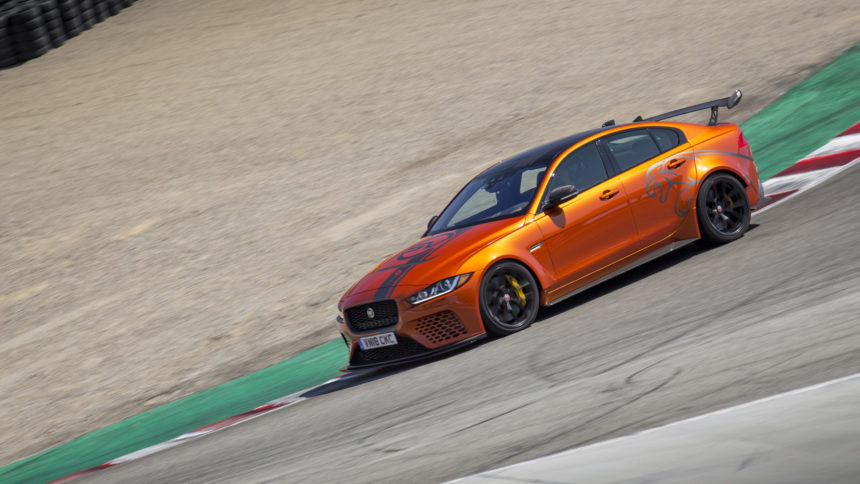 The Jaguar XE SV Project 8 is back and setting track records again.
You might remember last November, the Project 8 set a record around the Nurburgring. During that run, it took home the title of fastest "four-door sedan prototype with production-intent"…
This time, things are a little less specific. Jaguar took the Project 8 to Laguna Seca to earn the fastest four-door production sedan title, with a lap of 1:37.54.
To set the record, Jaguar handed the Project 8 over to Randy Pobst. Those who follow Motor Trend will recognize Pobst as "The Rocket" and their foremost test driver. You can also see him behind the wheel of cars on Motor Trend On Demand shows like Ignition and Head 2 Head.
Along with writing and driving for Motor Trend, Pobst is also a formidable racer. Since 1977 he's competed in several SCCA series, North American Touring Car, and even the 24 Hours of Daytona.
In 2015, Pobst lapped the track in a Cadillac CTS-V in just 1:38.52. That's now the second quickest four-door sedan time around Laguna Seca.
With all that going for him, he seemed like the perfect driver for the job.
To help the Project 8 achieve its record-setting time, it uses sheer brute force. Under the hood sits a 5.0-liter V8 with a supercharger. This turns out 592hp and 516lbft of torque. For those keeping score at home, this makes it the most powerful production Jaguar ever.
To put all that power to the ground, the Project 8 uses an eight-speed gearbox and AWD. Thanks to this, the Jag will hit 60 in just 3.4 seconds and cruise to a top speed of 200mph.
For the bends, the Project 8 uses a fully bespoke suspension. It's also helped along with a set of sticky Michelin Pilot Sport Cup 2 tires on all four corners. Finally to slow it down, massive 15.75-inch carbon ceramic brakes.
If this sounds like your cup of tea, you can currently order a Project 8. It's not cheap though. Prices start at $187,500. There's also plenty of room for optional extras to inflate the price into the $200k realm too.
For those who'd rather just watch the Project 8 lap Laguna Seca, you can check out the video below.
More Posts On...