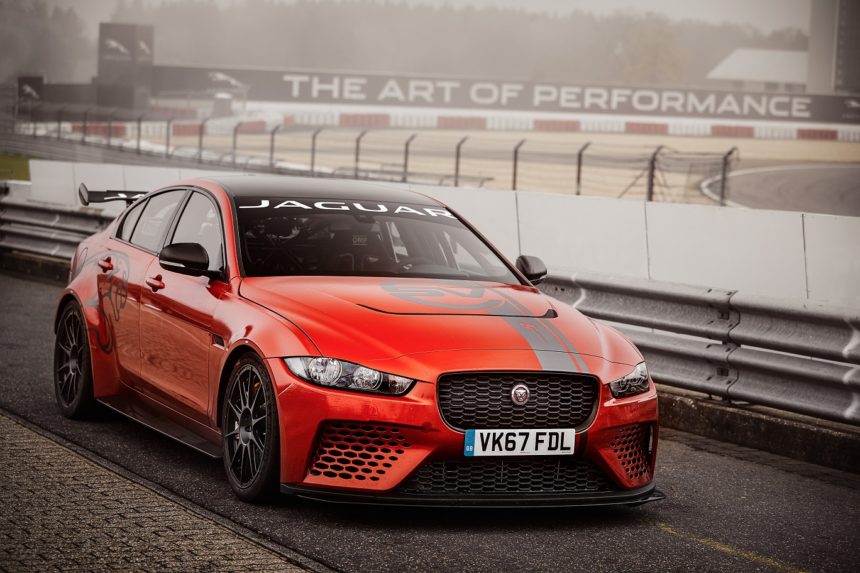 The never-ending quest for a ridiculously specific Nürburgring lap record has a new contender. Jaguar announced that its XE SV Project 8 now can claim the title Ring King for sedans with a time of 7:21.23.
You might be thinking, didn't Subaru claim this record mere months ago? You're right, it did. Its not-a-racecar-but-really-it's-a-racecar WRX STI Type RA NBR Special did the run in 6:57.5. A blistering time for sure and just over 24 seconds quicker than the time set by Jaguar.
So where does the Project 8 fall in line with 'Ring records? According to Jag, the record is for a four-door sedan prototype with production-intent.
So what does that mean? Essentially it's a car you can buy off the dealer's lot, make no changes, and set a record. However, the caveat to that is the car only needs to be intended for production, not in actual production. So if Mercedes-AMG comes out with a faster CLK 63 S and puts it into production, Jaguar will still hold its record even if the Merc is quicker.
Probably the best part of the record is that Jaguar never needs to build and sell the car. It only ever needs to intend to build it for the record to stand.
Don't worry though, Jag is producing the Project 8. Looking at the lap time too really shows what a monster it'll be when it hits showrooms next year.
The 7:21 lap time is pretty remarkable too, even if it's part of a strange record. The previous sedan 'Ring crown belonged to Alfa Romeo with its Giulia Quadrifoglio. With a time of 7:32 the Alfa is nearly 11 seconds slower around the Green Hell than the Jag.
To achieve this time, Jag sought out the services of Belgian racing driver Vincent Radermecker. Fans of the BTCC might remember Radermecker's name as a driver for Volvo and Vauxhall back in the late '90s. He also dabbled in the World Touring Car Championship in 2006 and 2010 as a guest driver for various teams.
Engineers did fiddle with the car prior to the run. However, since the Project 8 allows for adjustments in both the suspension and aerodynamics, everything was within production spec. Even the tires were production Michelin Pilot Sport Cup 2.
Despite the seemingly never-ending 'Ring records, it's cool to see the progression of cars over the years. We fully expect the time set by the Project 8 to be shattered within a year by one of the Germans. Until then though, Jag can enjoy its oddly specific record.
More Posts On...