Images shared on Ferrari Chat seem to have revealed a new high-performance Ferrari 488 variant a little early.
Badged as the "488 Pista" (from the Italian from "track"), the car appears to be a circuit-focused version of the 488 GTB.
Earlier in the week, Ferrari released a short teaser video of a car of this type, and many of the details seem to be the same:
The images show a huge front splitter. The striped decal on the hood continues down behind a forward section of bodywork and reappears on the splitter below. This shows off the "S-Duct", a channel for through the front of the car, allowing the entire upper front section to function like a wing.
In the rear shots of the car, we see extensive remodelling. The rear diffuser is larger, and the car gains a huge, curved active spoiler, similar to that found on the LaFerrari. There's also a pair of giant ducts either side that could act to reduce pressure in the wheel wells, or to draw heat away from the brakes or engine.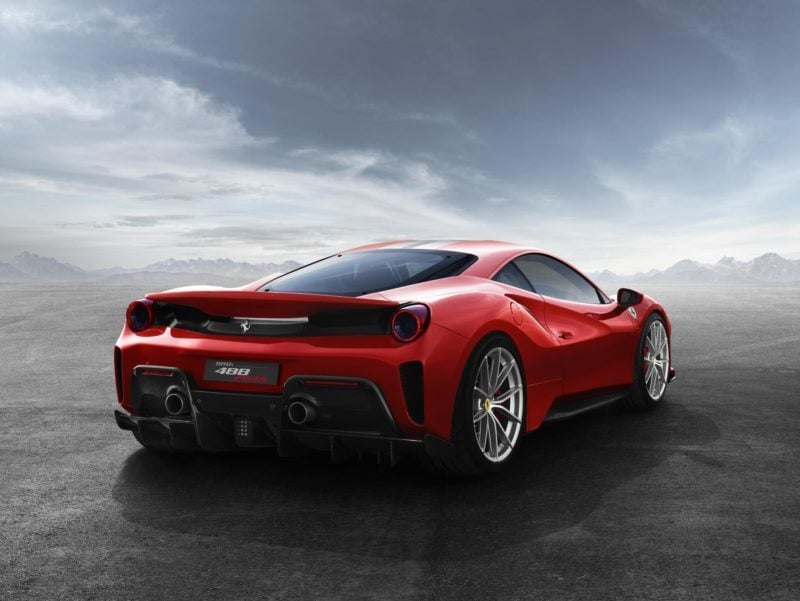 This car would be going head to head with Porsche's 911 GT2 RS, so it'll need power. Fortunately the Pista will use an engine derived from the 488 Challenge race car, a 3.9-liter, twin-turbo V8. Updated intake, exhaust, and titanium con rods means the engine produces 710hp, 49hp up on the GTB.
Ferrari focuses on removing unnecessary weight too. The car has optional 20-inch carbon-fiber wheels, around 40% lighter than the standard car. There's extensive use of carbon-fiber elsewhere, including the hood and rear bumper.
Like the 430 Speciale, the Pista will probably sport thinner windows, lighter brake discs and less soundproofing. The interior will focus heavily on carbon-fiber, with non-essential items like the glovebox stripped away. In all, the 488 Pista loses nearly 200lb compared to the GTB.
As yet, Ferrari has commented on neither the images nor the name. After the unpopular decision to resurrect the GTO name for the 599, it's likely the brand will continue in the same vein as other track-focused Ferrari models: Stradale, Scuderia and Speciale.
Update: Ferrari has since revealed the leak to be genuine, and confirmed the vehicle's name and specification. We have amended some details in this post to reflect this.
No doubt further information — including the price — will surface in time. With the Geneva Motor Show around the corner, it'd be a good time for Ferrari to reveal a showstopper.
See more articles on Ferrari.