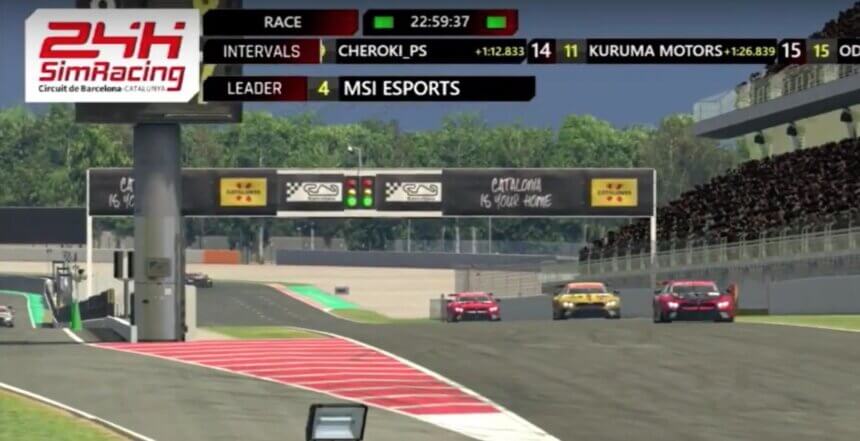 The 2020 edition of the 24h SimRacing Circuit de Barcelona-Catalunya gets underway this Saturday, September 5, and you can watch it right here on GTPlanet.
It's the third time this race has taken place but, thanks to events around the world so far this year, one that's seen a little change in format. While the race usually runs at both the same time and in the same place as a real 24-hour race — the 24 Hours of Barcelona-Trofeo Fermi Velez, at the Catalunya circuit — for 2020 that's not possible. The real race has proven impossible to stage, and the esports drivers will be at their own homes.
32 teams will line up behind the safety car for the race, starting at 1000UTC on Saturday, with 125 drivers hoping to see the checkered flag first 24 hours later. After qualifying on Friday, the S2V Esports team of Dino Filippa, Victor Grano de Oro, Alfredo Malo, and David Pena will start on pole position. The team's aggregated lap time of 5:04.453 pipped Unicos Gaming by half a second, with Filippa's 1:41.431 as the fastest overall for the squad which returns from last year.
Among the wildcard entries is last year's winning team, MSI Esports, though the squad is not the same as that which won both 2018 and 2019 editions. Another wildcard team is Super Copa Esports Mexico, headed up by Champ Car driver Michel Jourdain Jr., while Spanish racing driver Aleix Alcaraz is the lead driver in the A2 Racing Team entry. A final wildcard spot goes to Williams Esports, which fields a three-man squad.
You can catch the whole event below on YouTube with, for the first time, English language commentary (Spanish and Catalan streams are also available, as well as a live broadcast in Spain on the Esport3 channel). The flag officially drops at 1000UTC on Saturday, with warm-ups and briefing an hour earlier.
Team and Driver Lineups
More Posts On...