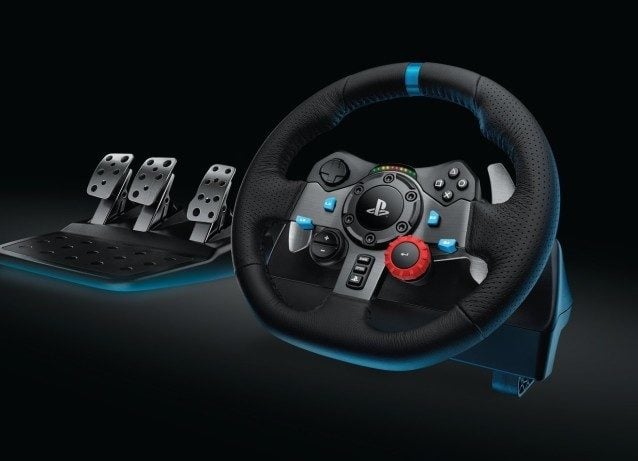 There's been no official information or acknowledgement of Logitech's G29 steering wheel, but two leaks over the past few weeks have all but confirmed the accessory maker's return to the sim racing hardware market.
Yesterday, even more information about the wheel hit the web, thanks to a premature product listing which appeared on Amazon.de. It has since been taken offline, but not before the description and photos were downloaded by plenty of GTPlanet users.
According to the product description, the G29 will apparently contain much of the same internals that power the G27, featuring dual force feedback motors and helical gears:
"G29 Driving Force is the definitive sim racing hardware for the latest PlayStation 4, PlayStation 3 and PC titles. Feature dual-motor force feedback and helical gearing for quiet, smooth steering. Stainless steel paddle shifters and RPM / shift indicator LEDs help you make crisp, fluid gear transitions without taking your eyes off the track.

"The separate pedal unit gives you natural, responsive control with a brake pedal nonlinear. Driving Force is built for comfort and durability with hand-stitched leather and stainless steel components. Built-in clamps and bolt points allow the wheel to be mounted securely to a table or racing rig, Minimising shifting or wobbling during aggressive maneuvers."
While certainly a competent piece of hardware, it would seem the G29 won't be as sophisticated as today's more expensive wheels from Thrustmaster and Fanatec. The good news is that the description does mention PC compatibility – something that was in question after the last round of rumors suggested the wheel would support the PS3 and PS4 only.
We can likely expect an official unveil of the G29 at E3 in Los Angeles next week. As always, visit our Sim Racing Hardware forum for more discussion. Thanks to Andre for the tip!
More Posts On...
The original comments for this post are no longer available.