Mazda will join the likes of BMW, Mercedes-Benz and Jaguar with a new straight-six engine in the near future. The Japanese brand announced the new engine model, including a diesel version, in its 2019 fiscal year financial report.
The full report, which Jalopnik first picked up on late last week, is the first mention of a straight-six SkyActiv-X from Mazda. The company is about to start rolling out the SkyActiv-X technology — in four-cylinder form — in the Mazda3. The X uses what Mazda calls Spark Controlled Compression Ignition: essentially, a mixture of both petrol and diesel ignition methods. This results in more torque than a comparable gas-powered model, with fuel efficiency bettering a diesel.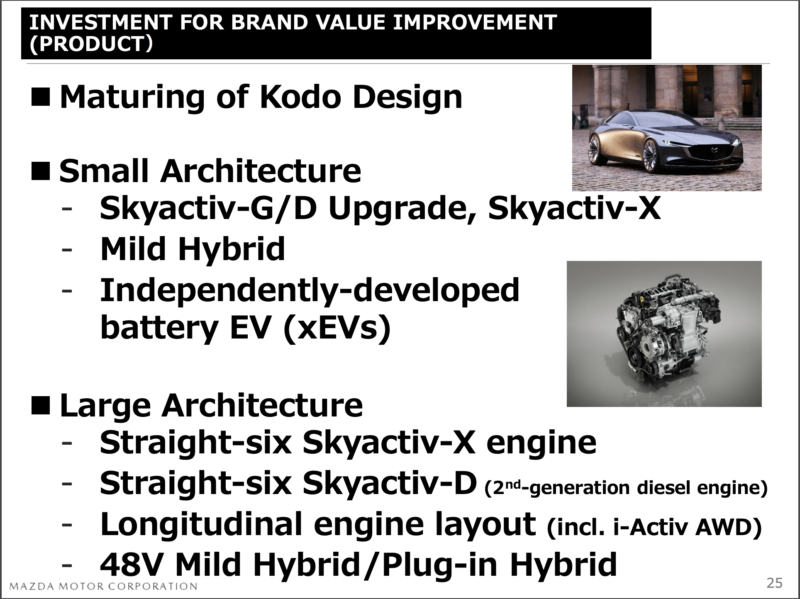 According to the financial report, the straight-six is destined for Mazda's new "Large Architecture". While it doesn't name models, it seems safe to assume this refers to the next-gen Mazda6, as well as crossovers like the CX-9. This would require a move to a longitudinal engine layout — currently unique to the Miata in the Mazda lineup. This new platform would also include i-Activ AWD, which further suggests it will be crossover-friendly.
A second-generation diesel variant is planned too, as is mild/plug-in hybrid models.
It's a surprise development from the small Japanese company. It was only a few years ago that the brand phased out six-cylinders from its lineup entirely. In their place sits a turbocharged four-cylinder.
It's also worth noting that longitudinally-engined front-drive cars are a rare breed. In modern terms it's mostly Audis and Subarus, though both are commonly equipped with all-wheel drive. Could Mazda be introducing a rear-wheel drive model that isn't an RX or Miata? If the pretty new Mazda3's quasi-premium feel is any hint, it's certainly possible. We wouldn't say no to a straight-six powered, Kodo-skinned, rear-drive modern MX-6…
More Posts On...