Some car makers are busily making headlining F1 cars for the road. There's the outlandish Aston Martin Valkyrie for example, and the F1-powered Mercedes-AMG ONE. Infiniti meanwhile is quietly getting on with the business of making F1 tech work on existing road cars.
The Infiniti Project Black S is what happens when you let an F1 team help improve a road car. Infiniti first unveiled it at the Geneva Motor Show in 2017, but that was a static model (complete with opaque glass). Things have moved on a bit since then.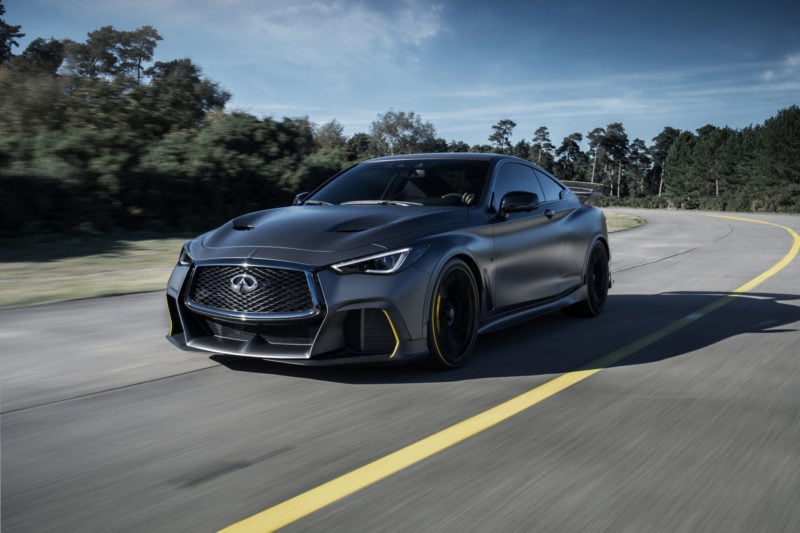 To create Project Black S, Infiniti started with a regular Q60 coupe. Well, the twin-turbo, 400hp V6 version of the Q60 at any rate. Infiniti and Renault Sport then set about adding a hybrid system to the Q60; that's nothing we haven't seen before, as the Q60's sister saloon, the Q50, uses a battery-boosted system in some models.
Where Project Black S differs is that it transplants the whole electricity generation system from a Renault F1 engine. This uses a pair of "motor generation units" (MGU), called MGU-H and MGU-K. The MGU-K unit harvests energy as the car decelerates, while the MGU-H scavenges waste heat from the turbochargers to create electricity under acceleration. The result is what Infiniti says is the world's first dual-hybrid system for a road car.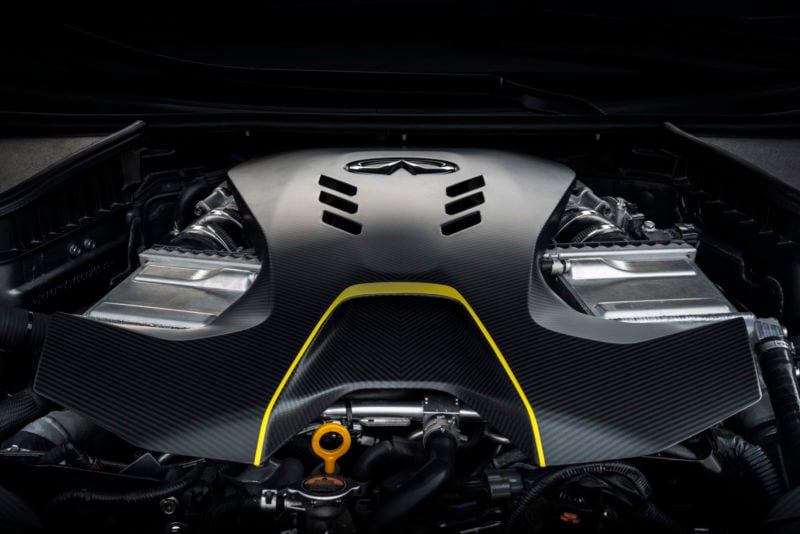 Although the total powertrain output and capacity is still under wraps for now, Infiniti says the Black S is "performance-biased". Given the potential of 2014's Q50 Eau Rouge, which used a Nissan GT-R powertrain, that could be quite some performance.
The 2018 version of Black S has developed in other ways too. There's a new exterior aero package, which Infiniti claims gives greater aerodynamic efficiency and high levels of downforce. Unlike the 2017 concept there's a full interior too, similarly inspired by Renault Sport F1.
Roland Kruger, president of Infiniti, comments:
"The Project Black S represents the very top end of electrification in the [Renault-Nissan-Mitsubishi] Alliance portfolio, and is another example of Infiniti's entrepreneurial spirit on its journey to electrification from 2021 onward. 'Project Black S' utilises high power and smart energy management from advanced powertrains, a thrilling dynamic capability on road and track, and a performance-oriented aesthetic. A collaborative venture between Infiniti and the Renault Sport Formula One Team, the Project Black S prototype is a test-bed for new ideas and technologies, demonstrating how our Alliance partnerships could make our ambitious visions a reality."
More Posts On...