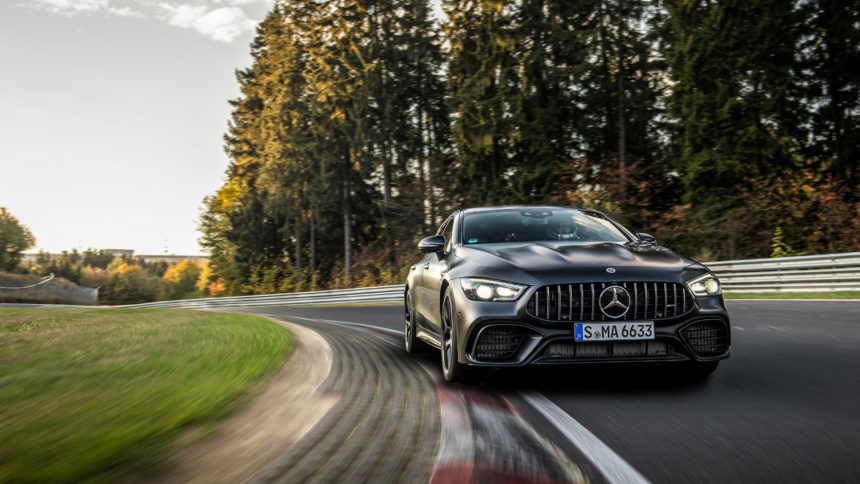 If there's one thing that's more common than an upstart British sports car company announcement, it's inceasingly specific Nürburgring lap time records. Mercedes is the latest to throw its hat in the ring, with the AMG GT 63 S four-door.
The chunky four-seater was recently putting in laps at the daunting Green Hell. First announced back in March, the top-rung GT 63 S boasts the most powerful version of Affalterbach's 4.0-liter "hot-vee" eight cylinder yet. With 640hp, it has the shove to push the car to a startling 3.2 second 0-62mph run. As it turns out, the don't-call-it-a-sedan is capable of some pretty impressive numbers around a track too.
AMG's development driver Demian Schaffert pedalled the GT around the 12.9-mile circuit in 7:25.41. Sure enough, that's quick enough for a new record — of sorts.
In its original press release, Mercedes called the AMG GT 63 S the "fastest series production four-seater". Now, if you're thinking a certain bright orange Jaguar deserves that title, well, not quite. The XE SV Project 8's 'Ring run was in pre-production form. Not only that, but with the optional Track Package, the XE was no longer a four-seater.
There's another seriously quick four-seater out there, however. The Nissan GT-R does still come with rear seats; quite tighter than the big Merc's, but rear seats nonetheless. It's pulled faster lap times, but it's not a four-door car as well.
Regardless of the distinction, we never mind starting the week off with a video of a car in full-attack mode on a track. Check out the GT 63 S' full onboard below:
More Posts On...