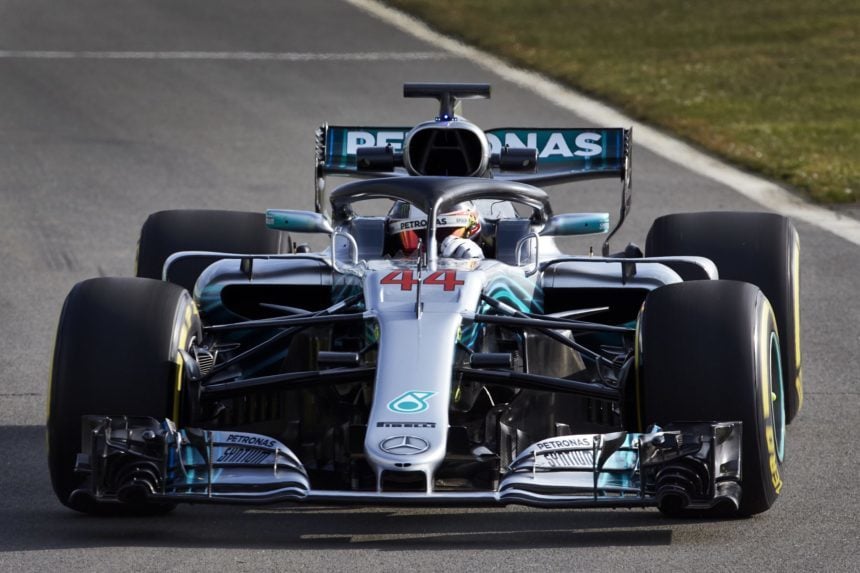 World champion Mercedes F1 is next in line to reveal its 2018 contender, the W09 EQ Power+. The championship-winning team revealed the car at Silverstone, home of the British Grand Prix.
Lewis Hamilton describes the W09 as "better than last year's car in every aspect." The reigning world champion states this year's chassis is an evolution of the W08. That's a daunting proposition for the opposition, considering it dominated the 2017 season with 12 race wins and 15 pole positions.
There's little reason to deny the Silver Arrows' dominance last season. While Mercedes' fiercest competition came from the likes of Ferrari, the W08 pulled ahead, driving Hamilton to his fourth title and the team its fourth constructors' title.
The 2017 drivers' champion elaborates further:
"Last year the car was fantastic, but there were so many things we could still improve on. What we've done is taken a lot of the DNA from last year's car – this is the sister car, an evolution of that.

"This is better than last year's car in every aspect. It looks quite similar but inside, underneath the shell, and even the bodywork, it's all refined to perform even better than it did last year."
As Hamilton expressed, the 2017 chassis wasn't without its share of hiccups. Dubbed a "diva" for its unpredictability, Technical Director James Allison insists the W09 should be easier to handle:
"Last year's car was never easy to work with, even at the tracks where we were strong. We could find our way through the weekend to a competitive outcome, but it was never easy. We hope that we have made some inroads into that and that this year's car will speak to us as engineers and to the drivers a little more clearly so that it is more obvious what to do to dial it in."
Adding on to the chassis changes, Mercedes confirms major upgrades to the power unit. In 2018, all teams will make do with three power units throughout the season, down from last year's four.
The engine upgrades on this year's car is a direct response to the stricter allowances. Mercedes is no stranger to engine problems, having suffered its fair share of them. With Ferrari likely to continue pursuing Mercedes, it can't afford any shortcomings.
Andy Cowell, Managing Director of Mercedes-AMG High Performance Powertrains, chimes in:
"The amount of change on the power unit for this year is quite considerable and driven by a number of requirements.

"The biggest challenge we've got is lifting our durability limit with the challenge of racing just three engines per driver per championship and two ERS systems. That's a 40 per cent increase in the distance that the hardware needs to do for this year compared with last year. We focused on trying to increase the life of the hardware without losing performance."
Mercedes has a lot to lose when the 2018 season kicks off in a few weeks time. With the likes of Ferrari and Red Bull gunning for top honors, the W09 will have its work cut out for it. Coming off of the intense battle last season, we expect Ferrari will charge at full force.
Both Lewis Hamilton and Valtteri Bottas remain onboard as expected. Adding to its roster of talent is drivers Pascal Wehrlein and George Russell. Both men will share the role of reserve driver for the winning team.
Wehrlein returns to DTM this year, following the loss of his seat at Sauber to Charles Leclerc. Meanwhile George Russell, reigning GP3 champion, will see things through in Formula 2. For those unfamiliar with Russell, the British driver was originally expected to join Force India in a support role at the end of 2017. Instead, it has named Nicholas Latifi as reserve test driver.
While it's already done a shakedown at Silverstone, the W09 will see its true paces at pre-season testing next week.
More Posts On...