Red Bull Racing has revealed its contender for the 2018 Formula One season.
As revealed last September, Aston Martin is now onboard as an official title sponsor for the team. The new partnership is clear in the car's full name: welcome the — deep breath — Aston Martin-Red Bull Racing-TAG Heuer RB14.
This year's Red Bull bucks the trend of launching late, by appearing before the start of pre-season testing. The team describes launching "aggressively late", as allowing the team more development time. This year's car does without waiting until the cut-off point.
Red Bull preferred to launch early and deal with any setbacks now while close to home. The alternative is using one of its "eight ultra-precious test days" at Circuit de Catalunya to do the same.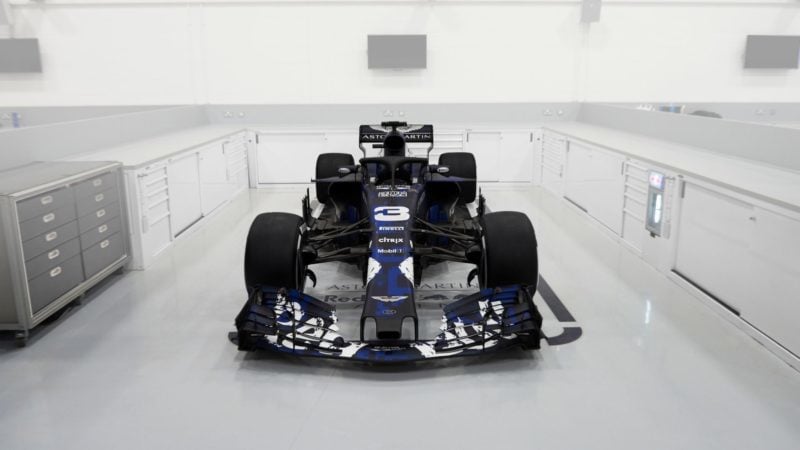 The first of the major teams to reveal its hand, the RB14's mission is obvious: return the team to its winning ways. While remaining competitive, the team has not won a championship in four years. In the time since its last championship haul in 2013, Red Bull has taken eight race victories.
With racing incidents standing in its way the past few seasons, Red Bull is using its time wisely. How? Daniel Ricciardo will put the RB14 through its paces at Silverstone. A full week before pre-season testing, the team is hopeful this exercise will give it a running start.
As expected, the halo device is a standout, as are the Ferrari-inspired sidepods. The halo blends in better than the previous two reveals so far, thanks to the eye-catching livery.
Before getting too excited about it, know that the livery on this year's car isn't the final product. Instead, it is a special edition livery while the team keeps its race-ready livery under wraps. Said livery takes the spotlight at Barcelona next week.
As an evolution of last year's RB13, the team will want to pick up where it left off. With both Daniel Ricciardo and Max Verstappen still onboard, Red Bull has one of the best teams on the grid.
With Verstappen winning two of the last six races — one of which in a commanding fashion — all eyes will be on him. Likewise, Ricciardo will want to hit the ground running after a string of bad luck in the latter half of the season.
We're a little over a month away from kicking off the 2018 F1 season. The Australian Grand Prix takes place March 25.
See more articles on Aston Martin, F1 2018 Season, Pre-Season, Red Bull Racing, and Tag Heuer.