With the 2013 motorsport season getting underway, 2012's final GT Academy champions have yet to be decided as eight Middle East and eight South African gamers head to a Silverstone showdown.
The traditional GT Academy Race Camp, with harsh fitness challenges and real-world driver training, will ensue on 15th March. There's an as-yet unclear international format between the two regions for the ultimate prize of a seat at the 2013 Silverstone 24 hours.
Joining the eight Middle East qualifiers from the Dubai event will be eight South African qualifiers from a final held at the end of January. These eight lucky individuals are:
Louis Aylward
Robin van Merch
Jonathan Mogotsi
Ashley Oldfield
David Peetham
Hercules du Preez
Gerhard Rautenbach
Jacobus Volschenk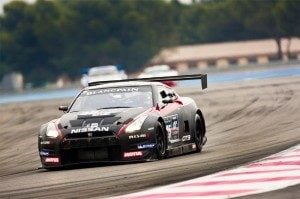 Meanwhile the previous winners' race schedules have been confirmed for 2013. The "Nismo Athletes", as they are now termed, will be competing together in the Blancpain Endurance Series, the FIA GT series and the Le Mans 24 Hours.
European winner Wolfgang Reip and Russian winner Mark Shulzhitskiy will partner up as an all-gamer, Pro-Am entry in the FIA GT series GT3 class, driving the #32 RJN prepared Nismo GT-R GT3. Amongst their competitors will be Lucas Ordoñez and long-standing GT Academy partner driver Alex Buncombe in the other RJN car, #35.
For the Blancpain Endurance Series, Wolfgang and Mark will be joined by German winner Peter Pyzera, while Lucas and Alex have USA winner Steve "Dan Mitchell" Doherty as their third driver. BES will include a 1000km race at Nürburgring and the Spa 24 Hours this season, so it'll be a stern test for the newcomers!
Lucas is also scheduled to compete at the Le Mans 24 Hours again with a Greaves Motorsport LMP2 car powered by Nissan, with 2011 European winner Jann Mardenborough taking a break from his European Formula 3 season with Carlin to join him, though their other co-driver is yet to be confirmed.
It's not all good news for GT Academy's winners though. 2010 winner Jordan Tresson has not had his contract renewed and will not appear as a Nismo Athlete in 2013. Concerningly, there's also no word on 2011 US winner Bryan Heitkotter for this season yet.
We wish the Nismo Athletes and the South African and Middle East drivers hoping to join them the best of luck!
More Posts On...
The original comments for this post are no longer available.