A week on from the big Gran Turismo 7 reveal and launch date announcement, GTPlanet got the chance to sit down with Gran Turismo series creator Kazunori Yamauchi for an extensive one-on-one interview on the latest title.
Although there was plenty of information to dig through after the grand unveiling — and you can catch up with anything you've missed in our Gran Turismo 7 Ultimate Guide — we know that the community still had many questions.
Taking GTPlanet's users' input as a guide, we were able to put a wide range of questions to Yamauchi, covering everything from PS4/PS5 support, to driving physics, car customization, game design, and much more besides.
While some things are still under wraps for now — after all, Sony will need something to talk about for the next six months — we were still able to cover a lot of ground and fill in some of the missing pieces. Let's get to it!
PS4 vs PS5
When Gran Turismo 7 was confirmed to be a cross-generation title coming to both the PlayStation 4 and PlayStation 5, there was one big question on everyone's mind: how would the game differ between the two consoles?
"In a racing game, you can adjust the level of detail. Technology wise, it is a very scalable game in terms of maintaining the frame rate and everything else," Yamauchi said. "We found that we were able to make a PS4 version and a PS5 version without dropping any quality, so that's why we decided to do both at the same time."
Of course, there is one big advantage to running the game on Sony's newest console: "The loading time is so different between the PS4 and PS5 that it's a completely different experience. That's just something that's unavoidable between the two," explained Yamauchi. He confirmed that, in terms of features, the games will be exactly the same.
Feature parity is particularly important in terms of online competition, and when asked about PS4 and PS5 users racing online together, Yamauchi confirmed this would be possible. "The only thing is the PS5 will load up very quickly and the PS4 will take a little bit of time to load. So, if you have a group where there is a mix of PS5 and PS4 users, the PS5 users will enter the match immediately, and will be able to start making their free runs while the PS4 users take a little bit more time to load into the match," Yamauchi explained.
The PS5's notoriously fast loading times, made possible by its high-end solid state drive, is clearly one of Yamauchi's favorite features of the new hardware. "The part that I really love the most is the reduction of loading time," he said. "Playing GT7 on PS5, you pretty much won't feel the loading time at all. It is a complete game-changer. It changes the experience completely."
We also asked Yamauchi about GT7's possible support for 8K resolution or 120Hz refresh rates on the PlayStation 5, but he was not able to comment on that functionality yet.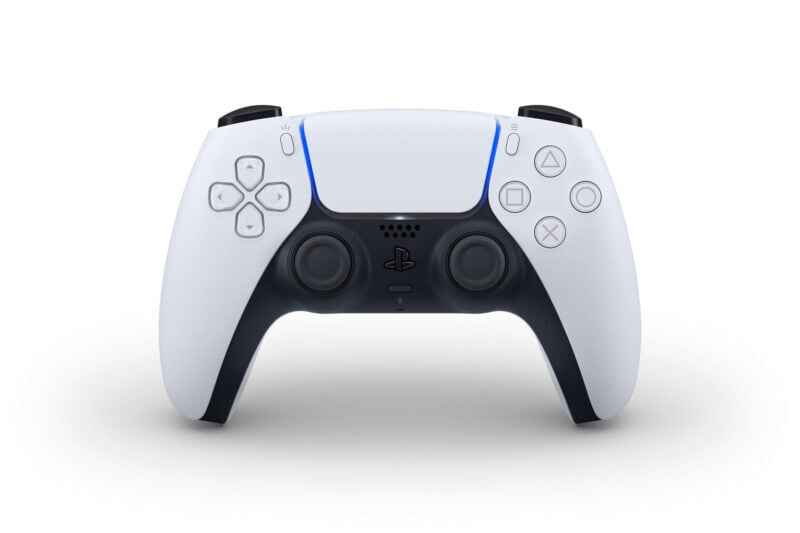 PS5's DualSense Controller
The DualSense controller that comes with the PlayStation 5 is an amazing piece of hardware, and Sony executives have already been talking about its compatibility with Gran Turismo 7 for well over a year now. While speaking with us, Yamauchi offered new insights into how the new controller improves the gameplay experience:
"Beyond just the gimmick of using the adaptive triggers to recreate the vibration of the ABS when its working, what's more important to me is actually the heightened sense of precision of the sticks on the controller," he said. "The sticks that are on the DualSense can allow the user to control the car on the same level as using a steering wheel controller. That's a huge difference from the past."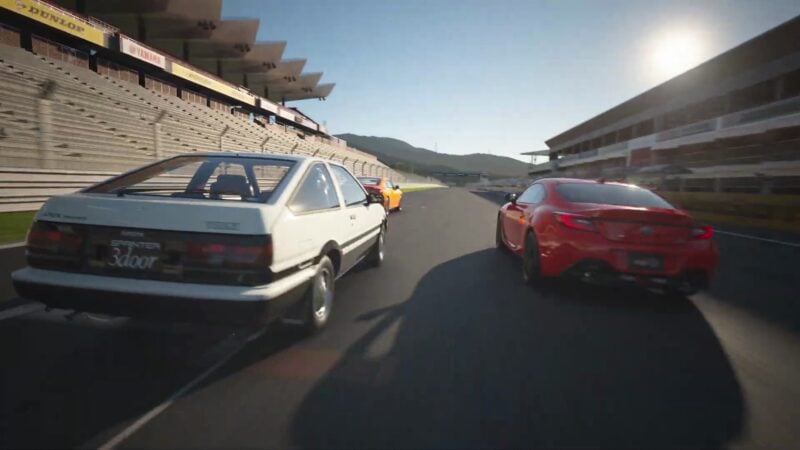 Online Functionality
In terms of online functionality, players can expect GT7 to build upon the foundation Polyphony Digital established with GT Sport. "Gran Turismo 7 will be able to do everything that GT Sport was able to do, while definitely improving the usability and network reliability from the previous generation." As with Sport, Yamauchi confirmed that GT7 will continue to support a maximum of 16 cars on track at a time.
Another somewhat controversial aspect of GT7 is the fact that the game will require an internet connection to use many of its features, including saving your progress. It was a point of contention for many players in GT Sport and it returns in GT7. To find out why that is, we asked Yamauchi why that design decision was made.
"One reason is to avoid people from modifying and cheating with the save data for the game," Yamauchi explained. "Another aspect is for the liveries. Livery data is downloaded from the servers even when you're playing offline. So, an online connection is something that is needed pretty much throughout the game. One part of the game that doesn't require any online connection is the Arcade Mode, because there's no interaction with the save data and there are no liveries involved, so it doesn't require a network connection to do that."
"More Natural" Driving Physics
Advancements in driving physics and car handling are always top-of-mind when new Gran Turismo games come along, but it's something that we haven't heard much about from official sources yet. Although he did not go into specifics, Yamauchi made it clear that there have been advancements in this area.
"In terms of physics, of course, it is something in the game that we have been evolving for the last 25 years. In GT7, I think you'll find the precision has increased. I also think you'll feel it to be more natural, even more-so than in GT Sport," he explained.
Yamauchi also revealed that some of the best Gran Turismo players in the world have helped Polyphony Digital to help refine the physics engine in GT7. "Now we have new people like Igor Fraga and Mikail Hizal joining the family. We have feedback from them that has been very useful in tuning that."
As most of our readers will know, Igor Fraga and Mikail Hizal have both been dominant forces in the FIA Gran Turismo Championship, each holding World Championships in both the Nations Cup and Manufacturers Series.
Dynamic Time-of-Day and Weather
Dynamic time-of-day and weather simulation first appeared in Gran Turismo 5 but was notably absent in GT Sport. It makes a triumphant return in Gran Turismo 7 and was prominently featured in the latest trailer for the game, so we were interested in clarifying some of the details about it.
"The time and weather changes are continuous, in real time," Yamauchi confirmed. "You can also set the time progression for a certain race to a multiple that you want. The weather simulation is being done on a very large scale; it's a shame to just call it a 'weather change feature' because it really is a full-on weather simulation.
"Everything from the temperature, to the humidity, to the surface temperature of the track, to the cars passing over puddles to spray the water off the track. All those new things are implemented and calculated within the physics."
Yamauchi did note, however, that these dynamic environmental features will not be available on all tracks in the game. He did not confirm exactly which tracks will have these features, but the latest trailer suggests popular real-world circuits in the game like the Nurburgring Nordschleife, Circuit de la Sarthe, and Tsukuba Circuit will support dynamic conditions.
When asked about the return of 24-hour races in GT7, Yamauchi stopped short of confirming their presence, but noted that "It would be easy to put in, maybe in one of the Mission Challenges or something."
Performance Points Return
Gran Turismo 7 is officially ditching GT Sport's somewhat-controversial car classification system in favor of a return to the "Performance Points" last seen in Gran Turismo 6. However, Yamauchi made it clear that the new Points system is much more sophisticated than its predecessor.
"The Performance Point calculation that we have in GT7 is totally different from what we had in the past. Before it was calculated by a sort of magic formula, but in Gran Turismo 7, the system is simulation-based. If the user tweaks a certain setting in a certain way, internally the system will actually run your car with those settings on an imaginary track to produce the real Performance Point value. It will be much more exact than what we had in the past," he explained.
Yamauchi also noted that "When we need or want to apply a strict BoP [balance of performance], there will be a BoP applied to that race."
Car Customization
Old-school Gran Turismo players will remember the wildly popular "Racing Modification" tuning option found in GT1 and GT2 — and to a smaller extent in GT5 — and many were hoping to see it return for GT7. Although it will go by a different name in the latest title, Yamauchi acknowledged that car tuning and modification is a clear nod to the series' past.
"We'll have aerodynamic parts available and of course you'll be able to apply wide-body kits to cars, so you'll be able to get that same sort of race modifications that we had in the original GT1. You can add roll cages as well now," Yamauchi revealed.
Car tuning is one aspect that Yamauchi is eager to share with long-time fans of the franchise. "It's really fun to play around with. You could spend a whole day just in the setting screen for a car," he said.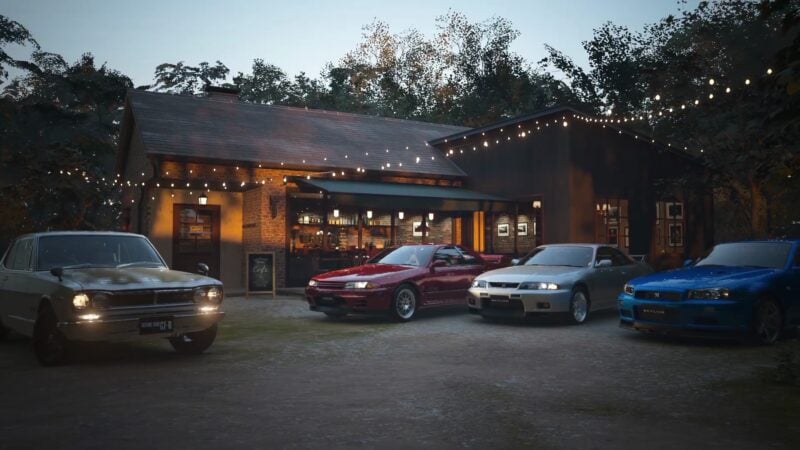 GT Café
One particularly interesting scene from the latest Gran Turismo 7 trailer revealed an area referred to as the "GT Café".
What exactly is that?
"This rendition of Gran Turismo isn't just about winning a race, getting the credits, winning another race, and so on. In GT7 the collection of cars is actually one of the big objectives. Of course, it's still important to win races, but collecting some of these cars is one of the important elements in the game's design," said Yamauchi.
"There are two aspects of Gran Turismo 7. One is to really match and exceed the expectations of traditional Gran Turismo users. The other aspect of that is a game design that caters to the first-time players of Gran Turismo and, moreover, kids that are coming into contact with cars for the first time."
GT Café is designed to provide players with a place to "really learn about their cars, and learn about the cultural background behind the significant cars they collect," Yamauchi explained. "When you collect these cars and you bring them into the café, you're given a description in detail of its history. Of course, we have had things like Brand Central and and the Museum that did that [in other games] before, but this is on a more personal level."
"It really speaks to the user in describing some of the significance of these cars. The reason why we're doing this is because we sort of need to do this to maintain the dwindling number of car enthusiasts out in the world right now. I think we have a responsibility car community and the car industry to really want to try and keep up those numbers and keep people interested in cars," Yamauchi said.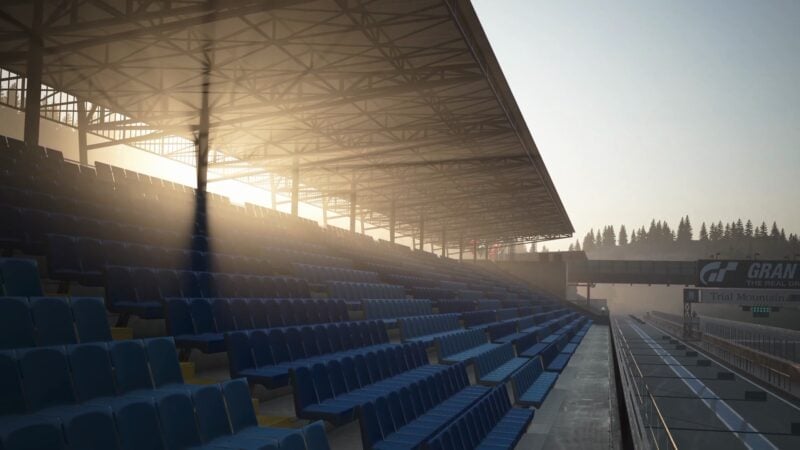 The Nostalgia Factor
It is clear that after years of focusing on competitive racing and esports in GT Sport, Gran Turismo 7 is an unabashed throwback to what brought many people to the franchise in the first place. Yamauchi hopes that will bring more new players to the game as well with a refined single-player experience.
"For the first time players of the game, I really want them to feel how the world of cars expands in front of them as they discover all these different cars. In the previous titles of Gran Turismo, you could probably purchase 10 cars and complete the game with them. But really, that leaves the 400 other cars included in the game on the sidelines and you don't get to experience them," Yamauchi lamented.
"But, through the GT Café now, players will collect and discover all these unique and fantastic cars from around the world. I am really looking forward to having a new generation of players really experience that and fall in love with the genre."
Having said all of that, Yamauchi acknowledged how that might come across to franchise's long-term, hard-core fans, and directly acknowledged recent criticisms. "Some of the core users of Gran Turismo might feel a lot of this stuff that's appearing in the game to be kind of redundant and explaining too much. There will be characters appearing in car dealerships, in the tuning shops, and at the races, explaining all these different things to them, and I'm sure some of them will be like 'Oh, just skip all this, we don't need this'.
"But I want them to kind of remember the feeling they had when they first started playing these games, when they first discovered all of these things for themselves, and imagine how this will get across to the new generation."
See more articles on Kazunori Yamauchi.