After the highs and lows of the last 12 months of competition, Mikail Hizal has lifted the trophy in Monaco to become the GT Sport world champion. Hizal will now head to Paris next month to take the accolades alongside the champions of physical motorsport including Lewis Hamilton, Fernando Alonso and Ott Tanak.
The Turkish-German driver produced an absolutely flawless display across Sunday's events to take the title. Aside from a short period during a slipstream battle at Circuit de la Sarthe, and allowing for different pit stop strategies, Hizal lead for every moment of the four races. Although he'd later tell us he made a few mistakes, it was as close to a perfect display as we've seen at a World Tour event.
Hizal's dominance started in the top 12 qualifier. Following Friday's semi-finals, the 12 drivers went through another qualifying session., with Hizal taking pole by 0.07s from Frenchman Baptiste Beauvois, and Japan's Takuma Miyazono another 0.025s further back. That set the grid order for race one.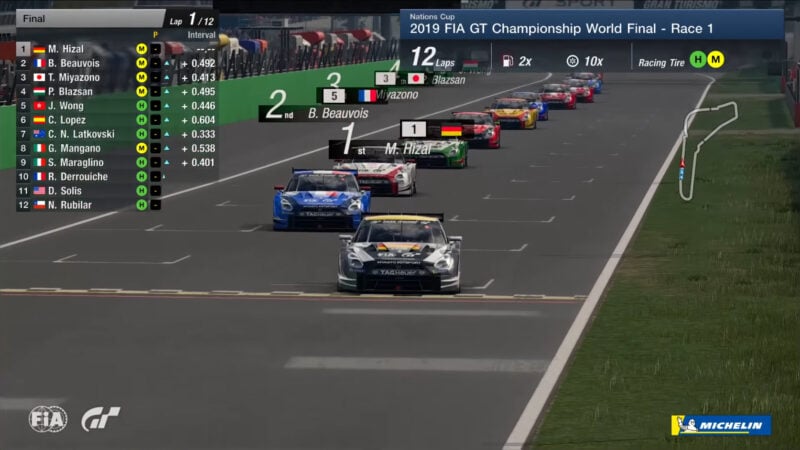 Race 1: Autodromo Nazionale Monza/Gr.2
The 12 drivers found themselves in unusual machinery for the first race, in the shape of 2016 season Super GT Nissan GT-Rs. Not usually seen racing outside of Japan, the GT-Rs would visit Monza, meaning a heavy slipstream battle. That's often a recipe for disaster in online races, but not so for the top racers in the world.
Hizal was able to retain the lead into the first chicane, but as Beauvois tried to close the gap he incurred a track limits penalty at Variante della Roggia. Half a second, served almost immediately on the Serraglio curving straight, dropped the Frenchman to fourth. This set Miyazono onto Hizal's rear wing, for what would be a race-long scrap.
Behind the lead four came Wong, Lopez, and Latkovski. Running on the hard tires, the trio wasn't able to keep within slipstream range and began to fall away. By the time Latkovski had passed to lead the gaggle, there was a four-second gap. As soon as they were able — lap five — all of the hard runners dived into the pits to change to mediums, joined by Salvatore Maraglino who switched the other way, clearly thinking that the slipstream was more important than the tire advantage.
That allowed the front four to continue charging ahead but Hizal unexpectedly pitted on lap six, opting for a half-and-half strategy. Miyazono, Patrik Blaszan, and Beauvois all joined the German in the pits, emerging as a pack with five seconds ahead of Australian Latkovski.
Hizal seemed to have a harder time with the harder tire. While able to maintain a gap of between half and three-quarters of a second on the mediums, he wasn't quite so far ahead on the hards. Getting closer, Miyazono made a run for the lead into the first Rettifilo chicane. Hizal was able to keep the Japanese driver at bay, forcing Miyazono to take a wide line.
This dropped Miyazono back into Blazsan. The Hungarian driver was clearly looking for a way past, but with the lost momentum he too was vulnerable to the rear. Beauvois capitalized on the very last corner, running a wide line around Parabolica to snatch third by 0.012s, behind Hizal and Miyazono. Further back, Latkovski lead the chasing pack from Coque Lopez. Jonathan Wong meanwhile had a torrid time on the medium tire, slipping back to 11th after running fifth earlier in the race.
1st – Hizal – 18pt
2nd – Miyazono – 16pt
3rd – Beauvois – 13pt
4th – Latkovski – 12pt
5th – Blazsan – 11pt
6th – Mangano – 7pt
7th – Lopez – 6pt
8th – Maraglino – 6pt
9th – Solis – 6pt
10th – Rubilar – 5pt
11th – Wong – 5pt
12th – Derrouiche – 4pt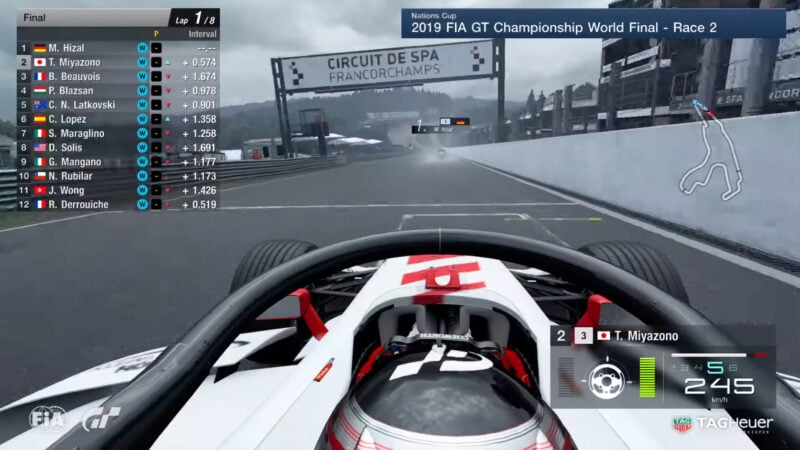 Race 2: Circuit de Spa-Francorchamps (Rain)/Super Formula
With very little mechanical grip exacerbated by highly aerodynamically sensitive cars, Race 2 would be a tense, tactical battle. So it proved in the Belgian Ardennes.
After the initial exchanges, the drivers mostly established equal gaps to one another — close enough to experience dirty air and poor downforce in corners, but not close enough to benefit from it on the straights. Only Nicolas Rubilar and Giorgio Mangano swapped positions in the opening few laps, with Rubilar benefiting despite a track limits penalty.
There was no such trouble up front. Setting fastest lap after fastest lap, Hizal pulled out a five second advantage over Miyazono in second. The Japanese driver, who, as a result of Hizal's dominance, was effectively in clear air, was able to trade sector times with the German, but not make any significant dents in the lead.
With spray and turbulent air, the race developed into a quieter one. Gaps stabilized at between 1.5s and 2.5s between all the drivers, with no-one able to make any gains and no mistakes from any of the 12 drivers.
That left Hizal to win his third race in a row, with Miyazono second and Beauvois third again.
1st – Hizal – 30pt
2nd – Miyazono – 26pt
3rd – Beauvois – 21pt
4th – Blazsan – 18pt
5th – Latkovski – 18pt
6th – Lopez – 11pt
7th – Maraglino – 10pt
8th – Solis – 9pt
9th – Mangano – 8pt
10th – Rubilar – 7pt
11th – Wong – 5pt
12th – Derrouiche – 4pt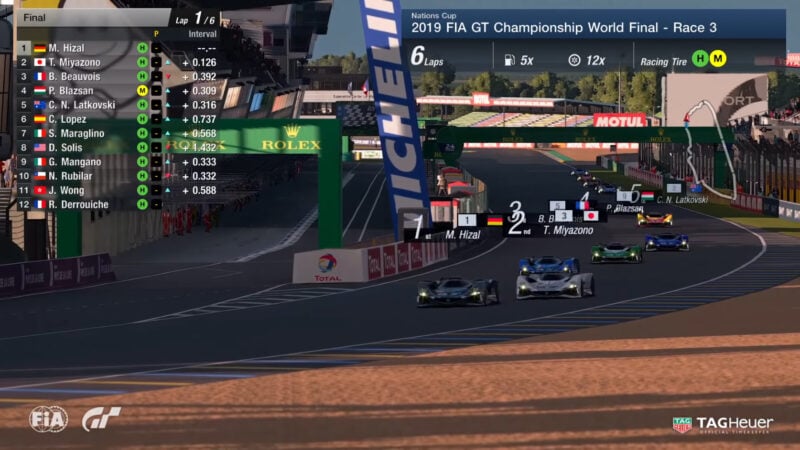 Race 3: Circuit de la Sarthe (No Chicane)/Mazda LM55 Vision GT (Gr.1)
The highly unusual choice of the Le Mans circuit — Circuit de la Sarthe — shorn of the two main straight chicanes, would make this race an ideal Repechage. With cars capable of 240mph in a slipstream, we were guaranteed to see far more changes of position than in Race 2.
Indeed that proved the case almost immediately, as Miyazono sent his Mazda into the lead right in the first braking zone at the Dunlop Chicane. Hizal almost seemed to let the Japanese driver go, perhaps as a tactical measure ahead of the Hunaudieres. Indeed the German took the place back at the kink on the straight, but he was one of many. Braking into Mulsanne Corner, the drivers were four-wide but, incredibly, clean and with no-one braking their way into the sand.
Beauvois emerged with the advantage, but he was soon overhauled by Hizal. Disaster struck for the Frenchman at Indianapolis though, as Miyazono — carrying too much speed on a tighter line — understeered into his side. That would later attract a four-second penalty for the Japanese driver, but Beauvois still fell to 11th while extracting himself from the gravel.
As Miyazono served his penalty, Latkovski and Lopez climbed up into the podium positions, but it looked like Hizal — now running a two-second lead — had broken the tow. All but Blazsan, the only driver on the medium tire, chose to pit at the end of lap two to run four on the mediums. That left Blazsan running without a slipstream on the better rubber.
As the Hungarian pitted on lap three, normal order was restored. Just as at Spa, Hizal seemed to have established an unassailable lead, while Latkovski and Lopez squabbled for second behind him. Blazsan was tumbling down the order on hard tires, while Miyazono was recovering from his penalty and Beauvois was back up to fourth following that opening lap incident.
Latkovski made second place his own with an impressive pass through Indianapolis, but Hizal was just too far ahead. Beauvois meanwhile lost fourth down into Mulsanne corner as both Rayan Derrouiche and Giorgio Mangano passed. Derrouiche moved past the Italian into fourth in the same place as Latkovski, while Beauvois was able to recapture fifth on the drag from Arnage to Indianapolis.
The shake-up in the order thus gave Hizal a huge advantage running into the final, double-points race, needing only a fourth-place finish to secure the title.
1st – Hizal – 42pt
2nd – Miyazono – 30pt
3rd – Latkovski – 28pt
4th – Beauvois – 27pt
5th – Lopez – 19pt
6th – Blazsan – 19pt
7th – Mangano – 13pt
8th – Solis – 12pt
9th – Derrouiche – 11pt
10th – Maraglino – 10pt
11th – Wong – 7pt
12th – Rubilar – 7pt
Race 4: Autodromo de Interlagos/Red Bulls X2019 Competition
Although Hizal only needed a fourth-place finish, his goal was clearly another victory. The only driver in the top five to start on the soft tires — with all three grades required for this race — Hizal set about amassing the biggest lead he possibly could.
In fact only one other driver had chosen the soft tires and he, Daniel Solis, was making them count too. He quickly raced up the field to third position, but found Latkovski a far harder prospect to catch. Further back, the cars were starting to arrange themselves by tire grade, with Miyazono in the lead of a four-car pack of medium tire runners.
With the race settling down into a rhythm, the pit stop window opened. All but the lead two — now Solis behind Hizal — came in for a change of rubber, allowing the soft runners some clear air. When they too came into the pits, both got out ahead of the chasing cars, now lead by Beauvois who used the soft tires to scythe past Latkovski into turn one.
Solis's time on the podium didn't last long. First Beauvois repeated his pass from the lap before, and then Miyazono — taking advantage of a twitch from the American's car leaving the Senna S — took third into turn four.
Running the hard tire mid-race, Latkovski was tumbling. First Wong and then Rubilar, both running soft tires, made it past the Australian. Clearly having had enough of falling down the order, Latkovski dived in to get rid of the hard tires and run to the line with softs. That set him as the leader of those who'd stopped twice, in 7th.
As the front six all pitted for harder stuff, Latkovski leapt back up the order. Hizal still held the lead by a huge eight seconds from Beauvois, with Miyazono another two behind, but the Australian, on two grade-softer tires was only two seconds further back. With six laps left a victory was still possible, but Latkovski needed both a win and for Hizal to be no better than sixth to take the title.
Latkovski was doing his part. Neither Miyazono nor Beauvois could do anything about his charge up the field, putting him both second on the road and in the tournament. Also carving up the field was Blazsan. He came from almost nowhere to take fourth from Miyazono into turn four, and the following lap took third from Beauvois with a move that covered the entire second sector of the track. That promoted Miyazono to overall podium, by one point from Beauvois.
But no-one could do anything about Hizal. He crossed the line with nearly five seconds to spare, creating history with an exception perfect performance — four wins from four races.
1st – Hizal – 66pt
2nd – Latkovski – 48pt
3rd – Miyazono – 42pt
4th – Beauvois – 41pt
5th – Blazsan – 35pt
6th – Lopez – 23pt
7th – Derrouiche – 21pt
8th – Maraglino – 16pt
9th – Wong – 15pt
10th – Mangano – 15pt
11th – Solis – 12pt
12th – Rubilar – 7pt
See more articles on 2019 FIA GT Championship World Final, GT Sport Nations Cup, and Mikail Hizal.