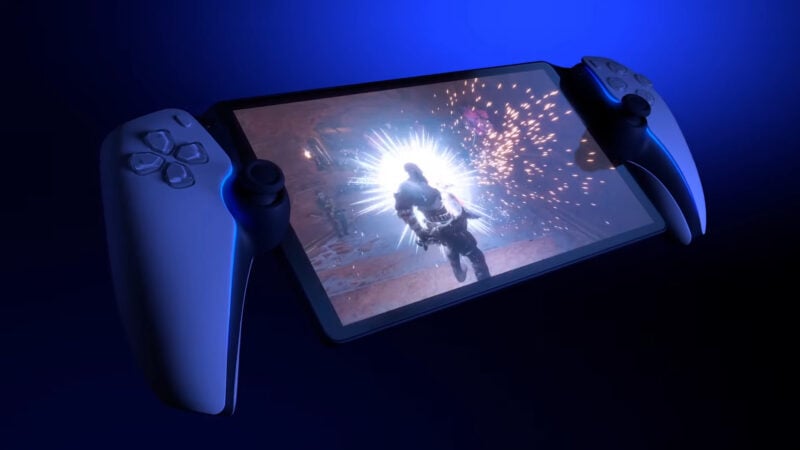 Sony has announced that it is developing a new PlayStation handheld device code-named "Project Q", which is designed to allow players to stream any game from their PS5 console using Remote Play over Wi-Fi. The device has an 8-inch HD screen and all of the buttons and features of the DualSense wireless controller and is set to launch later this year.
While the device is designed to be a companion for the PS5, it is not expected to play games natively as you would with a PlayStation Portable (PSP) or Steam Deck, nor does it stream games from the cloud. The games played on the Q must be installed on a PlayStation 5 console itself, as per the fine print at the bottom of Sony's presentation.
While the brief tease about Project Q didn't mention whether the device could be used to stream games outside of the house, Sony's Remote Play currently supports connections over cellular — though it is, of course, usually much more stable over home Wi-Fi.
The rumors about the handheld game device first surfaced earlier this year thanks to a report from Insider Gaming. The report confirmed that the device was focused on Remote Play and that it would not be a cloud gaming device, and it would have an 8-inch screen and resemble the DualSense controller. The report also mentioned that the device would support adaptive streaming of up to 1080p resolution, 60fps and would require an internet connection.
Of course, the history of mobile gaming with the Gran Turismo franchise is noteworthy. Famously announced at Sony's E3 press conference on May 11, 2004 alongside the original PSP, Gran Turismo PSP was eventually released after more than five years of delays and speculation in October of 2009. Despite the delays and a somewhat mixed reception at launch, it would go on to become one of the PSP's best-selling titles.
With the advent of Remote Play, it's unlikely we will ever see another dedicated mobile Gran Turismo title, but if Gran Turismo 7 plays well enough on the new Project Q hardware, we definitely won't be needing one.
See more articles on PlayStation Project Q.