Tuner cars are typically hit or miss. Some are overdone while others simply fall out of style. But every once in a while a tuner comes along that reaches legendary status. For this week's Want, we take a look at one of those tuners with this Rauh-Welt Begriff Porsche 911.
If the name Rauh-Welt Begriff (RWB) doesn't ring any bells, you probably know the cars well. This is especially true if you've played either of the latest Need for Speed releases or Forza Horizon 3.
Known for wide fenders and a massive spoiler, these cars are hard to miss. They're often incredibly polarizing among gearheads. While some think they ruin a classic Porsche, other see them as pure art.
Each kit is crafted by Akira Nakai in his body shop located in Chiba Prefecture near Tokyo. Not surprisingly, this handcrafted gear comes with a rather steep price tag.
The basic kit starts at $24,000. However, add on the wing, canards, suspension, wheels, and a graphics package and you're looking at another $14,000. This $38,000 price tag doesn't include shipping and customs fees either.
However, even with the steep price tag, Nakai-san isn't short of customers. According to the RWB USA website, there is a year and a half wait for the kits.
Despite not including the shipping, the price does include Nakai-san flying to your location to install the kit himself. This ensures everything goes together perfectly and makes the fit and finish second to none.
So what is RWB anyways? Well if you translate it from German it's gibberish. However, according to RWB, it means "rough world". Whatever the case though, it does sound kind of cool.
Due to RWB's rarity, especially in the US, it surprised us to see this example pop up on Bring a Trailer.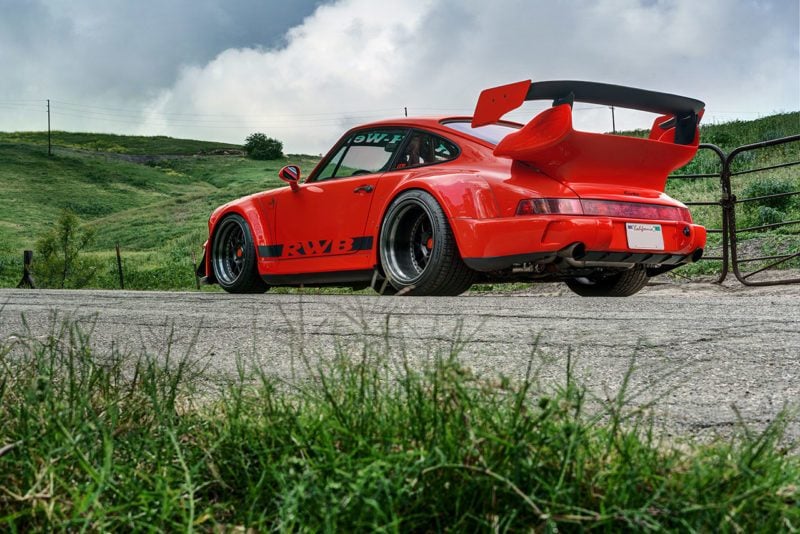 This car started its life as a 1989 Porsche 911 Carrera 4. However, to make it truly special the owner called upon Nakai-san to work his magic. Vincent Wong, founder of iForge Wheels, came in to assist with the build too.
Equipping the full range of RWB parts, this 911 wears things like the iconic Kamiwaza double-decker spoiler and Rotana-style canards.
To top it all off the entire car gets a coat of BASF Glasurit Porsche Guards Red.
The body kit isn't the only update to the car either. The engine is a 3.6-liter flat-six from Turbo Craft in Mesa, Arizona. It also gains some power from a custom turbo setup courtesy of Bisimoto Engineering.
While not extremely powerful, the 911 still puts down some serious power according to the dyno sheet. With 400hp and 393lbft of torque, it's definitely a step up from the 247hp and 223lbft the car originally came with.
Given Wong's involvement with the car, it also rides on a set of custom 18" Forgestar three-piece wheels. To fill up the swollen fenders, it gets some super-wide tires for the wheels too. With 265/65 up front and 335/40 in the rear, it has meaty rubber all the way around.
However, if those wheels are too plain for you, the car does come with another set. With slightly more bling, you can opt for 19″ CCW wheels, which fit the car equally as well.
The interior is rather basic but tastefully done. A pair of custom leather racing seats with Schroth Racing harnesses keep the driver and passenger in place. However, if you want to use the rear seats you're out of luck. In their place is a custom-built roll cage.
The auction for the RWB 911 runs until Tuesday, March 20. However, bids are coming in quickly. A few hours after its posting the car hit $30,000. Given the price other RWB vehicles sold for in the US, expect this example to go for somewhere between $100,000–$150,000.
More Posts On...