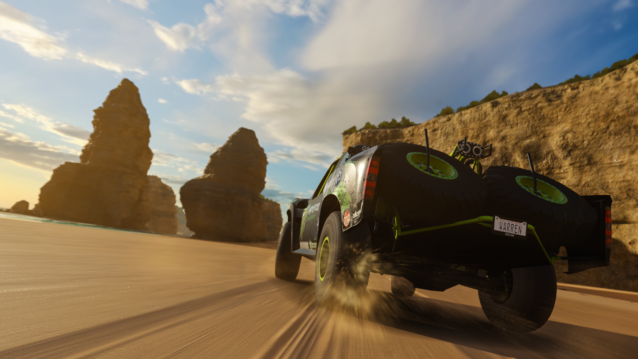 Since its release on Xbox One last week, much discussion surrounds the Forza Horizon 3 demo, its stunning visuals, energetic presentation, dynamic environment … and, yes, the credits.
Licensing of auto manufacturers and their respective vehicle models is a make-or-break moment for video game content. Without a license, brands from Audi to Zagato, and all others in between, would not be possible in the virtual world. Case in point: the German automaker Volkswagen has already been ruled out from Forza Horizon 3, with Turn 10 Studios' community manager citing an inability to "align fans' desires with the interests of [VW's] licensor."
So, it comes as a bit of a surprise when a scan through the demo's credits (accessible via the pause menu) reveals some presumable partners not already announced for September's open-world racer from British developer Playground Games.
Of those finds is RAUH-Welt BEGRIFF (RWB) — a Japan-based tuner synonymous with the Porsche 911 — alongside a number of other worthwhile mentions. GTPlanet has captured the licensing portion of the game's acknowledgements for our readers' review. Roll credits:
Porsche's exclusion from the list of licensed trademarks (despite being spotted very briefly on screen at E3 last June) is leading gamers to speculate on RWB's involvement with Forza Horizon 3. It is entirely possible, however, that the demo's version of the credits is not indicative of the game's final build (including all downloadable content) or that RWB is involved in some other fashion unrelated to the presence of their Porsche body kits.
In addition to RWB, here are a few more notable names found in the licensing rundown:
Arctic Trucks – Icelandic aftermarket 4×4 truck tuner
International Truck Intellectual Property Company LLC – licensor of International, Scout, and International Harvester trademarks
Morgan Motor Company Limited – vehicle manufacturer, last seen in the franchise's Forza Motorsport 4 (2011)
GTA Spano – Spanish supercar never before featured in the Forza franchise
Scion – Toyota vehicle brand with no confirmed cars in Forza Horizon 3, as of yet
Zenvo – Danish supercar manufacturer never before featured in the Forza franchise
Novitec Rosso – German Ferrari tuner, never before featured in the Forza franchise
How each of these licensed by Microsoft brands will or will not used in Forza Horizon 3 should be made clearer in the coming months; check back to GTPlanet for the very latest updates.
Forza Horizon 3 on Xbox One and PC launches worldwide Sept. 27 with early access opening up to public this Friday (Sept. 23) for those who have pre-ordered the Ultimate Edition.
Feature image courtesy of ClydeYellow.