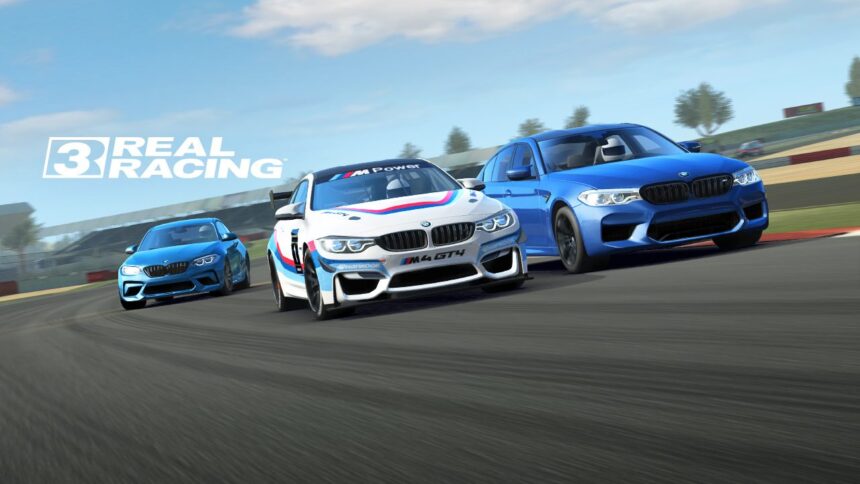 The new year is off to a good start if you're a fan of mobile racing title Real Racing 3. A new update is now available for the mobile racer, bringing with it three new cars and events for players to wade through.
First up, three all-new vehicles from BMW make their way into the game. They are as follows:
2018 BMW M5 (PR 48.5-65.7)
2018 BMW M2 Competition (PR 28.2-47.7)
2018 BMW M4 GT4 (PR 48.6-68.6)
Powered by a 4.4-liter twin-turbocharged V8, this hefty sedan makes do with 600hp going to the rear wheels. As the most powerful Bimmer in the group, we expect it to see its fair share of track time. Next up, is the M2 Competition, with its S55 twin-turbo inline-six heart — the same engine found in the competent M4. As such, the M2 Competition tips the scales at 405hp, 40 more than the outgoing M2.
Finally, there's the purebred M4 GT4. With 431hp and a lightweight racing chassis, we expect the GT4 to be the star of the group. In any case, there's enough German muscle to keep players occupied.
The update also brings with it a series of new racing events. In Special Events, players will find two new Grand Prix events added to the 2019 F1 season introduced last month. The first of the two events starting this Saturday, January 11, is the Japanese Grand Prix. Following that will be the United States Grand Prix on January 25.
Joining alongside the F1 events is a BMW M4 GT4 Race Day at Brands Hatch and Hockenheim, beginning on January 27. Completing the F1 Grand Prix awards you with an 2019 F1 car of your choice. Getting through the M4 GT4 Race Day awards players the 2018 BMW M4 GT4, 60 Gold, and R$100,000.
There's new Exclusive Series events for the Koenigsegg Agera and Aston Martin Vulcan, with ten new events added to the archives section. You'll also find new events for the next five weeks in both the time trial and online multiplayer. Lastly, and in accordance with the Twelfth Night tradition of taking down the Christmas decorations, the update disables festive vinyls.
For more, head over to the Real Racing 3 update page.
More Posts On...